Madrid is Europe's fifth busiest airport; Iberia, Air Europa and Ryanair account for 74% of capacity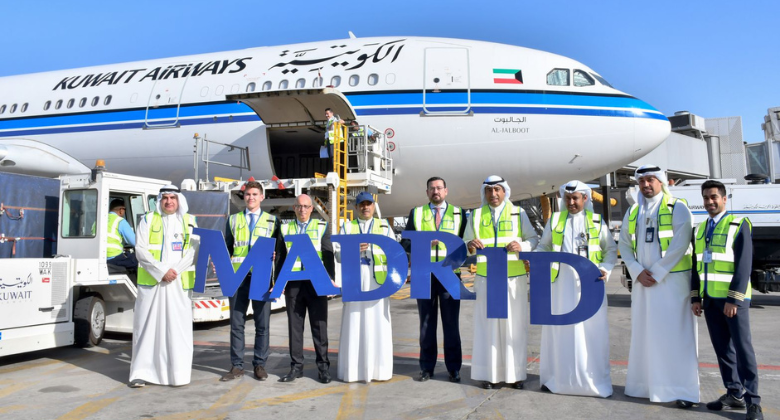 Last year Madrid ranked as Europe's fifth busiest airport (after Istanbul IST, London LHR, Paris CDG and Amsterdam) handling 50.6m passengers. For comparison, in 2019 it also ranked fifth with 61.7m passengers, meaning that last year's traffic was 18% lower than in the last pre-pandemic year. The dramatic drop in passenger numbers between 2011 and 2013 can partly be explained by the collapse of Spanair in January 2012 but also by several airlines cutting capacity; Iberia by 23%, Ryanair by 31%, easyJet by 39% and Vueling by 47% according to analysis of Cirium schedules data. easyJet had opened a base in Madrid in early 2007 but closed it at the end of the S12 season. However, it continued to serve the airport with around a dozen routes.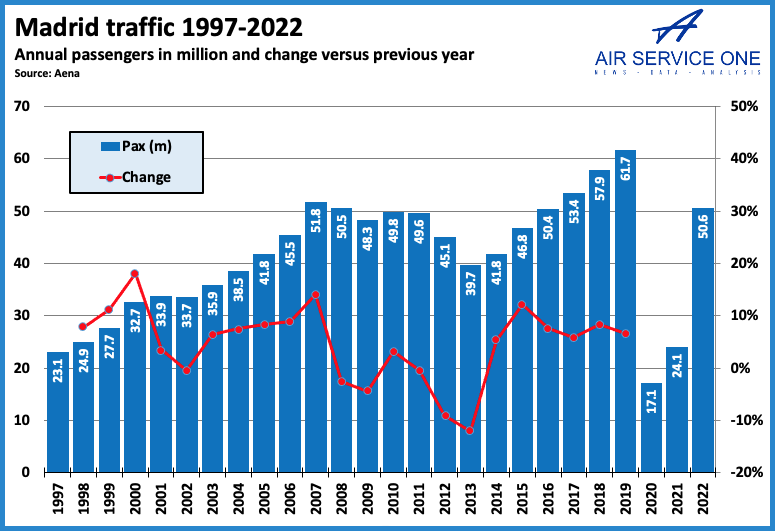 Traffic recovered impressively after 2013, growing by 56% in the next six years. During that time, Iberia launched Iberia Express (IATA code I2), and both Air Europa and Ryanair increased capacity by over 60%. Norwegian also became a significant carrier at the airport during that period.
July is busiest month
Seasonality is less of an issue at Madrid than many other airports. In 2019 traffic in the peak month of July was only 36% higher than in January, which has the same number of days in the month. Latest traffic data for 2023 shows that passengers numbers so far this year are almost identical to what they were in 2019.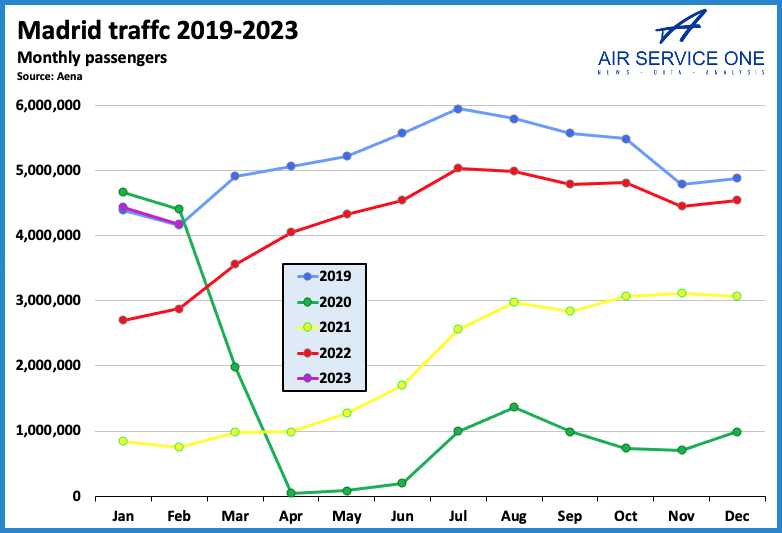 Cirium data currently indicates that seat capacity across all routes and carriers in 2023 Q2 will still be 6% lower than in 2019.
Iberia is leading carrier
As Spain's national carrier, Iberia (combined with its lower cost subsidiary Iberia Express) have a combined market share of around 45% of seats for the upcoming second quarter of 2023. Air Europa is second with 18% of seats followed by Ryanair with 11%. These three carriers alone account for almost three-quarters of Madrid's seat capacity between April and June. The next biggest carriers are easyJet, Wizz Air, American, Lufthansa and Vueling, none of which have more than 2% of capacity.
Since 2019, Madrid has seen the arrival of Kuwait Airways and PLAY, as well as the return of Air Malta. It is also hoping to welcome Fly One from Moldova for the first time in June. Several airlines present in 2019 are no longer currently serving Madrid for a variety of reasons. These include Aeroflot, Air India, Beijing Capital Airlines, Blue Air, China Eastern Airlines, CSA Czech Airlines, Ethiopian Airlines and Ukraine International Airlines.
Portugal capacity up 27%
Looking at the changes in capacity since 2019 Q2 by country market shows that the dominant domestic market has remained almost unchanged. However, of the top 14 international markets, 10 are still showing a reduction in capacity, while four are showing growth. Portugal has jumped from seventh to fourth in the country rankings thanks to an increase in seats of 27%.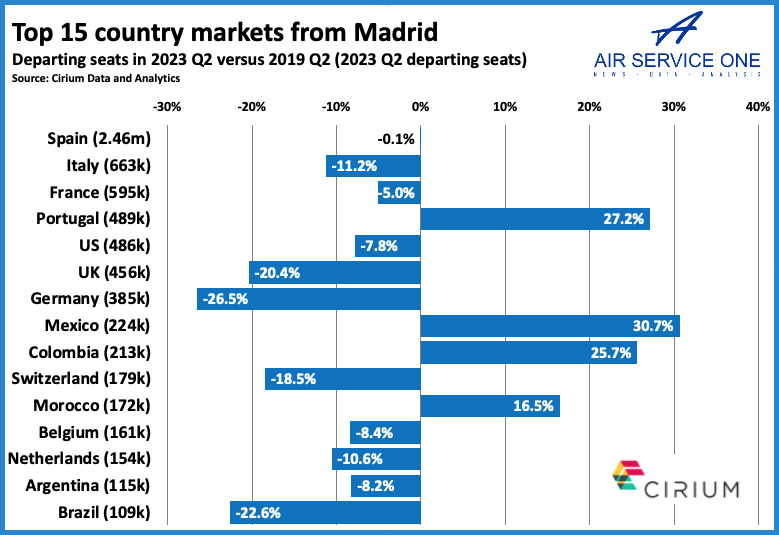 The other three major markets showing double-digit growth are all outside of Europe; Mexico capacity is up 31%, Colombia 26% and Morocco 17%. Five of the top 15 country markets are long-haul with Argentina, Brazil and the US joining Colombia and Mexico. Countries notably absent from the top 15 in Madrid are Canada, Greece, Poland, Turkiye, the UAE and all Scandinavian countries.
Plenty of new destinations
Since 2019 plenty of non-stop destinations have been added to Madrid's network portfolio. These include Agadir (Ryanair), Billund (Ryanair), Brindisi (Ryanair), Castellon (Iberia), Chongqing (Hainan Airlines), Comayagua (Honduras with Iberojet), Essaouira (Ryanair), Guadalajara (Aeromexico), Iasi (Wizz Air), Kaunas (Ryanair), Kutaisi (Wizz Air), Kuwait City (Kuwait Airways), Luanda (TAAG Angola), Monterrey (Aeromexico), Montpellier (Transavia), Ponta Delgada (Iberia), Seo de Urgel (Iberia), Tetouan (Ryanair), Tirana (Wizz Air) and Trieste (Iberia).
Notable route losses include Addis Ababa, Cologne Bonn, Nuremberg, Stuttgart, Vilnius and Wroclaw as well as various destinations in Asia, Russia and Ukraine which may return in due course.