Malaga has record first half of 2023; 151 destinations in August, including brand-new Newark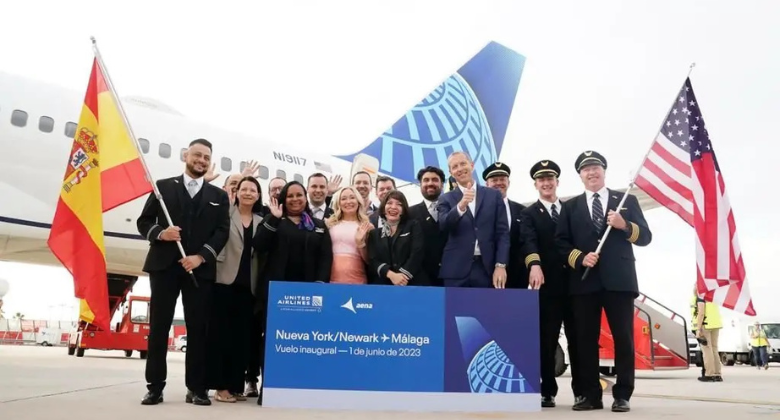 Malaga is Spain's fourth-busiest airport and gateway to the ever-popular Costa del Sol area of tourist-driven Andalucia. Home to a great city centre and seaside area itself, Malaga welcomed 18.46 million passengers in 2022. According to data collected by Air Service One, Malaga's traffic in the first half of 2023 was 10.07 million – 9.4% above the previous record held in 2019. As that was before the absolute peak summer months, it is expected that traffic in 2023 should exceed the previous high.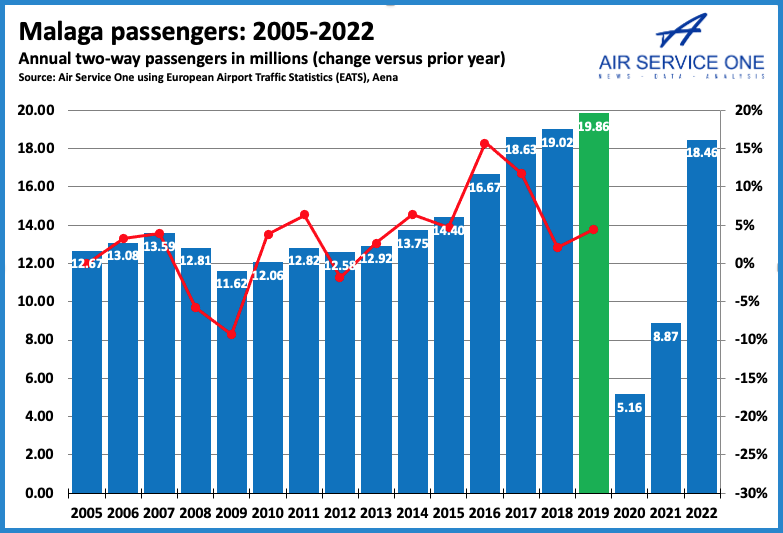 Gains US route; now seven long-haul routes
On 31 May 2023, United Airlines inaugurated Newark to Malaga, becoming the Spanish airport's only US route since Delta ended New York JFK in September 2019.
Operating 3-weekly using the Boeing 757-200ER, United's seasonal offering ends for the summer from Malaga on 28 September. Newark is one of seven long-haul routes from the airport this summer:
Air Transat: Montreal (2-weekly)
Etihad Airways: Abu Dhabi (2-weekly)
Gulf Air: Bahrain (3-weekly; continues to/from Casablanca)
Kuwait Airways: Kuwait (4-weekly)
Qatar Airways: Doha (3-weekly)
Saudia: Riyadh (2-weekly)
United: Newark (3-weekly)
151 destinations and 1,677 weekly flights in August
According to Cirium schedules information, Malaga has non-stop flights to 151 destinations in the peak month of August. Some 134 are in Europe, eight in Africa (mainly in Morocco), six in the Middle East (including Tel Aviv), and two in North America.
Malaga has 1,677 weekly departing flights this month. With almost one in four services, the UK is the leading nation (399 departures to 23 destinations). It benefited from the 20 July addition of Jet2 from Bristol (4-weekly in August). The UK is followed by Spain (314 weekly departures; 21 destinations), Germany (121; 15 destinations), France (113; 10 destinations) and Morocco (including the Spanish enclaves of Melilla and Ceuta; 100-weekly; nine destinations).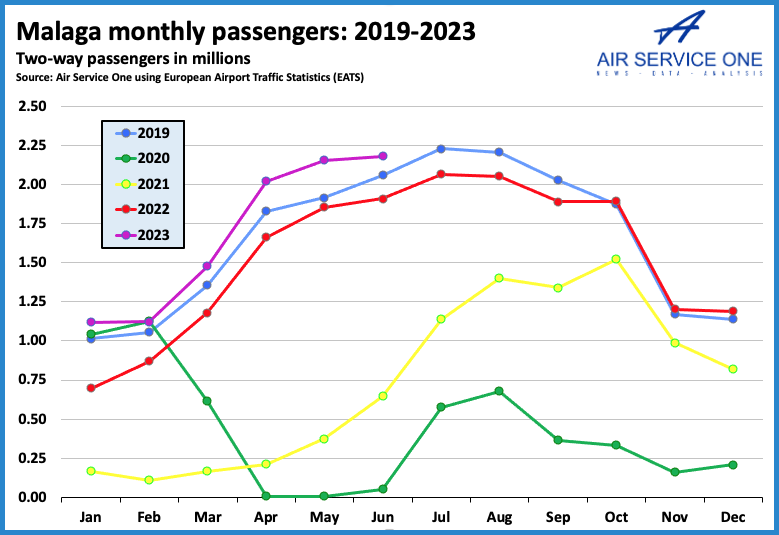 London LGW is Malaga's top market
With 88-weekly flights, London LGW is Malaga's leading market. It is served by easyJet (42-weekly), BA EuroFlyer (19), Vueling (14; launched in April 2022), Wizz Air UK (10; began in June 2021) and TUI (3). Dublin is the joint second most-served, with Aer Lingus (27-weekly) and Ryanair (26) both operating. Malaga joins Faro as the only European destinations to see Aer Lingus' A330-300s in August.
While Gatwick is not often number one in the off-season – Madrid or Barcelona is – it has, excluding the pandemic, been first in August since 2007. That is mainly because it is the peak month for inbound tourists. However, it is also because of the impact of the relatively high-speed Malaga-Madrid Renfe rail line, covering the 415 kilometres in less than three hours. However, between January and June this year, more airline passengers were P2P between Malaga and Madrid than transited in the capital.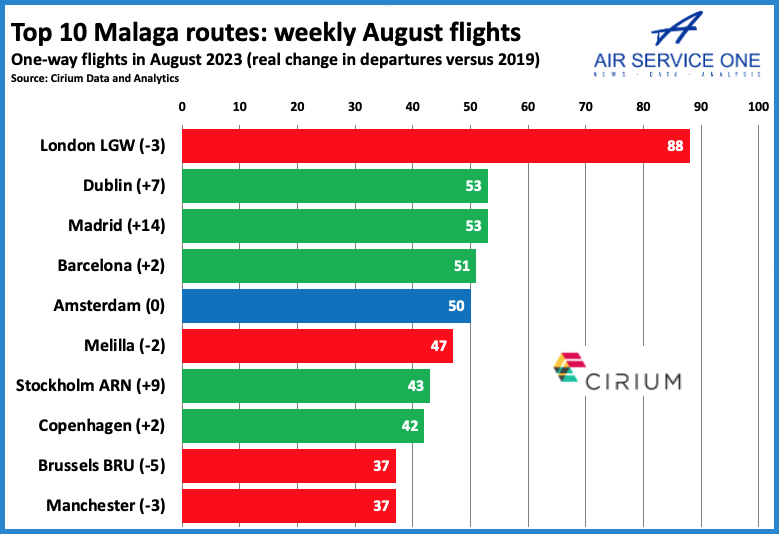 Ryanair is the leading carrier
Cirium informs that (U)LCCs have approximately two-thirds of Malaga's August flights. Ryanair is very much the airport's leading carrier. With 428-weekly flights, it has a quarter of all services. Helped by having a base, its network spans 84 routes, 11 within Spain. Malaga now ranks as Ryanair's eighth most-served airport by flights in August out of 228 in its portfolio.
Using Cirium to compare August 2023 with 2022 reveals that various carriers – aside from United – have launched or resumed Malaga service. They include Air Cairo, Air Serbia, Israir (served briefly in 2013), Maribu, and Saudia (last served in 2019).