Malta welcomed over seven million passengers in 2019; Ryanair drives traffic recovery to 85% in S22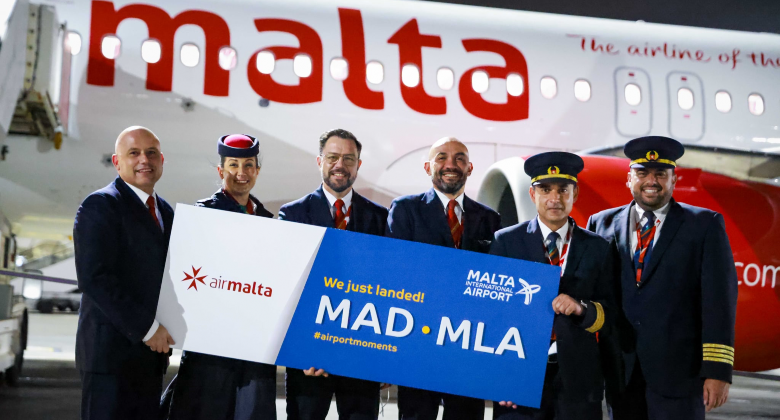 Malta International Airport welcomed over 7.3 million passengers in 2019. Not bad for an island with just over 500,000 inhabitants. Between 2000 and 2009 annual demand was fairly steady at around three million passengers. However, between 2009 and 2019 traffic more than doubled, with passenger numbers increasing steadily every year. Much of this was driven by the growth of Ryanair's base at the airport, which had opened in May 2010.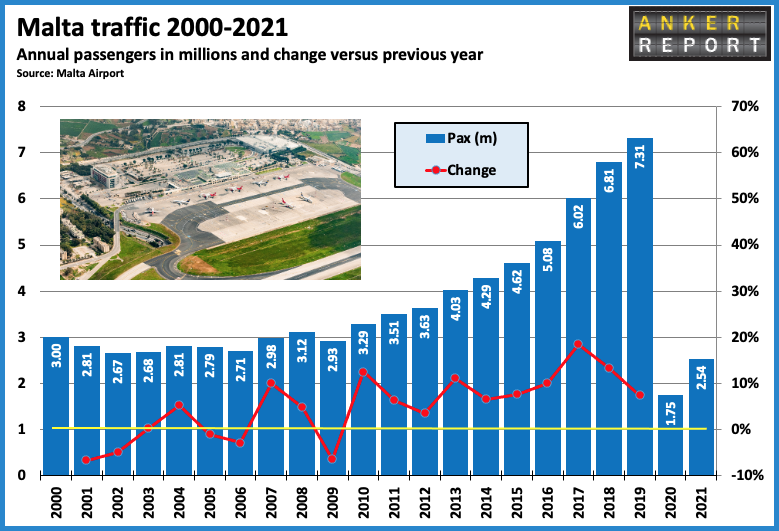 Ryanair now much bigger than Air Malta
In the period 2016 to 2019, Air Malta and Ryanair were similar in size in terms of their annual seat capacity from Malta, with Ryanair slightly bigger. However, in 2021 and 2022 Ryanair's share of the airport's seats has increased to around 45%, while Air Malta's has declined to around 25%. This summer, Ryanair was offering non-stop service to over 60 destinations from Malta, Air Malta around 20.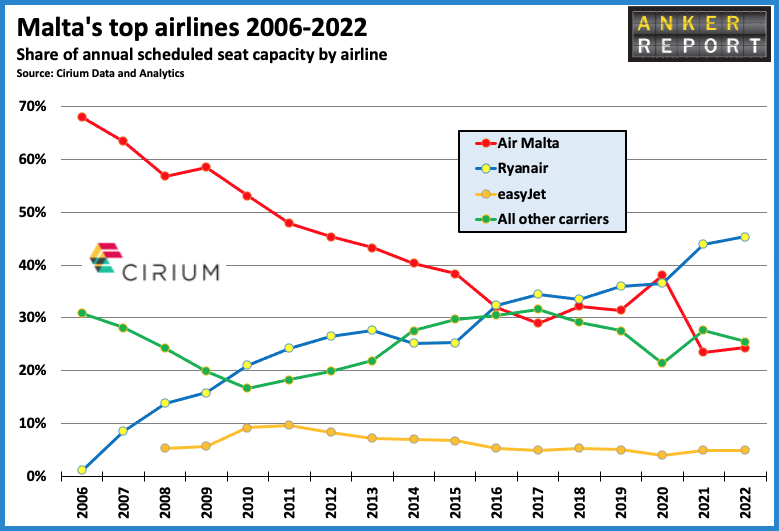 According to analysis of Cirium schedule data, easyJet still ranks third for flights in 2022, just ahead of Lufthansa and Wizz Air. However, if measured by seat capacity, easyJet drops to fifth, behind Wizz Air and Lufthansa. Rounding out the top 10 airlines in 2022 are Turkish Airlines, Emirates, Jet2.com, Vueling and British Airways.
easyJet has flights to Malta from Geneva, London LGW, Manchester, Milan MXP and Naples. Wizz Air has flights to Malta from Belgrade, Bucharest, Budapest, Cluj-Napoca, Katowice, Skopje, Sofia and Warsaw WAW. Lufthansa, as might be expected, just has flights from Frankfurt and Munich.
Traffic recovery at around 85% this summer
Passenger demand has recovered well in 2022 but is still below 2019 levels. In April traffic was down 21.3% compared with three years earlier. In May it was down 17.7%, in June down 16.4, in July down 13.7% and in August down 13.5%. In normal years, passenger numbers in the peak summer months are around twice as high as in January and February.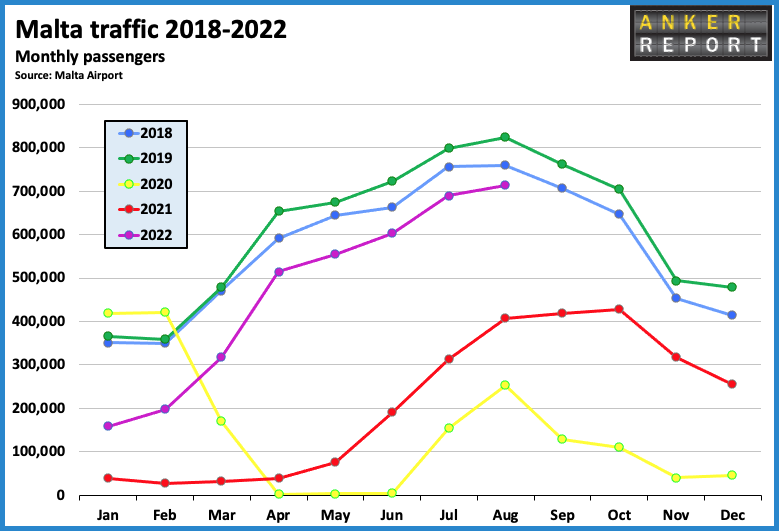 France, Italy and Poland markets growing
A look at seat capacity by country market in August (the airport's busiest month for traffic) shows significant variations versus August 2019. Belgium, Germany and the UK have seen declines of over 30%, while Spain is down 20%. However, Italy (+7%), Poland (+26%) and France (+30%) have all registered significant capacity growth. Back in 2019, the UK and Italian markets were similar in size. Now the Italian market is easily the biggest.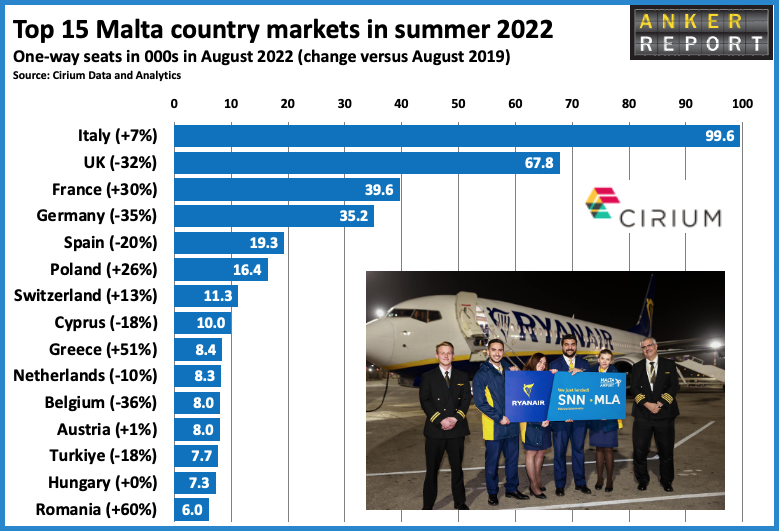 A look at the new routes launched by carriers since the pandemic started helps explain why certain markets have grown.
Summer 2020: LOT to Warsaw WAW / Ryanair to Vienna
Winter 2020/21: Wizz Air to London LGW
Summer 2021: Air France to Paris CDG / easyJet to Bristol, London LTN / Ryanair to Brindisi, Cagliari, Chania, Genoa, Sofia, Trapani
Winter 2021/22: Ryanair to Bucharest, Kiev KBP, Lisbon, Milan MXP, Parma, Tarbes/Lourdes, Tel Aviv, Warsaw WMI, Zagreb / Vueling to Paris ORY
Summer 2022: Aeroitalia to Forli / Air Malta to Madrid / Jet2.com to Bristol / Ryanair to Bordeaux, Shannon / Vueling to Bilbao
The French market has seen both Air France and Vueling add new routes between Paris and Malta, while Ryanair has added service from Bordeaux and Tarbes/Lourdes. Polish customers now have new services with LOT (from Warsaw WAW) and Ryanair (from Warsaw WMI), while the Italian market has seen Ryanair add Malta flights from six airports.
The biggest country markets served in August 2019 that are no longer served in August 2022 are Sweden, Russia, Qatar, Jordan, Morocco, Ukraine and Finland. The only new country market is Croatia, thanks to Ryanair launching services to/from Zagreb using the Airbus aircraft it inherited when it acquired Lauda.