Melbourne's domestic traffic down just 13% versus 2019 in September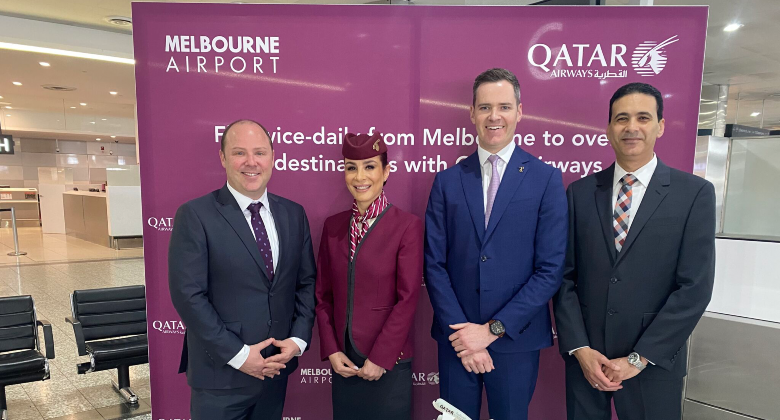 In 2019 Melbourne Airport welcomed 37.1 million passengers, making it Australia's second busiest airport after Sydney, which handled 44.4 million passengers. Rounding out the country's top five airports were Brisbane (24.0 million), Perth (12.5 million) and Adelaide (8.5 million). Melbourne's traffic mix was roughly 70% domestic (25.8 million) and 30% international (11.3 million).
The airport has published its traffic statistics for September which reveal that it served almost 2.5 million passengers that month, of which 1.9 million were on domestic flights and the remaining 600,000 on international flights. Compared with September 2019 that represents a recovery rate of 87% for domestic traffic and 62% for international traffic. Overall, total traffic has now recovered to just over 80% of the pre-pandemic level.
November seats down 19%
Analysing Cirium schedule data for November 2022 and comparing it with November 2019 reveals that flights at Melbourne are expected to be down 13%, total seat capacity will be down around 19%, while ASKs (Available Seat Kilometres) from the airport will be down around 28%. This is consistent with the slower rate of recovery of long-haul, international traffic.
Qantas remains the airports leading airline though its seat capacity is down 23%. Then comes Virgin Australia (capacity down 6%), Jetstar Airways (down 3%) and Rex (up 359%). Rex's dramatic growth is the result of it acquiring Boeing 737-800s and starting service on the major trunk routes to Sydney and Brisbane.
Since November 2019, the airport has welcomed one new carrier, Vietnam's Bamboo Airways. It launched flights in February 2022 and now offers twice-weekly service from Hanoi and Ho Chi Minh City using its Boeing 787-9s. After an absence of four years, AirAsia X was set to resume service to Melbourne on 1 November, operating three weekly flights from Kuala Lumpur using its A330-300s. Another significant development in the long-haul market has been Qatar Airways's decision to add a second daily service from Doha, starting on 1 October.
Singapore is #1 international route
Melbourne's busiest route, by some distance, is to Sydney, a sector length of 707 kilometres. The route is served by all four of the airport's leading domestic airlines. Among the top 15 routes as measured by weekly seats, ten are domestic routes. Of these, two are showing capacity growth in November 2022 versus November 2019; these are Gold Coast and Sunshine Coast in Queensland. The leading international destinations are Singapore, Auckland, Bali, Dubai and Kuala Lumpur. The last two of these have seen growth versus 2019.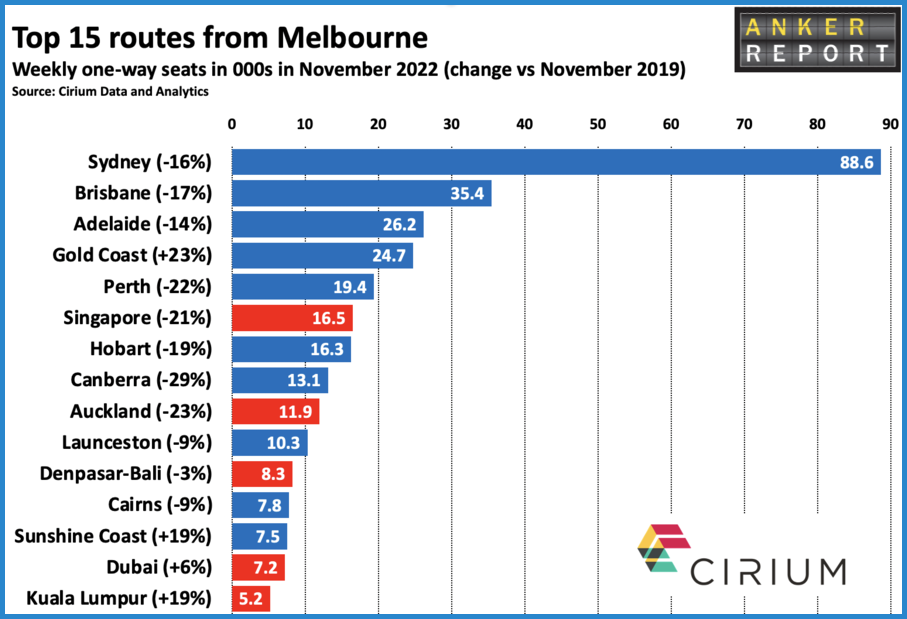 China capacity still down over 90%
Back in 2019, New Zealand and Singapore were the two leading international country markets for non-stop seat capacity. That is still the case now. However, China was ranked third but has now fallen to 15th as seat capacity has been cut by a massive 93%, with little sign of any imminent improvement. Several country markets have seen capacity growth, including India. Air India now links Melbourne and Delhi with daily flights (was only three weekly back in November 2019), while Qantas began serving the same route four times weekly with non-stop service in August 2022. Between December 2021 and August 2022 it had operated the route via Adelaide.