Memphis traffic down 6% in 2022 v 2019 at 4.36m; Avelo and Spirit enter market while American is #1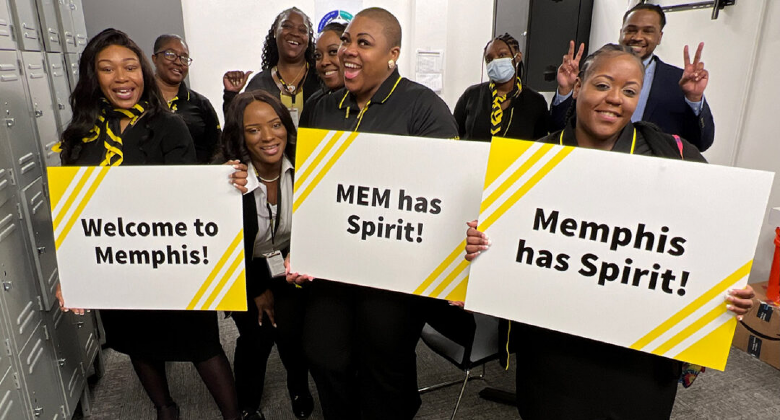 Memphis welcomed 4.36 million passengers in 2022, down by 6% versus 2019. Yet it was still the third best year in the last decade, and it coincided with the opening of its new concourse. Passenger traffic was aided by the arrival of ULCC Spirit, while Avelo has confirmed that it is starting this summer. However, as Memphis remains heavily driven by hub airlines, an estimated 47% of passengers had to connect en route to their destination. Naturally, passenger volume is a far cry from the days of Northwest and Delta's hub, when 150+ airports were served non-stop in some years, including long-haul.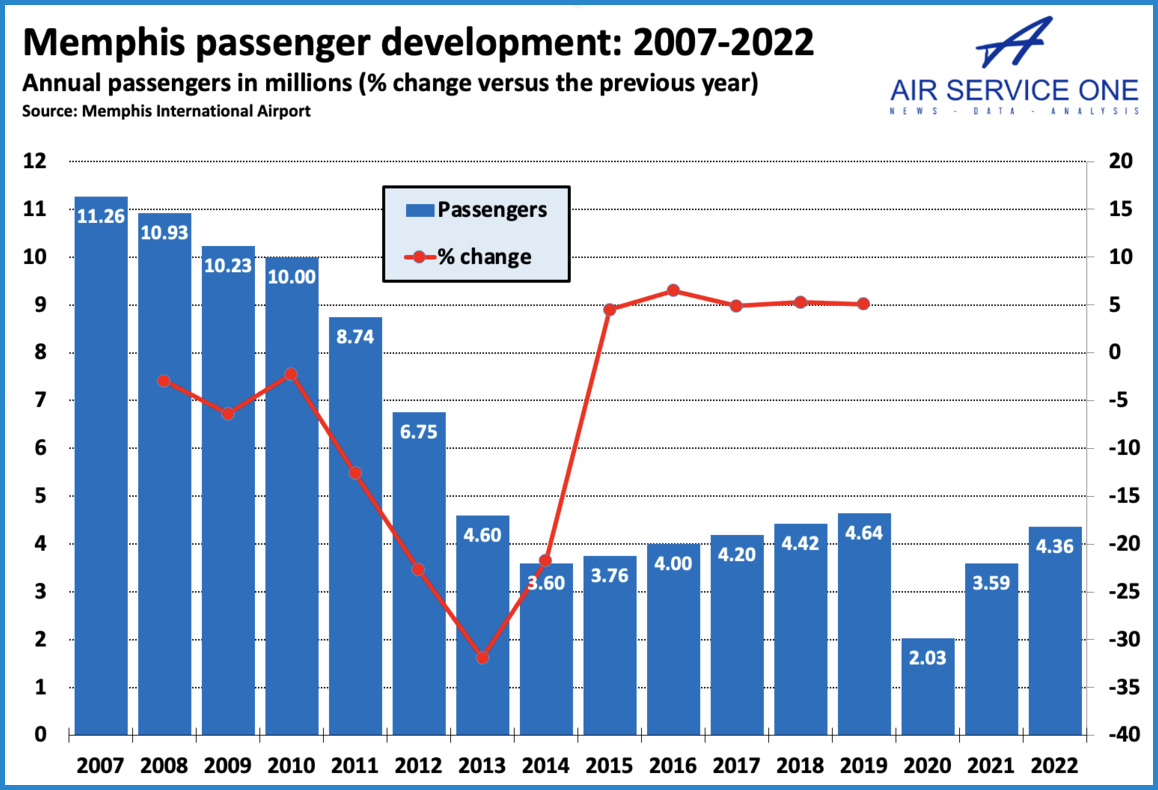 American was #1 with 34% of passengers
Memphis had passenger service from eight carriers last year, as shown below. The only international operation was by Mexico's VivaAerobus, which had a handful of flights to Cancun and carried just shy of 3,000 passengers.
According to the airport's figures, American was the biggest airline. With nine routes, it had nearly 1.49 million passengers and 34% of the total. It served Boston, Charlotte, Chicago ORD, Dallas DFW, Miami, New York LGA, Philadelphia, Phoenix and Washington DCA. When combined with Delta (six routes, all to hubs), the highly dominant pair were responsible for six in ten Memphis passengers.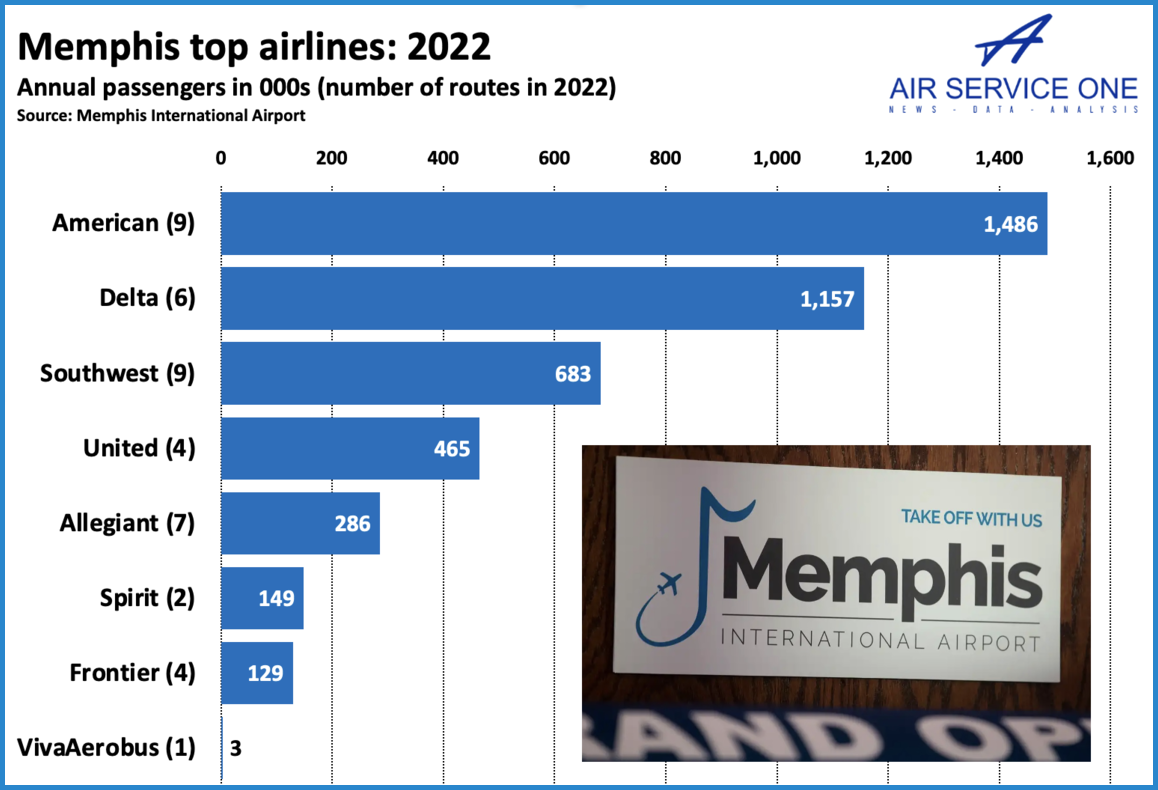 (U)LCCs had only 29% of traffic
Four of Memphis' seven airlines are (U)LCCs: Allegiant, Frontier, Southwest and Spirit. Despite this, they had 'only' 1.24 million passengers and 29% of the total. It was helped by the April 2022 arrival of Spirit; it carried 149,000 passengers from introducing Las Vegas (20 April; daily) and Orlando (20 April; daily).
Despite Frontier having 20% more passengers than it did in 2019, it was immediately overtaken by Spirit. This is because Frontier's Memphis operation in 2019 was about 40% smaller than it was in 2018. Elsewhere, Allegiant grew strongly (+20%), despite having three fewer routes; Oakland, Phoenix AZA and Punta Gorda are no longer served. In contrast, Southwest – bigger than the three ULCCs combined – saw 16% fewer passengers versus 2019. This was primarily from lower frequencies on existing routes.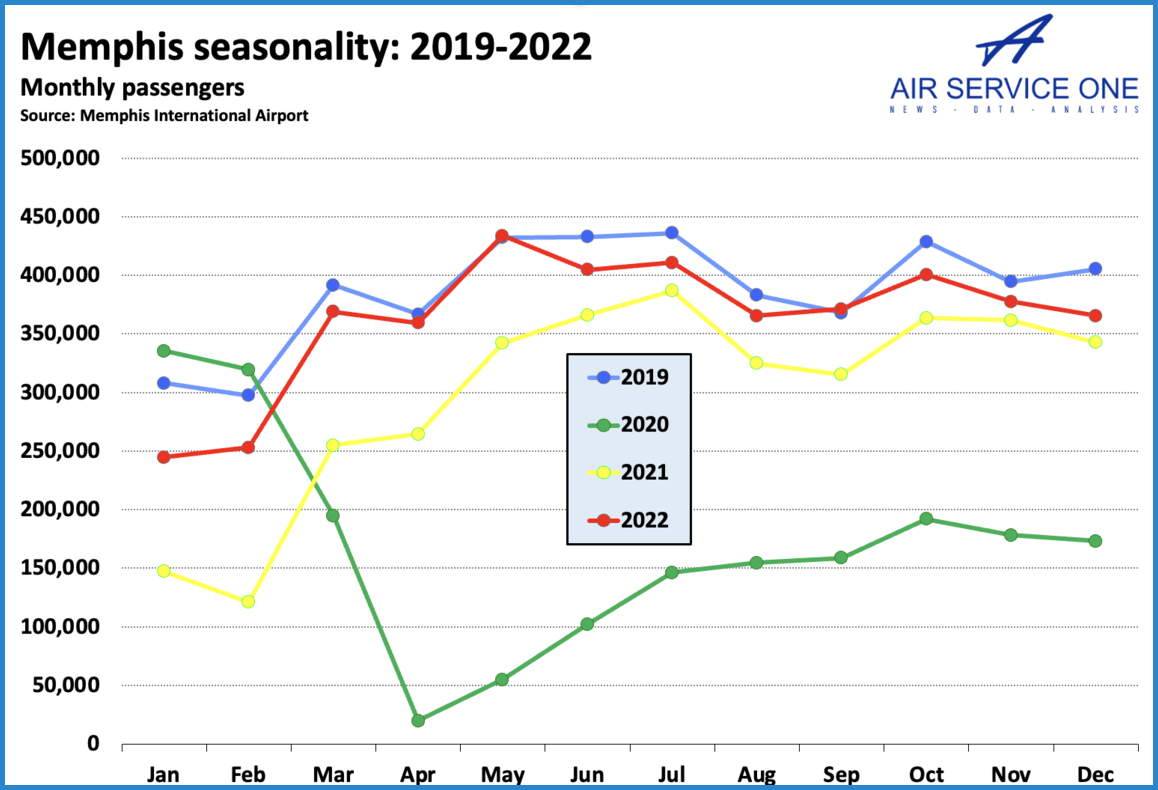 Memphis gets Avelo; four routes in 2023
Avelo has added Memphis to its fast-growing network. It will begin 2-weekly flights from Raleigh Durham, now a base for the LCC, on 2 June. It will be the first time the route has been served since Delta ended it in 2015; a consequence of its de-hubbing.
It is one of four routes that has launched, or will do so, this year. They also include Delta to Boston, which was originally revealed in January 2020 but was understandably postponed. While Boston was always among Memphis' biggest unserved markets, Delta will now compete directly with American.
11 January 2023: American, Austin (7-weekly)
8 May 2023: Delta, Boston (7)
2 June 2023: Avelo, Raleigh Durham (2)
7 June 2023: Spirit, Los Angeles (7)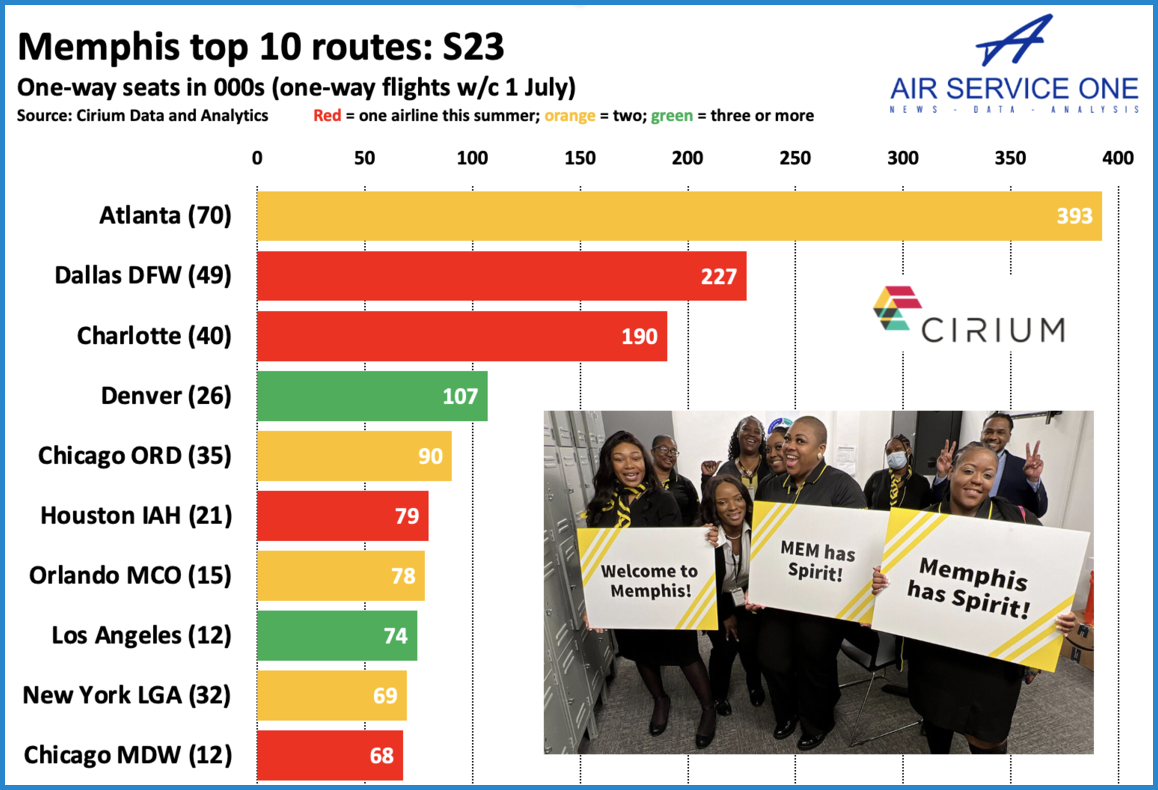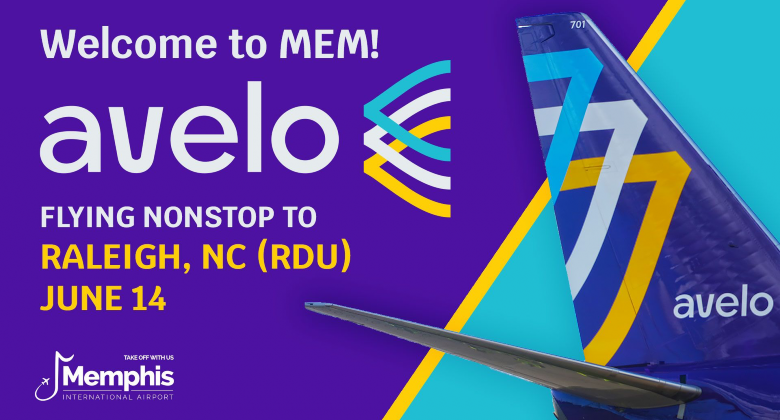 Memphis has 33 destinations in S23
According to Cirium schedules information data, Memphis has 33 non-stop destinations this summer, all domestic. They are spread across 19 states, with Florida having more destinations (7) than any other, followed by Texas (5). Despite Florida's network breadth, mainly because of low-frequency Allegiant, it ranks as only Memphis' fourth most-served state by available capacity. It has 163,000 one-way seats, behind Texas (401,000), Georgia (393,000) and North Carolina (196,000).
As the figure above shows, Atlanta is Memphis' leading route. It has 393,000 summer seats and 70 one-way flights in the week beginning 1 July. Delta has 57 flights – all by 737-900s – and Southwest 13. An estimated three quarters of Memphis-Atlanta passengers connect to destinations beyond the Georgia hub.