Mexico traffic booming, Canada still in recovery mode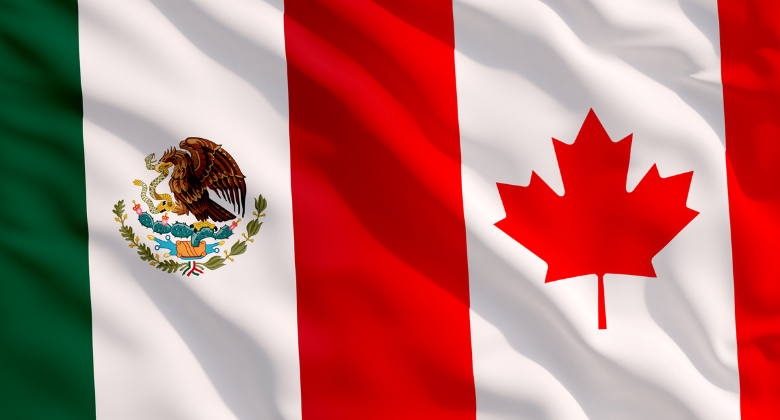 While US seat capacity is forecast to be up just over 3% in 2023 Q3 (compared with 2019 Q3), the aviation fortunes of its two neighbours differ markedly. To the south, Mexican seat capacity is set to be up 21% to 29.1 million seats, though the number of flights is virtually unchanged. To the north, Canadian capacity will be down just under 5% to 27.6 million seats, with flights down 17%. In both countries there has been significant growth in average seats per flight.
Mexico's domestic traffic over 20% above 2019 levels in Q1
Demand for air travel in Mexico is booming with domestic traffic in the first quarter of 2023 more than 20% above the levels recorded in 2019. In fact, traffic had recovered to above pre-pandemic levels as early as March 2022. Cirium data shows domestic capacity will remain at over 20% above 2019 levels in Q3. All of Mexico's airports are showing significant domestic growth with the notable exception of the country's busiest airport at Mexico City. Here capacity is down 7%. However, the loss of 380,000 domestic seats is more than compensated for by the 430,000 domestic seats at the country's new airport serving the capital, Felipe Ángeles International Airport (IATA code NLU) which opened in March 2022.
Among airlines, Volaris now has 40% of the domestic market, Vivaaerobus 30% and Aeromexico (and its partner Aeromexico Connect) just under 30%. Sadly, regional carrier Aeromar ceased operations in mid-February. It accounted for just 0.5% of the domestic market in January 2023 according to government statistics.
International demand is now also over 10% above 2019 levels in the first quarter of this year. Schedule data indicates that international capacity will be 18% above 2019 levels in Q3, with Cancun alone accounting for almost two-thirds of the increase. Mexican carriers Vivaaerobus and Volaris lead the way with the biggest capacity increases, though Aeromexico remains the biggest carrier on international routes. However, it is in danger of being overtaken by American.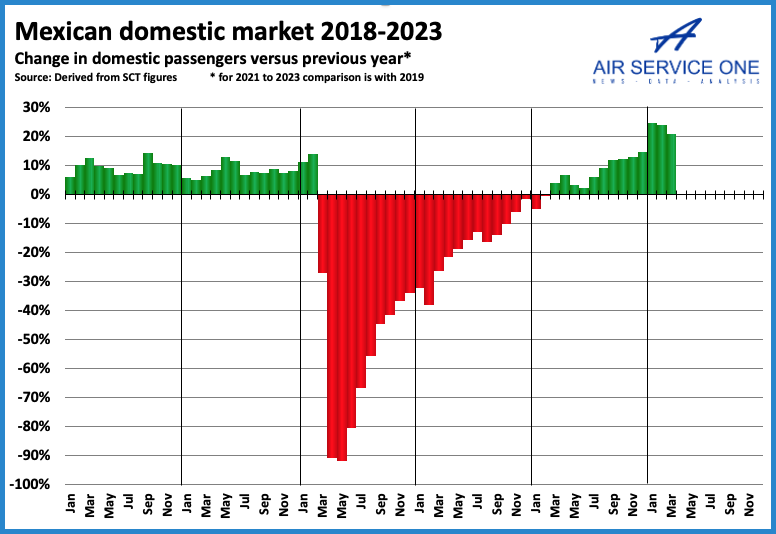 Canada still playing catch-up
Canadian authorities imposed far greater restrictions on air travellers compared with the US and especially Mexico. As a result, capacity has still not returned to pre-pandemic levels and is not expected to, not even in the third quarter of this year. However, among the country's top 15 airports, six are showing capacity increases in Q3 compared with 2019. Five of these growth airports are seeing modest growth of less than 10%, but the star performer is Abbotsford in British Columbia, where capacity is up a massive 44% thanks to significant growth in ULCC services from Flair and Swoop. The airport handled almost one million passengers in 2022.
Among major airports, domestic capacity is up at Calgary, Vancouver and Winnipeg, while international capacity has grown at Calgary and Montreal. Calgary has benefited from WestJet's decision to focus its long-haul operations from that airport.
While capacity offered by both Air Canada and WestJet is still more than 10% below pre-pandemic levels, several carriers are growing. These include Flair, newcomer Lynx Air and Porter Airlines. The latter has started several new routes using its recently acquired Embraer E195s.