Mexico traffic down less than 10% in October versus 2019; international traffic down just 3%
Analysis of the latest available passenger numbers on airlines operating to, from and within Mexico during October 2021 shows that demand on domestic flights was just 10% below the level of 2019. This is the best performance yet during 2021. Since May, domestic traffic has been between 80% and 90% of the figure from two years ago.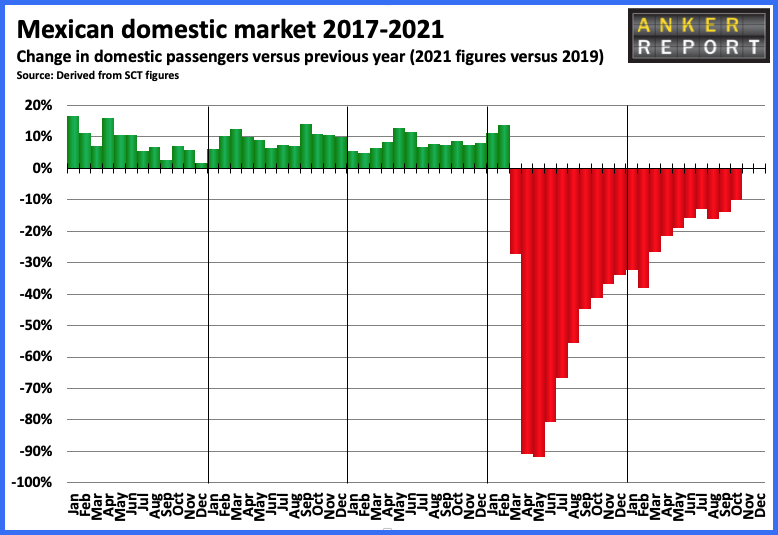 Volaris continues to be the leading carrier in the domestic market, with a 41.4% share of demand in October, well ahead of Vivaaerobus on 28.6%. Aeromexico and Aeromexico Connect combined have 27.3%, with the remaining four smaller regional carriers sharing the remaining 3% of the market.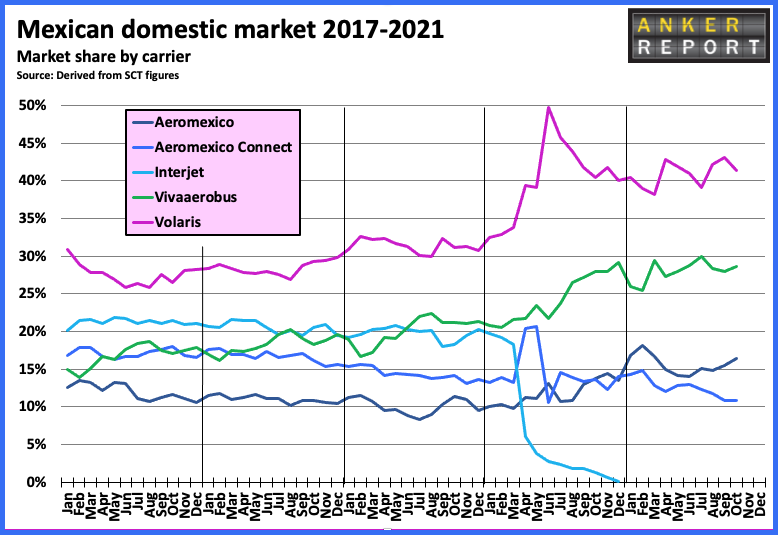 International traffic down just 3% versus 2019
After initially recovering more slowly, international traffic has performed well since May with traffic above 80% of the equivalent month in 2019. In October, demand on international routes (3.286 million passengers) was just 3% lower than the figure reported in 2019. Among Mexican carriers, Aeromexico and Aeromexico Connect combined handled 410,000 passengers, ahead of Volaris (382k) and Vivaaerobus (352k). Mexican carriers accounted for just under 30% of the market.
The leading foreign carrier was American (441k) ahead of United (402k), Delta (269k) and Southwest (161k). Among other non-Mexican carriers, COPA Airlines welcomed 126k passengers on its Mexican routes, WestJet just under 36k, Iberia 33k, Avianca 32k, Air France 29k, Lufthansa 26k and Air Canada 22k.