Miami passes 50 million pax milestone; domestic surge driven by JetBlue, Southwest and Spirit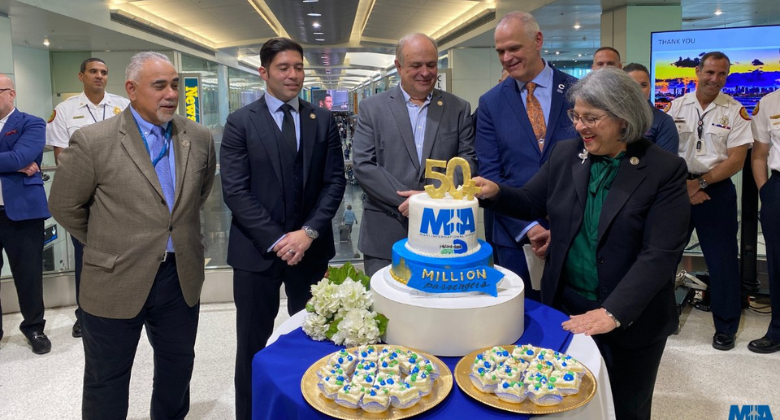 Miami ended 2022 with 50.6 million passengers. It surpassed its previous best, held in 2019, by more than 10%. Some 4.7 million passengers were added, which meant that it overtook its long-time rival, Orlando MCO, to again become Florida's busiest airport. By changing to the preference gate model, which effectively financially incentivises airlines to expand, Miami's charges reduced significantly, helping to close the cost and competitiveness gap with nearby Fort Lauderdale. Consequently, Miami attracted multiple new airlines and welcomed big growth by incumbents.
Miami is Florida's busiest airport again
Miami, Orlando MCO, Fort Lauderdale, Tampa and Fort Myers were Florida's five busiest airports last year. All had fewer passengers than in 2019 except Miami and Fort Myers (+1%). Fort Lauderdale, 45 kilometres from Miami, was the least recovered (-14%). Funnily enough, it was down by five million passengers – nearly the same amount that Miami added. Notice that Orlando's traffic fell from 50.6 million in 2019 – the same volume as Miami last year.
Miami: 50.6 million passengers in 2022 (up from 45.9m in 2019)
Orlando MCO: 50.2m (50.6m)
Fort Lauderdale: 31.7m (36.7m)
Tampa: 21.5m (22.2m)
Fort Myers: 10.3m (10.2m)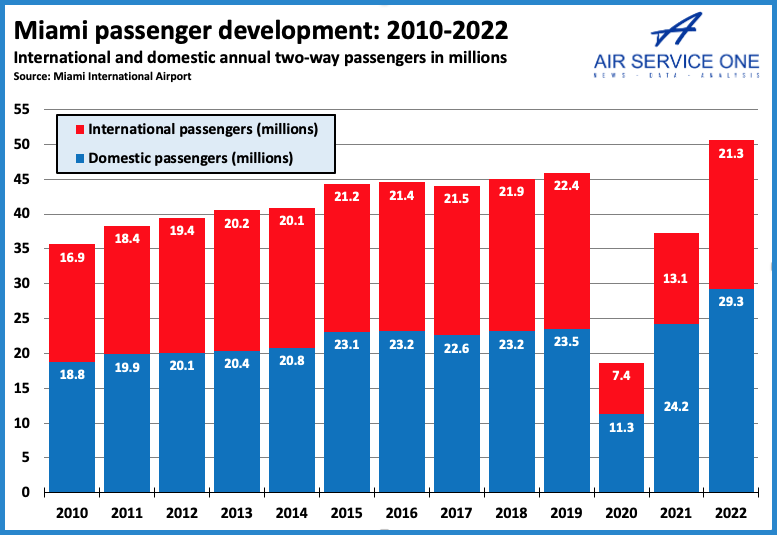 It is worth noting how Miami's seasonality profile is relatively flat across the year, with peaks in March, July and December. Unusually among major airports, September is the airport's quietest month. Even February has more traffic, despite having two fewer days.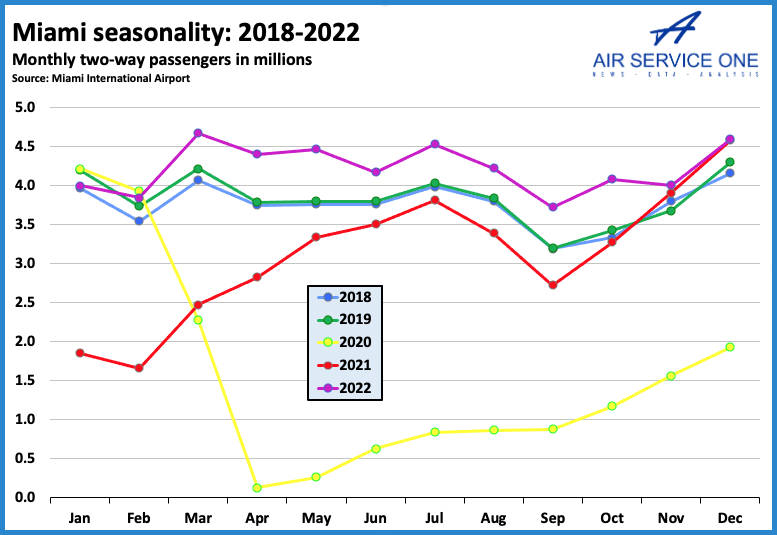 Miami's growth is fully from the domestic market
Miami's record passenger traffic was completely because of the domestic market, which grew by a considerable 24% between 2019 and 2022. In 2019, the airport had five passenger airlines operating domestically, according to Cirium schedules information data. Four years later, it had nine.
Miami welcomed Southwest in November 2020, JetBlue in February 2021 and Spirit in October 2021. It also saw the return of Alaska Airlines in June 2022 after a 10-year absence. Cirium data reveals that the four collectively had 6.3 million domestic seats last year and served 33 US airports. Of these, 29 already existed, bringing more competition and lower fares. They added the first Miami flights from Dallas DAL and Myrtle Beach and brought about the return of Atlantic City and Houston HOU.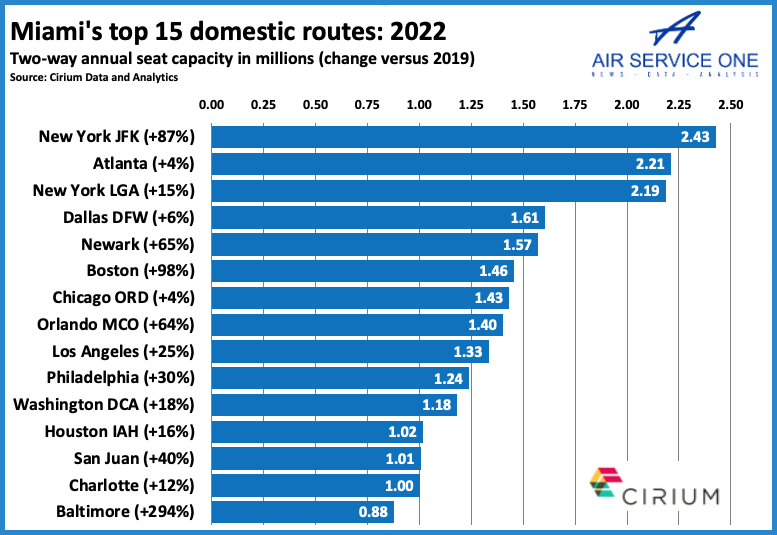 American's domestic share fell by 16 percentage points
Southwest, JetBlue, Spirit and Alaska ended 2022 with a fifth of Miami's domestic seats. Along with good growth by Frontier (domestic capacity +88% versus 2019), it meant that American's domestic share reduced from 80% in 2019 to 64%. That is despite American's own substantial domestic development: seats rose by 12% to 22.2 million. While its network grew by 13 to 78, the new routes had relatively few flights. Instead, it was really all about expanding in existing markets – including in response to the then-new entrants. Indeed, 12 of Miami's top 15 domestic routes had double digit capacity increases last year.
New York JFK was Miami's leading route
For many years, Atlanta or New York LGA was Miami's most served domestic route, based on Cirium data. That changed in 2022, with JFK becoming number one thanks to an 87% rise in available seats – despite big growth to New York LGA and Newark too. JetBlue began Miami-JFK in 2021 and American added 69% more seats for a total of 1.4 million, by far its highest to date. Meanwhile, Delta – which has operated the route since 2005 – grew by a more modest 5%. The trio had an average of 18 daily one-way flights to JFK.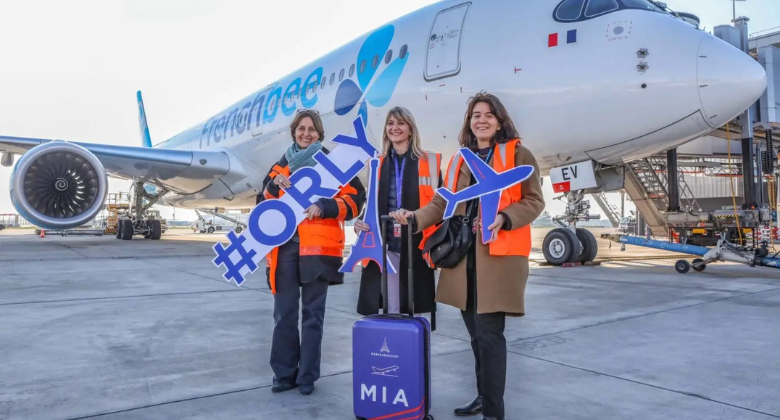 Many new international routes
Unlike the domestic market, Miami's international passengers fell by 5%. It wasn't helped by more than half of the airport's top 15 international routes experiencing lower capacity than the pre-pandemic period (shown in red on the graph below) as the recovery continued. Yet many new routes were introduced, with examples provided below. They include Vancouver, back after last being served in 2004.
5 May: Frontier, Kingston (2- to 3-weekly)
7 June: Sky, Lima (daily)
20 June: RED air, Santo Domingo (2-daily)
8 December: Avianca, Pereira (4-weekly)
9 December: Avianca, Bucaramanga (3-weekly)
10 December: Avianca, Santa Marta (2-weekly)
15 December: French Bee, Paris ORY (3-weekly)
17 December: Air Canada, Vancouver (3-weekly)
17 December: Gol, Manaus (2-weekly)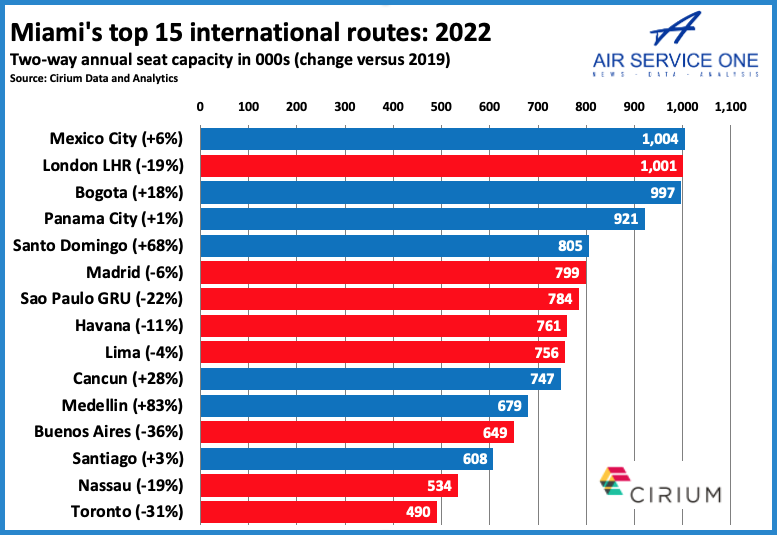 The battle to be the leading international route in 2022 was a three-horse race between Mexico City, London LHR and Bogota in Colombia. Thanks to capacity growth of 6% and a decline in Heathrow seats, the Mexican capital moved to the top of the rankings. The only other European destination in the top 15 was Madrid in sixth place.