Milwaukee has welcomed three new airlines since 2021; JetBlue, Spirit and Sun Country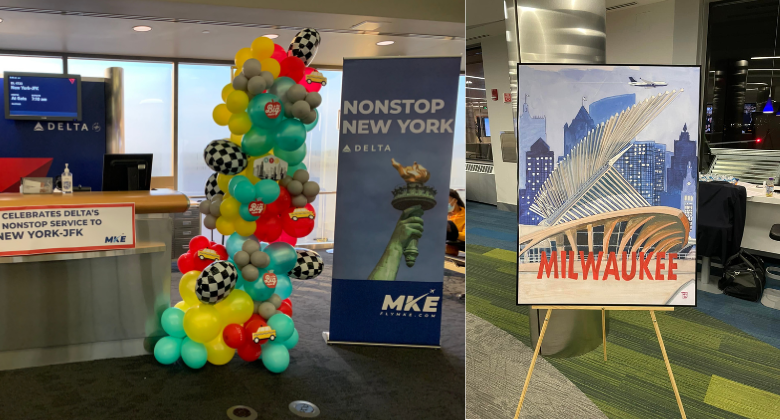 Milwaukee is the largest city in the state of Wisconsin and, not surprisingly, is home to the state's busiest airport. Milwaukee Mitchell International Airport, named after US Army General Billy Mitchell, typically welcomed around seven million passengers per annum pre-pandemic. Back in 2009, the airport's leading airlines were Midwest Airlines and AirTran, with the two carriers accounting for around 60% of seat capacity. Northwest was third.
Significantly, Southwest launched flights at the airport in November 2009. In 2010, Delta merged with Northwest, while AirTran, Frontier and Southwest all expanded their capacities significantly, resulting in a record year for the airport. By 2012, Midwest had gone and Frontier had dramatically cut capacity, leaving AirTran as the largest airline followed by Southwest and Delta. When AirTran was absorbed by Southwest, it left Southwest and Delta as the airport's two biggest carriers.
Last year saw the airport welcome almost 5.5 million passengers, still around 20% fewer than in 2019. According to Cirium data Southwest was the largest carrier accounting for 36% of seats, followed by Delta (25%), American (14%) and United (10%). Among the 10 carriers offering regular scheduled services, three had not been present at the airport in 2019; JetBlue, Spirit and Sun Country.
March is busiest month
Monthly passenger data since 2019 shows that the airport's seasonality profile is reasonably flat. January and February are the quietest months, with March the busiest as the traditional spring break encourages locals to head for warmer parts of the US and beyond. Schedules data suggests that capacity in 2023 Q2 will still be around 19% below the level seen in 2019 Q2.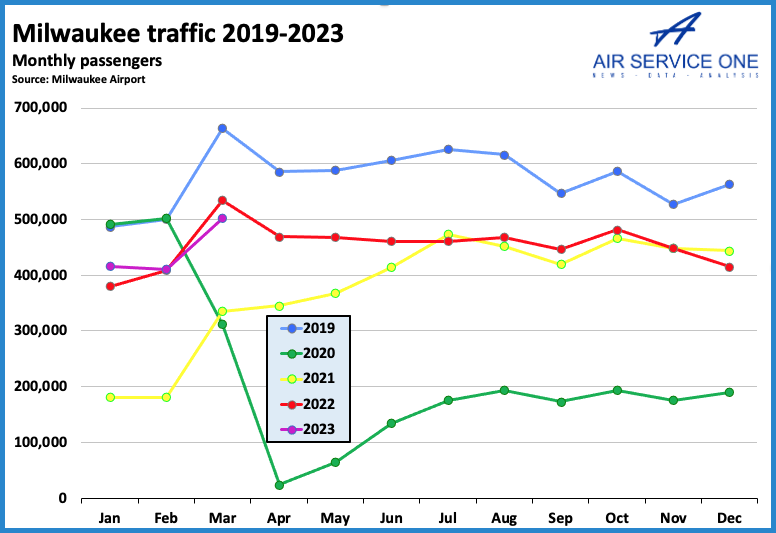 Nearby Chicago is busiest route for flights
A look at June schedules data reveals that Chicago ORD is Milwaukee's most served route with 10 daily departures. American has four daily flights on the 110-kilometre route and United six, all operated using small jets. However, if measured by seat capacity, Atlanta is the leading route. Southwest offers a daily service while Delta operates between five and six daily rotations using a mix of A320s and A321s.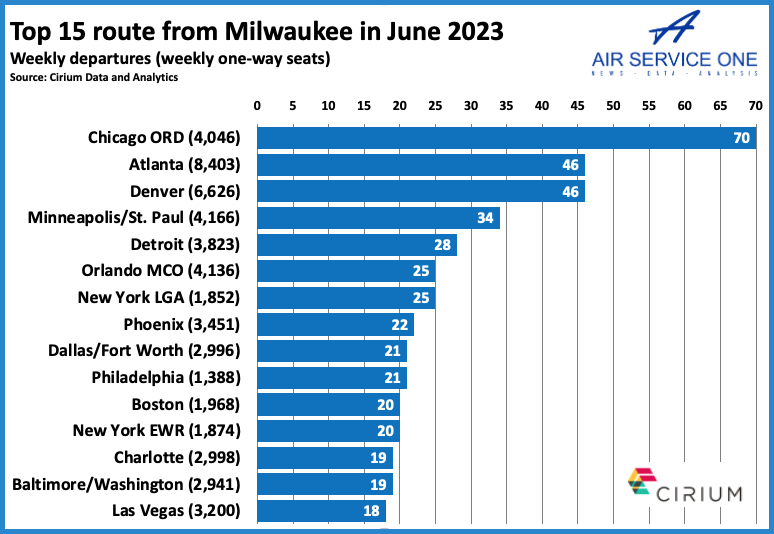 Since 2019 Q2, New York JFK has been added to Milwaukee's route network, thanks to the arrival of JetBlue at the end of March 2022. Delta also began connecting Milwaukee with JFK from June 2022. In addition to its JFK service, JetBlue also took the opportunity to launch daily service to its Boston hub at the same time.
While JFK has been added to the airport's network a number of destinations served non-stop at least daily in 2019 Q2 are not served at all in 2023 Q2. These are Cleveland, Houston HOU, Kansas City (will resume in July 2023), Los Angeles and San Francisco in the US, as well as Toronto in Canada.
Spirit and Sun Country arrived in 2021
Aside from the two JetBlue routes and Delta's JFK service, there are three other services offered from the airport in June 2023 that were not available in June 2019. Spirit entered the Milwaukee market in June 2021. Six months later in January 2022 it was offering non-stop service to eight destinations; Cancun, Fort Lauderdale, Fort Myers, Las Vegas, Los Angeles, Orlando MCO, Phoenix and Tampa. A year later only Fort Myers, Las Vegas and Orlando were still being served. Fort Myers is a seasonal winter-only service, leaving just Las Vegas and Orlando as year-round services.
Sun Country arrived in Milwaukee in August 2021. In January 2022 it was operating non-stop service to Cancun, Fort Myers and Phoenix. This summer its only route from Milwaukee is a 2-weekly service to its home base at Minneapolis/St. Paul.