Minneapolis still a Delta fortress hub; airport has 132 destinations in Q3; big European growth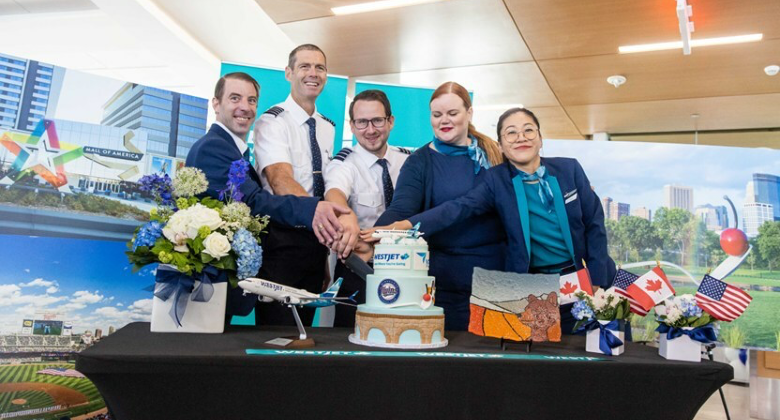 Minneapolis had 3.33 million two-way revenue passengers in July 2023, based on the most recent statistics report from the Metropolitan Airports Commission. There were about 111,000 passengers daily. Domestic traffic was enormous, accounting for about 93% of the total. While passengers rose by 15.9% year-on-year, they were 10.8% lower than in 2019; the recovery continues. Yet Minneapolis is preparing to welcome its sixth European carrier with the launch of Lufthansa next summer and the return of Aer Lingus and Air France.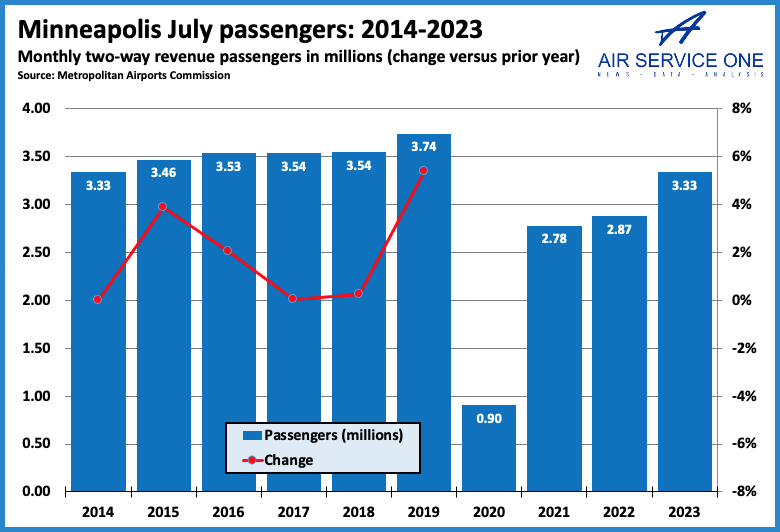 Delta had 70% of passengers
Minneapolis is Delta's second-largest hub by most metrics. In July, the SkyTeam carrier (including its regional operators) had 2.34 million passengers on a network of 121 routes. It was responsible for 70.2% of the airport's passengers. Crossing the 70% threshold makes it a fortress hub, where an airport is controlled by one airline. MAC data shows that mainline Delta transported a surprisingly high 89.2% of passengers.
Delta was almost six times larger than the number two carrier, Sun Country, the so-called 'Minnesota hometown airline'. Minneapolis remains its leading airport. In contrast to Delta's recovery, Sun Country's traffic was 54% greater than in 2019, with its July network comprising 61 routes – up from just 28 four years ago. Cirium data shows that it has introduced 10 routes in 2023 with 2,000+ departing seats. When the two carriers are combined, they carried more than eight in ten of the airport's passengers.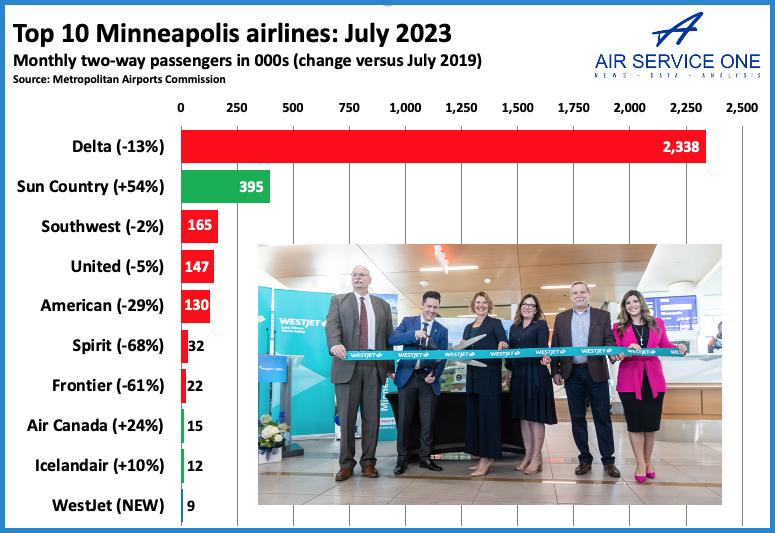 Gained WestJet and Allegiant
Minneapolis welcomed WestJet in June 2023. Existing to feed partner Delta, WestJet serves Edmonton (2 June; 5-weekly) and Saskatoon (19 June; 3-weekly). Both routes were served by Delta until 2020.
In October 2021, Minneapolis added Allegiant. This July, it was Minneapolis' 11th-largest carrier this July with routes to Asheville, Destin Fort Walton Beach and Knoxville. Two of these – Asheville and Destin – have direct competition with Delta and Sun Country. Later in 2023, Allegiant will resume Phoenix AZA, Punta Gorda and Sarasota – all three with direct competition.
132 destinations in Q3 2023
In all-important July-September, Minneapolis' carriers link the airport to 132 destinations globally, based on non-stop flights (Delta's 121 shows how integral it is – which is obvious – but also suggests the network overlap with other operators.) Some 116 of the 132 are domestic, seven are in Canada, five in Europe, two in Mexico, and two in Asia. Just one in 20 routes in long-haul.
Denver is by far Minneapolis' leading route. Located 1,090 kilometres away, Denver has 139 weekly departing flights in the week starting 15 September. Five airlines operate: Southwest (49), Delta (34), United (34), Frontier (14) and Sun Country (8). It has more carriers this quarter than any other destination, followed by Chicago ORD, Las Vegas and Phoenix with four. Perhaps surprisingly, no NYC-area airport is in the top 10. The closest is Newark in 14th, LaGuardia in 16th and JFK in 40th. It would be very different if city seats were considered.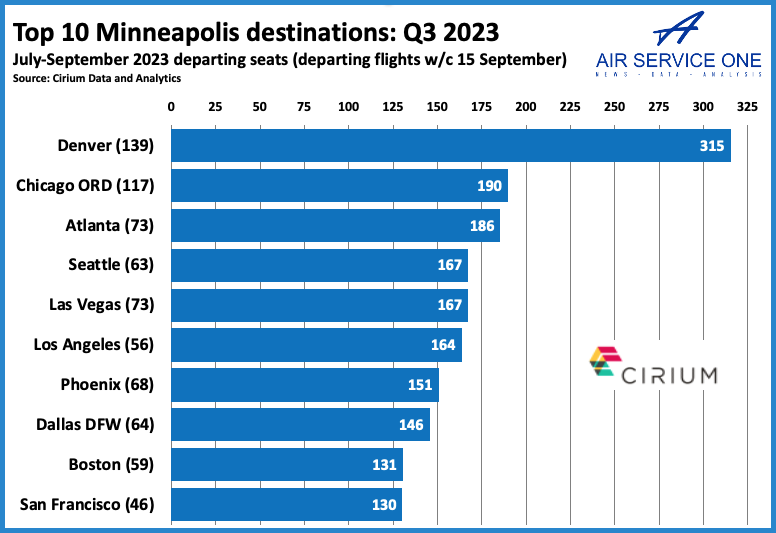 A record seven airlines to Europe next summer
Minneapolis' Europe network will be boosted next year. Joining Delta, KLM, Icelandair and Condor will be Air France, Aer Lingus and Lufthansa. On 29 April 2024, SkyTeam's Air France will resume Paris CDG (daily), having served it between May 2013 and September 2019, then in the summer of 2021 and 2022. Delta's own CDG flights will be halved, freeing up equipment.
29 April is the same day that Aer Lingus will recommence Dublin (4-weekly), having served it between July 2019 and April 2020. As soon as Aer Lingus announced the return of the route, Delta added it too (starting on 9 May; 4-weekly).
Perhaps the biggest development is a brand-new carrier for the airport, with Lufthansa to start Frankfurt-Minneapolis on 4 June (5-weekly). While Condor has served the market since July 2014, it will be the first time since Northwest ended it in 1996 (using the DC-10) that it has seen a network carrier.