Moscow Sheremetyevo takes over as Europe's busiest airport in June with almost 3m passengers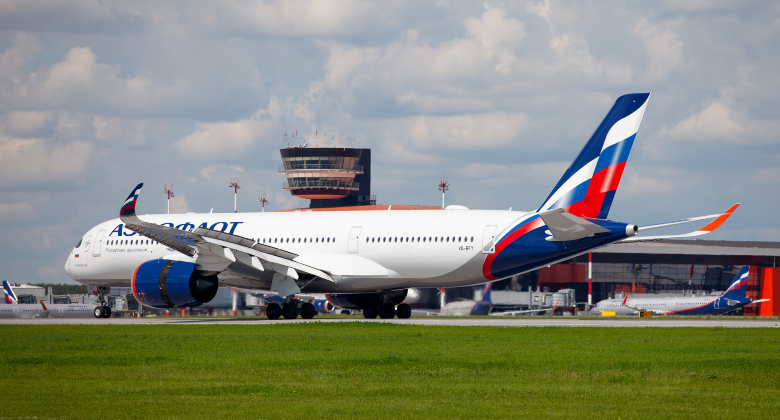 Moscow Sheremetyevo Airport has become the latest European airport to be the busiest for passengers. In June the Russian airport, which is the main base for flag-carrier Aeroflot, welcomed 2.94 million travellers, beating Istanbul IST into second place. The Turkish mega-hub handled 2.80 million passengers. Moscow Domodedovo, which had led the way in May with 2.22 million passengers, dropped to third place with 2.45 million passengers, beating Istanbul SAW. The second Istanbul airport was the only other airport in Europe to process over two million passengers in June.
Frankfurt leading western European hub
With 1.78 million passengers, Frankfurt ranked sixth (just behind St. Petersburg) and was the leading western European hub, ahead of Madrid (8th), Paris CDG (10th) and Amsterdam (11th). The same 15 airports filled the top 15 places as they did in May. With Moscow VKO in 9th and Sochi in 14th, Russia again had five airports in the top 15. Turkey had three, with the two Istanbul airports joined by Antalya in 7th. Spain also had three airports in the top 15 with Madrid being joined by both Palma de Mallorca (12th) and Barcelona (13th). Paris, like Istanbul and Moscow, managed to get more than one of its airports into the top 15 as Paris ORY (15th) joined Paris CDG.
Historically Europe's busiest airport, London Heathrow (with 957k passengers) spent a second month as Europe's 17th busiest airport, just behind Athens. With 1.09 million passengers, the airport serving the Greek capital was the 16th busiest airport, and the last in the rankings to handle at least one million passengers. Rounding out the top 20 were Kiev KBP (939k pax), Lisbon (858k pax) and Munich (853k pax).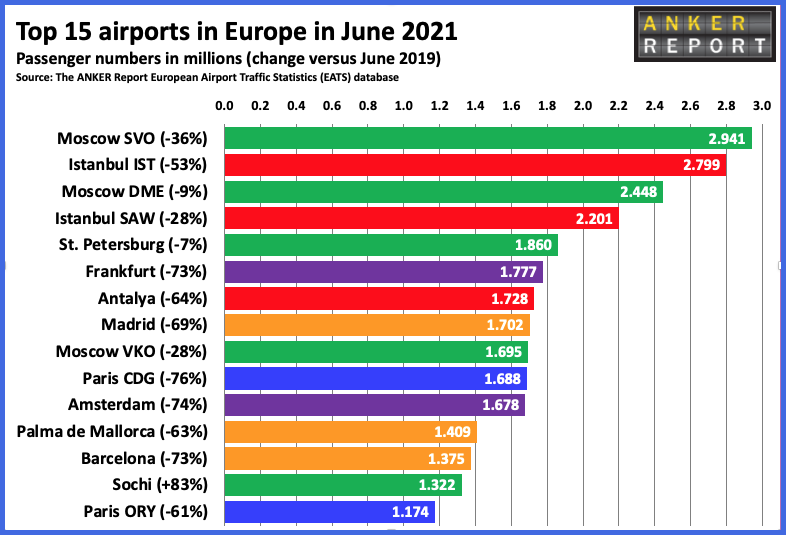 Sochi remains the only one of the top 15 airports to report growth compared with June 2019. However, both Moscow DME and St. Petersburg have got the percentage difference down to single figures. To get into the top 15 in April you needed to handle almost 500,000 passengers. In May this had risen to 700,000 and in June the cut-off point was almost 1.2 million.
To see details of June passenger numbers for over 300 airports across Europe, check out the European Airport Traffic Statistics (EATS) file available to download on this website. The file is updated regularly as and when figures become available.