MSY Reflects 'The Big Easy"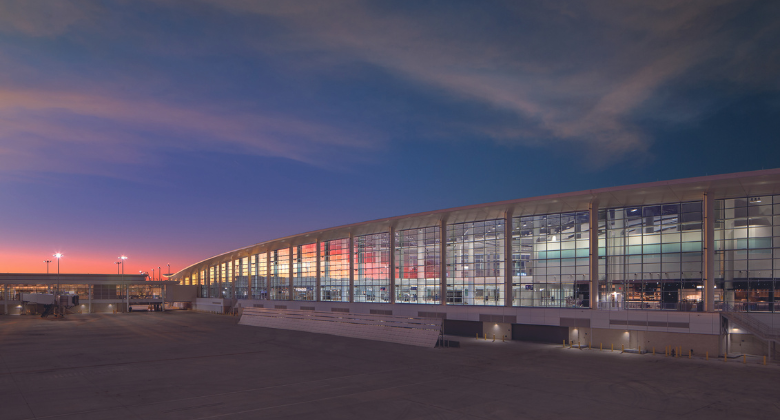 Louis Armstrong New Orleans International Airport (MSY) serves the city, nicknamed "The Big Easy" with a new terminal designed with modern airline operating efficiency in mind.Similar to the city it supports, MSY provides a laid-back, hassle-free travel experience for its passengers.
Configured with three concourses, 35 gates and a single, centralized security checkpoint, its contemporary design supports expeditious passenger access to all outbound departure gates and inbound baggage claim belts and ground transportation. The terminal design features five international gates connected by a sterile corridor to U.S. Customs and Border Protection inspection facilities. The result is a seamless experience for both domestic and international travelers.
The opening of the innovative, new MSY terminal attracted the attention of leading industry organizations. In 2021 and 2022, MSY was recognized as the Best Airport in North America 5 to 15 million passengers per year category by Airports Council International (ACI) World's Airport Service Quality (ASQ) program. The ASQ program measures passengers' satisfaction across categories such as security wait times, value for money of parking facilities, helpfulness of airport staff, terminal cleanliness and more. MSY was also recognized as the Most Efficient Airport in North America by Air Transport Research Society in 2021, Fastest Airport Pickup by Uber in 2022, and more.
Airlines use a state-of-the-art, in-line baggage system to quickly process checked luggage from curbside and ticket counter positions to baggage makeup. Technology at ticket counters, gates and baggage belts provides flexibility and additional resources for airlines to adapt to operational changes.
The airport's entrance roadways separate departure and arrival traffic flow, resulting in a substantial reduction of curbside traffic buildup and congestion. Reservations are available at five on-airport vehicle parking options fit any budget including valet, short-term, long-term, surface and economy.  Amenities like remote baggage checking in the economy garage offers a streamlined process reducing wait times for passengers in the terminal.
Airfield improvements include enlarged aircraft taxi lanes allowing mutiple airline operations between the main concourses (B and C), dramatically expediting aircraft access to gates.
With it's unique "Big Easy" architectural design, MSY is positioned to fulfill every modern air travel need for visitors from around the world for many years into the future.