Music to their ears: Austin and Nashville see biggest net gain in routes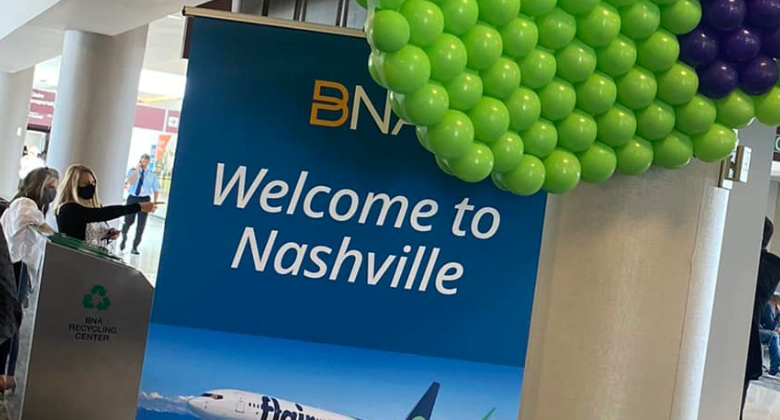 Analysis of Cirium schedule data for August 2019 and August 2022 reveals that while scheduled seat capacity across over 650 US airports in 2022 is currently expected to be at least 4% lower than in 2019, the number of non-stop routes being offered has actually risen during that period by 3.2%, up from 7,993 to 8,245.
With the pandemic resulting in a bigger drop in business demand than in leisure demand, US airlines have taken the opportunity get more creative with their networks and launch many routes they might not have previously considered. Across North America (Canada, Mexico and the US), Air Service One tracked the launch of over 1,200 new airline routes in 2021 alone, with just over half of those being airport-pairs that were not served by any other carrier at the time of launch. However, not all of those routes have survived into 2022.
Over 50 airports gained at least five new destinations
In challenging times there are often many losers, but also, usually, some winners. If success for an airport is measured by how many new non-stop services it can offer its customers, then some US airports have done surprisingly well during the pandemic. Over 50 airports have seen the number of destinations served non-stop increase by at least five between August 2019 and August 2022.
Leading the way for the biggest increase in destinations served are two airports with strong links to the music industry, Austin in Texas and Nashville in Tennessee. Austin's destination count grew by 33 from 58 to 91, while Nashville's has surged by 32 from 67 to 99. Austin has seen American launch a significant number of new services, while Allegiant and Southwest have been the main drivers of route growth in Nashville. JumpStart host Reno-Tahoe makes the top 20 thanks to the new routes being offered by aha!, the new airline created by ExpressJet.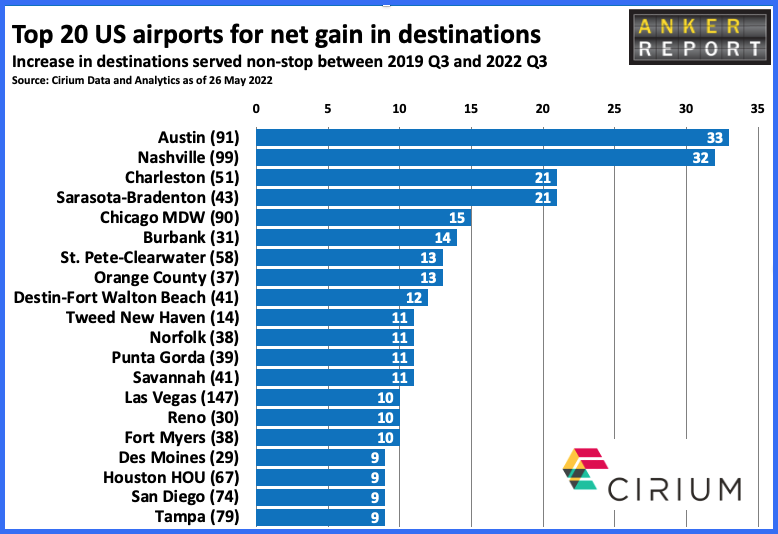 Almost 200 US airports have seen a net decline in the number of destinations served non-stop compared with three years ago. A total of 11 airports have seen the disappearance of at least 10 destinations. Atlanta may still be connected non-stop to 208 destinations (the third most of any US airport, behind only Dallas/Fort Worth with 252 and Chicago ORD with 238), but that is 27 fewer than in August 2019. Detroit is down 26 from 136 to 110, while Minneapolis/St. Paul's non-stop services have been cut by 23 from 144 to 121.
Philadelphia is now connected non-stop to 19 fewer destinations than in August 2019, while Los Angeles and Oakland now have 15 fewer non-stop destinations. Philadelphia and Oakland would both be one route worse off if Spirit had not started daily service between the two airports on 18 May.