Nashville International Airport Prepares for Increased Service Demand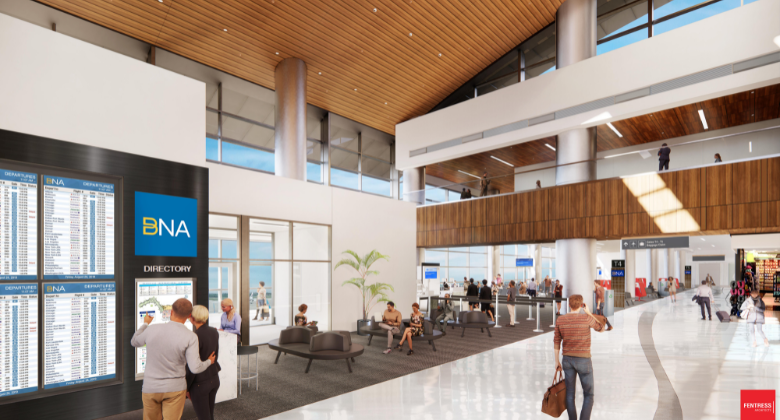 Since 2000, Nashville and Middle Tennessee have experienced significant growth. Many call Nashville home as evidenced by the population growing to 1.3 million in 2023 marking a 74% increase from 2000. Even more are flocking to Nashville as a destination with more than 14 million – domestic and international – visitors to Music City expected in 2023 alone.
Supporting these numbers poses a challenge unless city infrastructure and leadership are prepared. For Nashville International Airport® (BNA®), matching the city's growth has been a priority, and in 2016, it unveiled BNA Vision, a $1.4 billion plan to renovate and accommodate the growing number of passengers. Consistent with the growth of Nashville, this expansion plan is part of a continued effort to maintain BNA as a premier facility for the future of Nashville and Middle Tennessee. BNA Vision serves the goal of expanding BNA to prepare for future population growth and traveler traffic. With this plan, a number of changes are to come, including a Central Marketplace, International Arrivals Facility (IAF), and Satellite Concourse.
With an additional 200,000 square feet, the Central Marketplace will extend the Grand Lobby beyond the new TSA security area for travelers to meet, relax and recharge with additional dining, retail, and services, all while overlooking the international gates and airfield.
The six additional international gates in the IAF will accommodate the rising demand for international service and plan for expanded air service to and from Europe, Asia, and Latin America. The IAF will offer state-of-the-art technology and move up to 1,200 passengers through a new Customs and Border Protection area.
The Satellite Concourse will offer eight more gates, concessions, and amenities to accommodate the continued growth of air travel in Middle Tennessee. From the existing terminal, travelers access the free-standing facility via an electric shuttle.
The Marketplace and IAF are scheduled to open in September 2023, and the Satellite Concourse is scheduled to open in October 2023. BNA is growing alongside Middle Tennessee, giving those who call it home a comfortable travel experience and offering those just visiting their first and last impression of the city.