Nashville welcomes almost 22m passengers in last year; many new carriers since 2021 including BA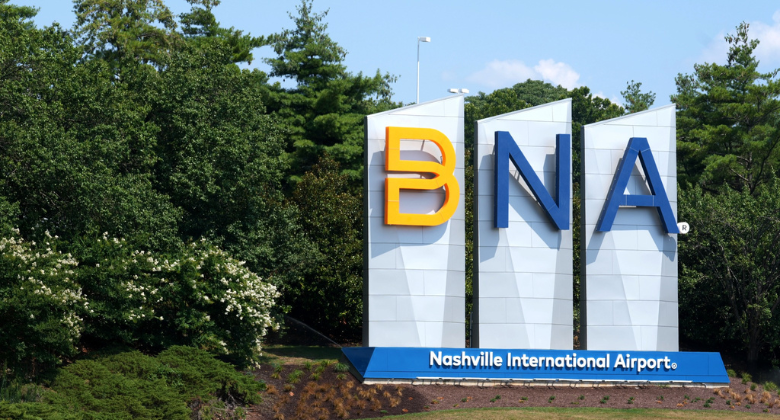 Probably best known as 'the home of country music', Nashville in the state of Tennessee, is also home to one of America's fastest-growing airports. According to Cirium data, between May 2022 and May 2023 Nashville International Airport's seat capacity grew by almost 20%. Among the top 30 US airports only Chicago MDW registered a higher growth rate. In July, the airport reported that it had welcomed 21.9 million passengers in the 12 months to the end of June 2023. This represents a doubling of the airport's traffic in the last 10 years.
Between 2005 and 2012 the airport had seen little real growth. Then, in 2013, it welcomed more than 10 million passengers for the first time and this coincided with a period of steady growth. Prior to the pandemic, the rate of growth was actually accelerating with demand rising by more than 10% in both 2018 and 2019. In 2022 over 20 million passengers passed through the facility for the first time.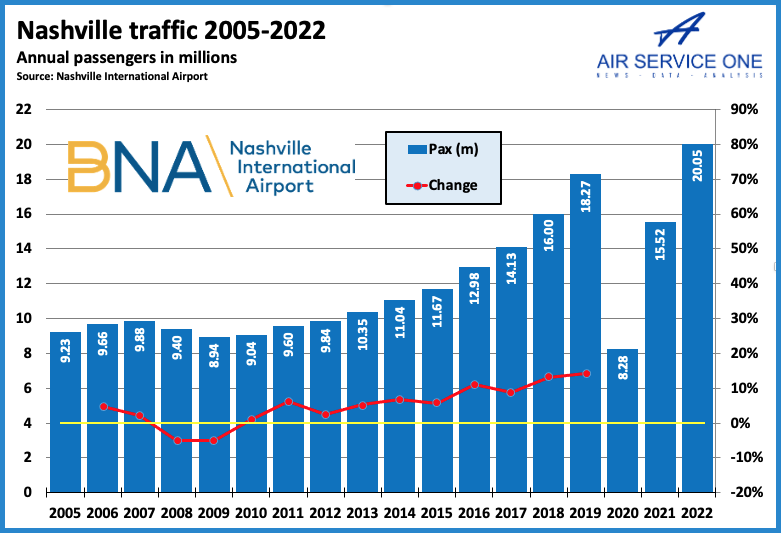 Despite the pandemic, Nashville demand passed 2019 levels as early as July 2021. Last October saw the airport welcome over two million passengers for the first time. October is also traditionally the busiest month of the year. So far in 2023, traffic has seen double-digit growth every month with both May and June seeing more than two million passengers. With just over 2.07 million passengers May became the airport's busiest ever month.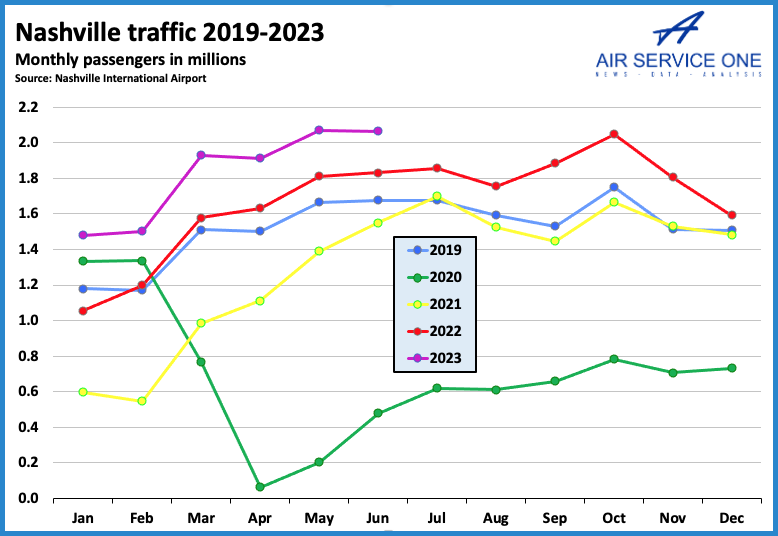 Southwest is by far biggest airline; BA arrived in 2018
With just over half of all seats at the airport, Southwest is Nashville's leading carrier in August 2023. This was also the case in August 2013, since when the carrier has more than doubled capacity at the airport. The main US global airlines fill the next three places and account for around one-third of all seats.
A decade ago, Nashville was visited by just eight carriers. Since then, the airport has succeeded in attracting and retaining multiple new carriers: Alaska Airlines (September 2015), Allegiant (June 2018), Avelo (May 2022), British Airways (May 2018), Contour Airlines (March 2016), Flair (April 2022), JetBlue (August 2006), Silver Airways (July 2023), Southern Airways Express (September 2016), Spirit (October 2019), Sun Country (November 2018) and WestJet (June 2016).
Of these, arguably the most significant was British Airways, which launched long-haul flights to the airport from London LHR over five years ago. Post-pandemic the route resumed in December 2021 and is now served daily during the peak summer period using the airline's 787-8s. This is not the first time that Nashville has had non-stop service to the UK capital. Back in the 90s American offered flights to London LGW.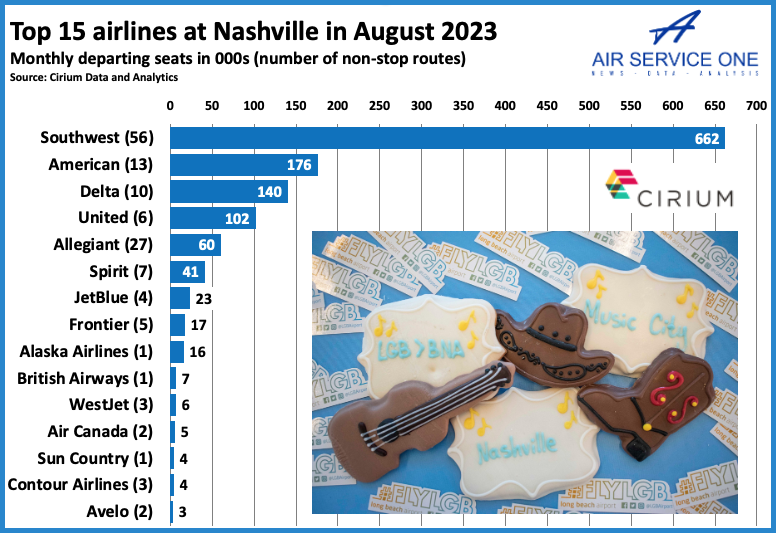 Almost 100 destinations served non-stop
This month, Nashville has non-stop service to almost 100 destinations, of which six are outside of the US. There are flights to four destinations in Canada (Calgary, Montreal, Toronto and Vancouver) as well as Cancun in Mexico and London, the airport's only European destination. In winter, only Cancun, London and Toronto are served non-stop.
In terms of weekly departures, the top three routes are Chicago ORD, Charlotte and New York LGA. However, if measured by weekly seats, the leading routes are now Atlanta, Denver and Chicago ORD. Among the top 15 routes for weekly flights, only two are served by just a single airline; Dallas DFW (American) and Chicago MDW (Southwest).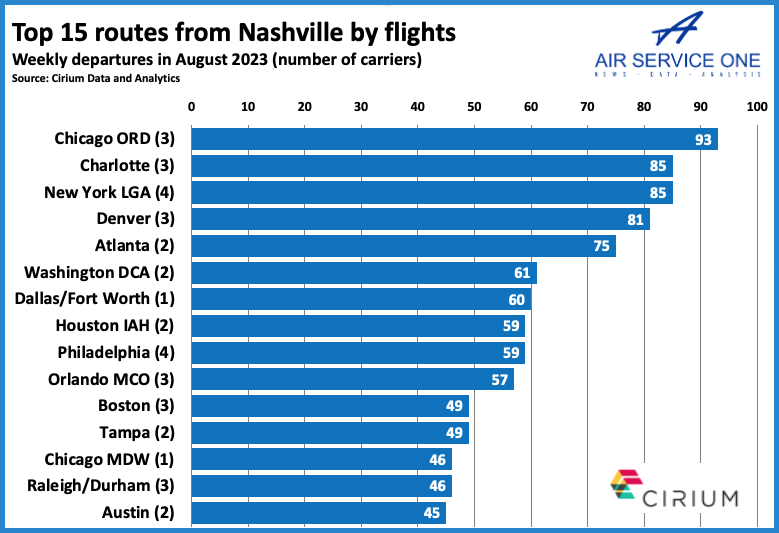 Since the start of 2021, Nashville has welcomed almost 60 new airline services, though not all have continued to be served. There were 32 new services in 2021, 20 in 2022 and seven so far in 2023:
2021:
Allegiant: Albany, Boise, Greensboro, Jacksonville, Key West, McAllen, Melbourne MLB, Palm Springs, Portsmouth, Rapid City
American: Austin, Orlando MCO, Raleigh/Durham, Tampa
Contour Airlines: Greenville GLH, Greenville GSP, Indianapolis
Frontier: Dallas/Fort Worth
JetBlue: Cancun
Southwest: Chicago ORD, Destin Fort Walton Beach, Hartford, Houston IAH, Islip, Miami, Myrtle Beach, San Juan, Sarasota/Bradenton, Savannah, West Palm Beach
Spirit: New York LGA
Ultimate Air Shuttle: Cincinnati-Lunken
2022:
Air Canada: Montreal
Air Choice One: Jonesboro
Allegiant: Providence, Roanoke, Washington IAD
Avelo: Tweed New Haven
Breeze: Akron/Canton, Hartford, Tulsa, White Plains/Westchester
Contour: Cape Girardeau, Ft. Leonard Wood
Flair: Edmonton, Toronto YYZ
JetBlue: New York LGA
Southwest: Hayden, Long Beach, Portland PWM
Spirit: Philadelphia
Swoop: Toronto YYZ
2023:
Allegiant: Akron/Canton, Provo
Avelo: Wilmington
Frontier: Phoenix
Silver Airways: Greensboro GSO
Spirit: Charlotte
WestJet: Vancouver
Note that both Breeze (May 2022 to May 2023) and Swoop (May 2022 to October 2022) have recently begun and then suspended operations from Nashville. Looking ahead, several new services are set to start before the end of the year:
Allegiant to Fort Lauderdale (16 November, 2-weekly)
American to Cancun (9 December, weekly)
Delta to Washington DCA (9 October, 20-weekly)
Spirit to Boston (7 September, daily from mid-November)
Spirit to Miami (7 September, daily from mid-November)
Nashville welcomes the sound of IndyCars around the streets of downtown
Nashville may be best known as the home of sound made by musicians and singers, but since 2021 the downtown area has reverberated to the sound of IndyCars racing around a 3.5-kilometre circuit comprising city streets and the iconic Korean War Veterans Memorial Bridge. Known as the Music City Grand Prix the annual event is set to become the season finale in mid-September 2024.
For those with a curious mind, the airport's IATA code of BNA comes from the original name of the airport, Berry Field in NAshville. It was named after Colonel Harry S. Berry, the Tennessee administrator for the Works Progress Administration which had been responsible for building the airport. It opened in June 1937 and lies around 10 kilometres south-east of downtown.