Network churn of Ryanair, easyJet, Wizz Air, Vueling and Eurowings compared: 2023 versus 2019 and 2022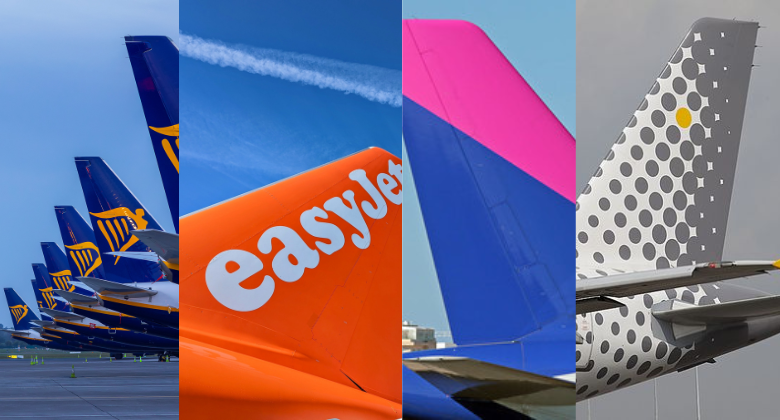 This summer can probably be considered the first 'normal' summer for air travel since COVID. Across Europe, the region's (U)LCCs have been dynamic in exploiting perceived opportunities, with Ryanair and Wizz Air in particular celebrating the launch of many new routes. However, as is also the case with these carriers, routes not performing sufficiently well have been axed.
Using Cirium data, this analysis compares the schedules of Europe's five biggest pan-European (U)LCCs in pre-pandemic times (August 2019) with this summer (August 2023). Looking initially at the number of weekly flights offered by each of the carriers and how this compares with four years ago shows significant differences:
Ryanair: 23,050 flights in August 2023 (up 28% versus August 2019)
easyJet: 12,771 (down 4%)
Wizz Air: 6,678 (up 40%)
Vueling: 4,956 (down 4%)
Eurowings: 4,080 (down 20%)
The ultra-low-cost carriers, Ryanair and Wizz Air, have been much more aggressive in rebuilding capacity more quickly than the other three carriers. Ryanair's flights are up 28% versus four years ago and Wizz Air's are up 40%. Despite this, Wizz Air is still only just over half the size of easyJet (by flights). Also worth noting is that Ryanair is still almost as big as its three nearest low-cost rivals (easyJet, Wizz Air and Vueling) combined!
One way to compare the network development of the carriers is to break down the change in weekly frequencies into four categories:
Weekly frequencies on new routes (positive)
Increase in weekly frequency on routes operating in both periods (positive)
Decrease in weekly frequency on routes operating in both periods (negative)
Weekly frequencies lost as a result of a route being dropped (negative)
The results of this analysis, using August 2023 and August 2019 as the dates for comparison, are shown in the following graph.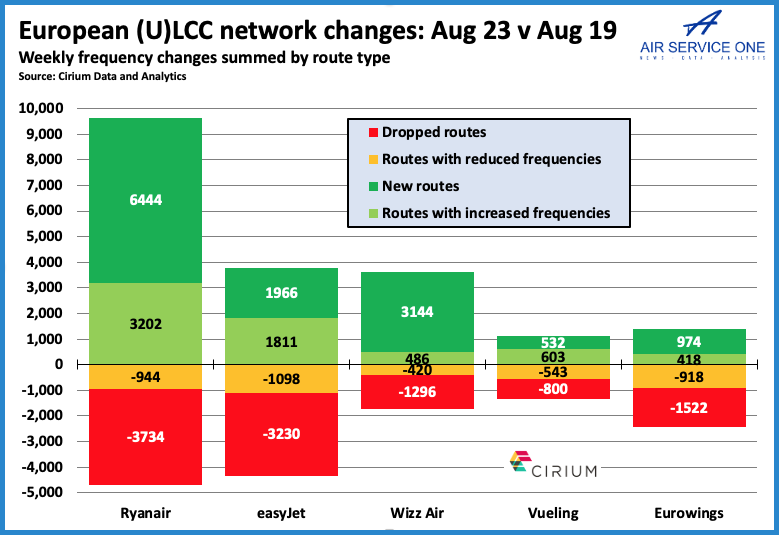 In terms of weekly frequencies allocated to new routes, Ryanair leads the way, ahead of Wizz Air and easyJet. When it comes to weekly frequencies lost because an airline has completely dropped a route, Ryanair again leads the way followed by easyJet and Eurowings. Here it should be noted that routes transferred from the old Berlin airports to the new one, will be counted as both 'new' routes and 'dropped' routes as the airport code has changed. Both easyJet, Eurowings and Ryanair had a major presence at the old Berlin airports so their frequency figures for 'new' and 'dropped' routes will be higher than they arguably should be. Because of the time periods chosen for comparison, Wizz Air's short-lived Norwegian bases and their routes do not feature in this analysis as they started and ended between the two time periods selected.
An interesting metric is to take the ratio of frequencies allocated to new routes compared with frequencies lost from dropped routes. The higher the figure, arguably the better for the airline. The results for these five carriers are:
Wizz Air: 2.43
Ryanair: 1.73
Vueling: 0.67
Eurowings: 0.64
easyJet: 0.61
The similarity in the figures for Vueling, Eurowings and easyJet is noteworthy. This is another way of showing just how much more dynamic Wizz Air and Ryanair have been in their post-pandemic network evolution.
Only Vueling not growing versus August 2022
Air Service One has repeated the analysis, but this time comparing August 2023 with August 2022. For four of the carriers flight growth is now between 11% and 15% with Vueling the outlier. The Spanish LCC is expecting a reduction in flights of 1% compared with last summer. The following is a summary by airline (increase in flights versus August 2022, ratio of frequencies on new/dropped routes):
Ryanair: +11.5%, 1.52
easyJet: +11.4%, 1.66
Wizz Air: +14.3%, 0.85
Vueling: -1.0%, 0.34
Eurowings: +14.4%, 3.09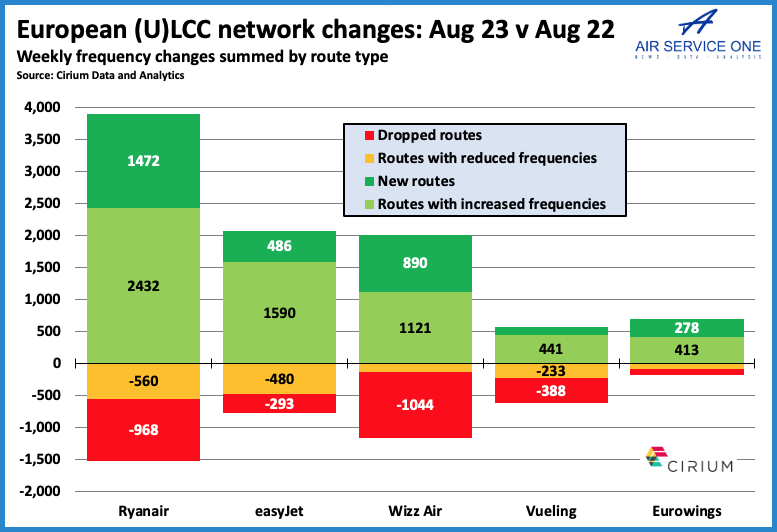 Compared with the first graph there is a lot more focus on increasing frequencies on existing routes. Wizz Air and Vueling are notable for losing more frequencies on dropped routes than they have gained on new routes. All five carriers have added more frequencies on existing routes than have been added by new routes.