Network development of Europe's major pan-European (U)LCCs compared: Sep 21 v Sep 19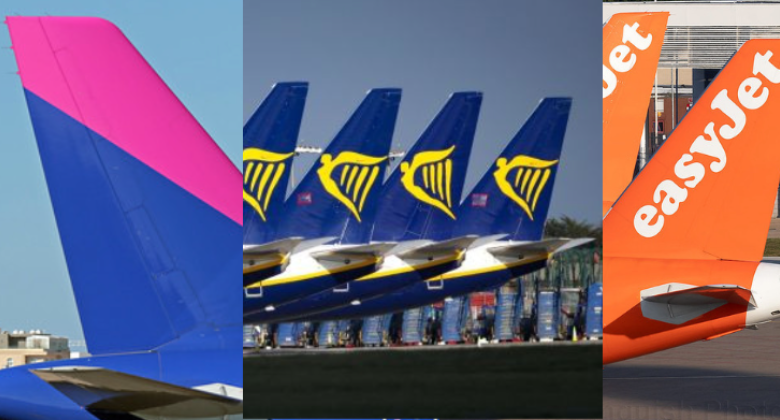 Data compiled by The ANKER Report shows that some 1,300 new routes have been launched by airlines involving European airports between 1 January and 31 August this year. These have been split as follows across the eight months:
January: 9
February: 39
March: 74
April: 60
May: 130
June: 409
July: 460
August: 119
Our New European Route Database (NERD) file lists over 120 routes that were planned to start in September. However, in reality, the number of routes that will actually start is likely to be closer to about 50, as start dates for routes continue to be pushed back to later in the year, or even next summer. In addition, dozens of planned routes have been shelved before they even started.
Ryanair, Wizz Air and easyJet lead the way
Of those 1,300 new services, three airlines have started way more than all other airlines. Ryanair has launched 257 new routes, Wizz Air 170 and easyJet 72. Next come Volotea and SkyUp Airlines with 37 and 36 respectively. For this analysis routes from the new Berlin airport (IATA code BER) are not included if they were previously served from either Berlin SXF or Berlin TXL. Also, a new service is defined here as one that did not operate in the summer of 2019. If an airline resumed a route this summer that it served in 2019, but did not fly in 2020 due to the pandemic, this is not considered a new route.
Europe's five leading (U)LCCs compared
This analysis looks in more detail at how the networks of Europe's five leading pan-European (U)LCCs have evolved between September 2019 and September 2021. Looking initially at the number of weekly flights offered by each of the carriers and how this compares with two years ago shows significant differences:
Ryanair: 16,084 flights in September 2021 (down 6% compared with September 2019)
easyJet: 7,480 (down 44%)
Wizz Air: 5,726 (up 19%)
Vueling: 3,576 (down 30%)
Eurowings: 2,632 (down 50%)
The ultra-low-cost carriers, Ryanair and Wizz Air, have been much more aggressive in rebuilding their capacity more quickly than the other three carriers. Impressively, Ryanair is almost as big as its three nearest low-cost rivals (easyJet, Wizz Air and Vueling) combined! It should also be noted that there have been some issues since the pandemic started with the accuracy of Wizz Air's schedule data as submitted to Cirium. These have still not been completely sorted, so the airline's figures for September 2021 should not be considered 100% accurate.
One way to compare the network development of the carriers is to break down the change in weekly frequencies into four categories:
Weekly frequencies on new routes (positive)
Increase in weekly frequency on routes operating in both periods (positive)
Decrease in weekly frequency on routes operating in both periods (negative)
Weekly frequencies lost as a result of a route being dropped (negative)
The results of this analysis, using September 2021 and September 2019 as the dates for comparison, are shown in the graph below.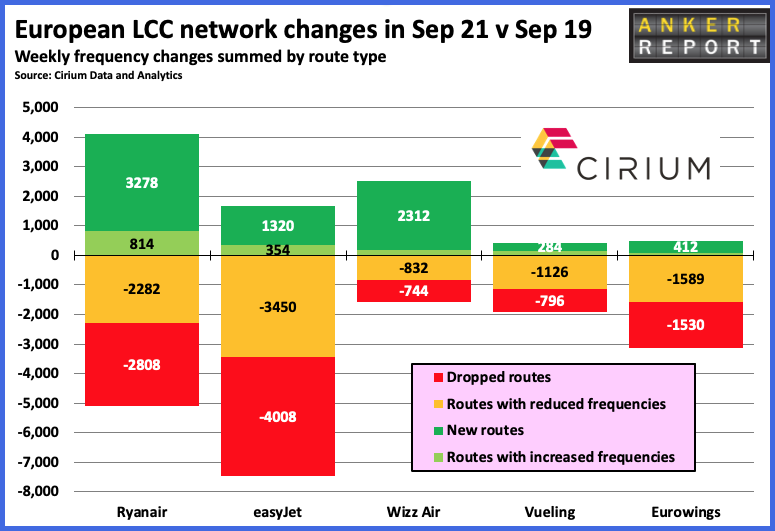 In terms of weekly frequencies allocated to new routes, Ryanair leads the way, ahead of Wizz Air and easyJet. However, when it comes to weekly frequencies lost because an airline has completely dropped a route, easyJet leads the way followed by Ryanair and Eurowings. Here it should be noted routes transferred from the old Berlin airports to the new one, will be counted as both 'new' routes and 'dropped' routes as the airport code has changed. This anomaly will disappear when the analysis is repeated next summer. Both Ryanair and easyJet had a major presence at the old Berlin airports so their frequency figures for 'new' and 'dropped' routes will be higher than they arguably should be. Because of the time periods chosen for comparison, Wizz Air's short-lived Norwegian bases and their routes do not feature in this analysis as they started and ended between the two time periods selected.
An interesting metric is to take the ratio of frequencies allocated to new routes compared with frequencies lost from dropped routes. The higher the figure, arguably the better for the airline. The results for these five carriers are:
Wizz Air – 3.11
Ryanair – 1.17
Vueling – 0.36
easyJet – 0.33
Eurowings – 0.27
Wizz Air has opened many new bases since the pandemic started including Bacau, Bari, Bourgas, Catania, Doncaster/Sheffield, Dortmund, Larnaca, London LGW, Lviv, Milan MXP, Naples, Palermo, Rome FCO, Sarajevo and Tirana, as well as the already abandoned base in Oslo. A planned base at Cardiff in Wales, due to open this summer, has been pushed back to 2022 as a result of the UK's more restrictive travel regulations. Along with these new bases came the launch of multiple new routes from each base, helping Wizz Air to top this metric.