New airport serving Mexico City opened on 21 March 2022; offers seven routes flown by four airlines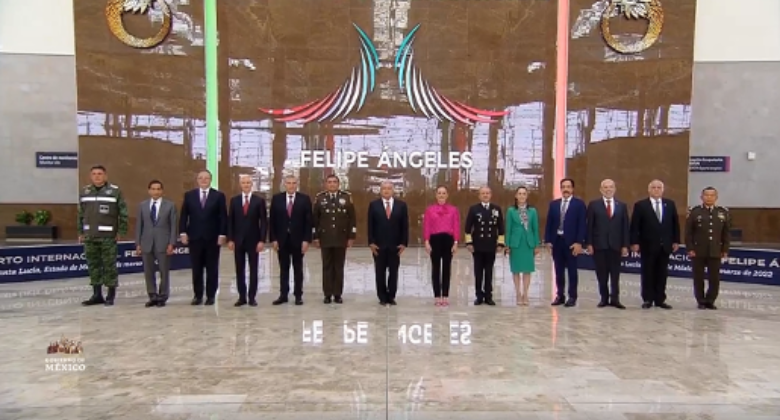 Mexico City's new airport, Aeropuerto Internacional Felipe Ángeles (IATA code NLU) opened to much fanfare on Monday 21 March 2022. A pet project of the country's President Andrés Manuel López Obrador, the new facility has been built on the site of a former military airfield at Santa Lucia, around 50 kilometres north-northeast of the historic centre of Mexico City. When he came to power in 2018 President López Obrador cancelled the airport project initiated by his predecessor, which was approximately one-third built. This was a major political decision and a controversial one. Needless to say, readers will be able to find a range of opinions on the internet as to whether or not it was the right decision.
Aeromexico Connect offers first scheduled flight
On the first day of operation eight flights departed the new airport according to flightradar24.com:
06:49 – Aeromexico Connect, E190 (reg XA-ACJ), flight AM 890 to Villahermosa
11:54 – Vivaaerobus, A320 (reg XA-VIS), flight VB 3281 to Guadalajara
12:18 – Volaris, A320 (reg XA-VRL), flight Y4 1010 to Tijuana
12:33 – Volaris, A320 (reg XA-VRP), flight Y4 5010 to Cancun
12:58 – Volaris, A320 (reg XA-VRR), flight Y4 1012 to Cancun
13:21 – Vivaaerobus, A320 (reg XA-VAU), flight VB 4411 to Monterrey
15:48 – Aeromexico Connect, E190 (reg XA-ACJ), flight AM 874 to Merida
18:02 – Conviasa, A340-600 (reg YV3533), flight V0 3737 to Caracas
The Conviasa service is weekly while all other flights are served daily. Volaris will normally only operate a single daily service to Cancun rather than the two flights operated on 21 March. As a result, on most days of the week there will be just six departures to six different domestic destinations, two each with Aeromexico Connect, Vivaaerobus and Volaris.
At present no other services appear to be planned, though the airport is hoping that US carriers may start services later in the year. Last year the US Federal Aviation Administration downgraded Mexico's air safety rating from Category 1 to Category 2, which places restrictions on new air services.
The airport has 20 drop off counters, 50 self-service kiosks, 100 conventional counters, 3,200 waiting seats and 36 themed bathrooms. The airport's website shows gate numbers going from 106 to 116. There is also a Mammoth Museum housing remains found while excavating for the terminal, a military aviation museum and a historic train.
Mexico City now has three commercial airports
Mexico City's primary airport, Aeropuerto Internacional Benito Juárez (IATA code MEX) lies just five kilometres east of downtown Mexico City. This is good news for passengers but means the airport has no room to expand. Prior to the pandemic, the airport handled a record 50.3 million passengers, of which just over one-third were on international flights. Last year, despite the pandemic, the airport handled 36 million passengers, making it one of the world's busiest airports.
The city's other commercial airport is Toluca International Airport (IATA code TLC), which opened in 1984 and is located around 50 kilometres west of Mexico City. Back in 2008 Toluca handled almost four million passengers, with Interjet and Volaris both having established significant bases at the airport. However, by 2018 this had fallen to just under 700,000 passengers. That year, TAR and Volaris stopped operating at the airport leaving just Vivaaerobus and Interjet. In December 2020 Interjet ceased operations and at present there are no scheduled services at Toluca. However, Cirium data shows Vivaaerobus resuming 2-weekly service to Cancun from the beginning of May.