New Flybe starts winter season operating 15 routes across 11 airports; adds Newcastle and Newquay
The 'new' Flybe has started its first winter season operating 44 daily flights (Mondays to Fridays) and 15 routes across 11 airports. It celebrated the start of the winter season by adding new routes from Newquay to both London LHR and Manchester, and from Newcastle to both Belfast BHD and London LHR. The Newcastle routes were announced just a few days before the start of the winter season, curiously just a day after the airline cancelled plans to serve Belfast BHD and London LHR from the Isle Of Man due to 'aircraft availability issues'. It seems likely that passenger availability issues may have been more of a problem.
Load factor drops below 50% in September
Since launching on 13 April 2022, the UK CAA has reported the following monthly statistics for the airline's scheduled services:
April 2022: Flights 130 / pax 6,005 / load factor 61.3%
May 2022: Flights 654 / pax 26,765 / load factor 53.7%
June 2022: Flights 800 / pax 33,003 / load factor 53.4%
July 2022: Flights 1,209 / pax 47,672 / load factor 54.0%
August 2022: Flights 1,388 / pax 54,078 / load factor 51.5%
September 2022: Flights 1,277 / pax 44,021 / load factor 46.3%
While domestic, and especially domestic regional, services typically have lower than average load factors, the fact that the airline's load factor has not exceeded 55% since the excitement of the airline's launch back in April, could be considered a concern. As is the fact that the load factor has been declining in recent months when there was little network growth taking place.
For comparison, in 2019, the last full year that the original Flybe operated, its load factor was 78.5% and it carried 8.53 million passengers. Across all UK airlines the load factor was 85.5%.
Belfast BHD is leading airport
Flybe's busiest airport this winter is Belfast BHD. The airport is currently seeing 94 weekly Q400 departures, more than twice as many as the airline's next busiest airport, London LHR. Flybe's somewhat controversial access to Heathrow slots dates back to when British Airways took over BMI British Midland and was forced to give up slots as part of a remediation agreement. In S17, the original Flybe had started Heathrow service to Aberdeen and Edinburgh (previously operated by Virgin Atlantic's domestic brand Little Red from 2013-2015 using Aer Lingus aircraft) with a total of 43 weekly flights and increased its Heathrow presence in S19. Its current allocation of 43 weekly departures would appear to relate to those original Aberdeen and Edinburgh slots.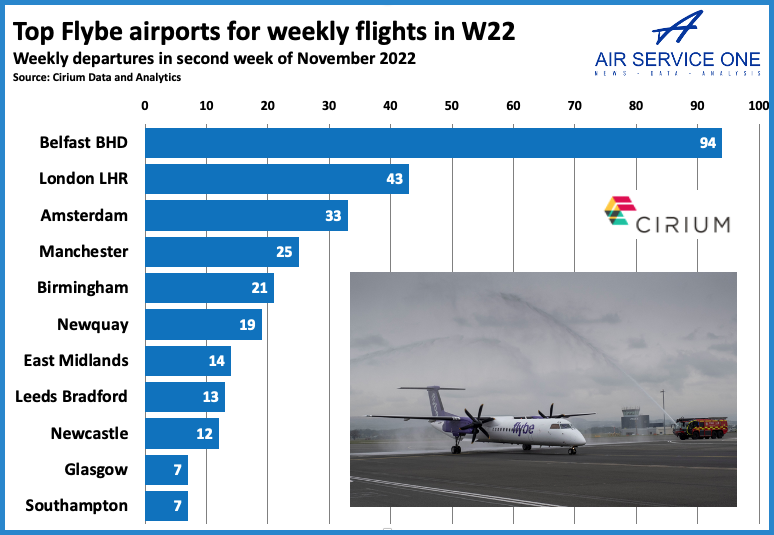 The routes operated by Flybe from each airport in mid-November are shown below with weekly frequency in brackets.
Amsterdam (33): Belfast BHD (7), Birmingham (7), East Midlands (7), London LHR (12)
Belfast BHD (94): Amsterdam (7), Birmingham (14), East Midlands (7), Glasgow (7), Leeds Bradford (13), London LHR (14), Manchester (18), Newcastle (7), Southampton (7)
Birmingham (21): Amsterdam (7), Belfast BHD (14)
East Midlands (14): Amsterdam (7), Belfast BHD (7)
Glasgow (7): Belfast BHD (7)
Leeds Bradford (13): Belfast BHD (13)
London LHR (43): Amsterdam (12), Belfast BHD (14), Newcastle (5), Newquay (12)
Manchester (25): Belfast BHD (18), Newquay (7)
Newcastle (12): Belfast BHD (7), London LHR (5)
Newquay (19): London LHR (12), Manchester (7)
Southampton (7): Belfast BHD (7)
Analysis of aircraft flight patterns from Flightradar24.com indicates that Flybe is able to operate its current 44 daily flight schedule with six aircraft. During S22 the airline had been forced to wetlease some aircraft to help operate its schedule after delays in receiving its Q400s. The number of daily sectors for each aircraft is shown in brackets.
Aircraft 1 (8): NQY-LHR-NQY-MAN-BHD-EMA-BHD-LHR-BHD
Aircraft 2 (8): BHD-LHR-BHD-LBA-BHD-MAN-NQY-LHR-NQY
Aircraft 3 (8): BHD-LBA-BHD-GLA-BHD-NCL-LHR-NCL-BHD
Aircraft 4 (8): BHX-BHD-BHX-AMS-EMA-AMS-BHX-BHD-BHX
Aircraft 5 (7): BHD-MAN-BHD-SOU-BHD-AMS-LHR-AMS
Aircraft 6 (5): AMS-LHR-AMS-BHD-LHR-BHD
Flybe appears to currently have seven 'active' aircraft. G-FLBB started flying scheduled services on 11 November on the same day that G-ECOE was taken out of service, presumably for maintenance.
Birmingham to Edinburgh / Glasgow set to resume on 24 November
It seems that all seven aircraft will be operating together from Thursday 24 November. On this date, the airline will resume service between Birmingham and two Scottish airports, Edinburgh (12-weekly) and Glasgow (13-weekly). It will then be operating 340 weekly flights according to Cirium data up from 288 right now. With a potential eight sectors per day, an additional aircraft could operate 56 flights per week.
From mid-December Flybe will add 2-weekly (Saturday and Sunday) service between Birmingham and Geneva. Looking ahead to 2023, Flybe is planning to add the following new routes:
Birmingham – Aberdeen on 9 February
Southampton – Edinburgh on 2 March
Southampton – Glasgow on 2 March
Southampton – Manchester on 2 March
Whether any Flybe aircraft will be seen in the Isle Of Man in 2023 remains to be seen.