New Italian carrier Aeroitalia launches scheduled flights from Forli; 10 destinations to be served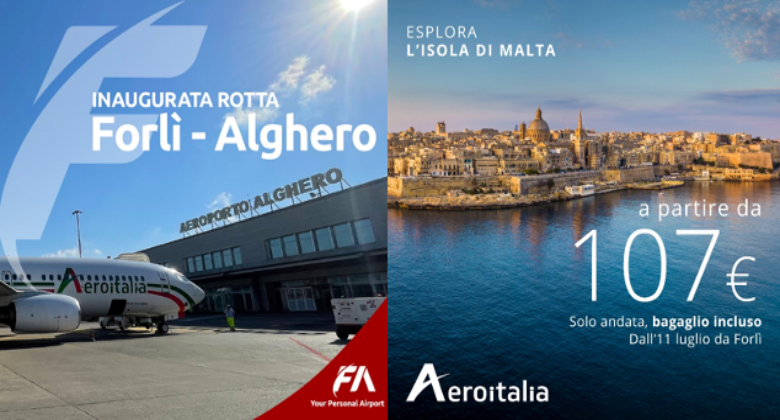 The Italian air travel market is currently even more dynamic than usual. With Alitalia having been shut down and reborn as considerably smaller ITA Airways, there are opportunities for other carriers to grab a share of the market. Ryanair and Wizz Air have been particularly active in expanding their presence in Italy. Following the demise of Air Italy and Blue Panorama Airlines, there could be a gap in the market for a well-run, local airline to establish itself.
Step forward Aeroitalia (IATA code XZ, ICAO code AEZ). The airline is backed by multi-millionaire, Bolivian-born, former owner of Avianca, Germán Efromovich, while the CEO is Francesco Gaetano Intrieri. The airline currently has a single 737-800 (registration 9H-CRI) which was previously operated by Blue Panorama Airlines and Malaysia Airlines, according to planespotters.net. The aircraft has been operating charters and training flights since 19 April.
Scheduled flights from Forli
On Saturday 9 July, Aeroitalia began scheduled flights from Forli Airport, an airport that has been used by LCCs in the past as a secondary airport for Bologna, which is just over 70 kilometres away. It plans to offer scheduled flights to 10 destinations, eight in Italy as well as Malta and Zakynthos in Greece. The launch dates were as follows (with planned weekly frequency in August shown in brackets):
9 July: Brindisi (4), Catania (3), Lamezia Terme (2)
10 July: Naples (4), Olbia (4)
11 July: Malta (3)
12 July: Trapani (2)
13 July: Zakynthos (1 until 24 Aug)
14 July: Alghero (2), Lampedusa (2)
Tracking the movements of 9H-CRI on flightradar24.com shows that while all the routes launched as planned, the airline also operated a couple of charter flights between Forli and Tarbes/Lourdes in France, as well as charter flights between Paderborn in Germany and Malta, and between Hannover in Germany and Palma de Mallorca.
To help with its operations, the carrier appears to have wetleased an A320 (registration 9H-MSA) from Medsky Airways. This carrier is a Libyan start-up, based in Tripoli. It only began flying this year from Malta using Malta MedAir's AOC. Malta MedAir (IATA code MT) commenced operation in March 2018 and has three A320s according to planespotters.net, one of which is leased to Corendon Airlines, while the other two are both in Medsky Airways colours.