New Route of the Day 1 (13 March 2023): Air Serbia between Belgrade and Budapest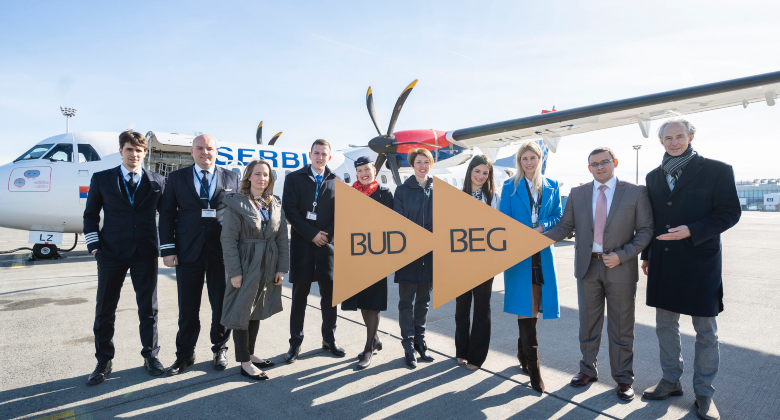 Air Serbia kicked off its wide-ranging network expansion on Monday 13 March with the introduction of flights between Belgrade and Budapest. The 300-kilometre route will initially operate 10-weekly, gradually increasing to 17-weekly by mid-April, with the ATR 72 aircraft. The carrier faces no competition between the two airports.
What they said
Bosko Rupic, General Manager for Commercial and Strategy at Air Serbia, said: "With today's flight to Budapest, we launched the first out of more than 20 destinations we will be operating flights to during the upcoming summer season, which were not a part of our network in 2022. We will monitor demand, and in accordance with it, gradually increase the frequency of flights between the two cities. We believe that the introduction of direct flights will contribute to better connectivity between Serbia and Hungary and make travelling all over Europe much faster for our passengers."
Balazs Bogats, Airline Development Director at Budapest Airport, added: "Hungary has always had a good relationship with Serbia, so it is fantastic to once again see Belgrade on our route map. I am certain that the new flights are destined to succeed and will quickly become popular with Hungarian and Serbian travellers alike. This is the highest number of seats we have offered to Serbia and testament to the considerable market demand we are experiencing."
Air Serbia returns to Budapest after four years
Air Serbia is restoring flights to Budapest for the third time. The carrier had first flown between the Serbian and Hungarian capitals between 2014 and 2015. In 2019 it launched operations from the city of Nis, in south-eastern Serbia, to Budapest but the flights were short-lived, lasting only several months. This time around, the airline is hoping to attract a significant number of transfer passengers with a high volume of frequencies to connect onto its growing network. The airline is adding a further 21 routes over the next few months, including a new long-haul service to Chicago ORD.
Serbia and Hungary, which neighbour each other, are building a high-speed rail link between the two capital cities, which is expected to be operational in 2025 and cut travel time by land from the current four hours to two.