New Route of the Day 1 – Americas (16 December 2021): Sun Country's first route from Green Bay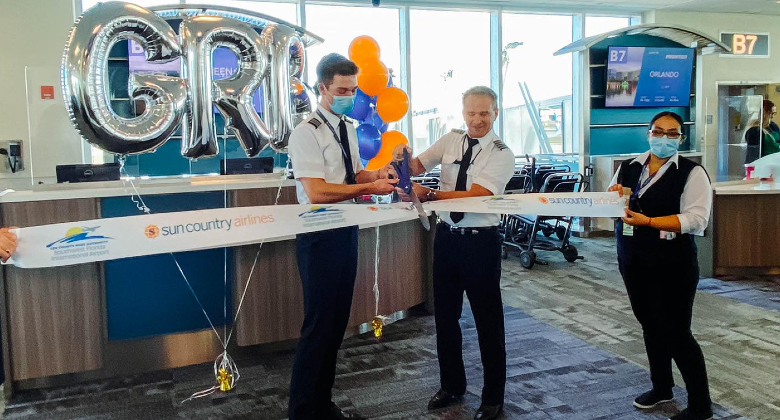 Sun Country chose Thursday 16 December as the launch date for its new 2-weekly service between Green Bay (IATA code GRB) in Wisconsin and Fort Myers (IATA code RSW) in Florida. The 2,070-kilometre route faces no direct competition and will be flown using the airline's 737-800s. This is Sun Country's first route from Green Bay, with a second route to Phoenix in Arizona (also operating 2-weekly) launching the following day on 17 December. This winter, Sun Country will be serving Fort Myers (also branded as Southwest Florida International Airport) from a total of five airports; Duluth (2-weekly), Madison (3-weekly), Milwaukee (2-weekly), Minneapolis/St. Paul (18-weekly) and, of course, Green Bay.
Green Bay welcomed around 600,000 passengers each year
Green Bay-Austin Straubel International Airport* is located in northeastern Wisconsin and pre-pandemic was consistently handling around 600,000 passengers per annum. The majority of the airport's annual traffic is on just four routes. American and United both serve their hubs at Chicago ORD (a sector length of just 280 kilometres), while Delta serves its hubs at Atlanta, Detroit and Minneapolis/St. Paul. All of these destinations are served at least daily, mostly with sub-80-seat regional jet aircraft. However, Cirium data shows Delta using its 110-seat 717s on the Atlanta route in January.
With a population of around 110,000, Green Bay is probably best known as home of the NFL team The Green Bay Packers, who play at Lambeau Field. They have won the Super Bowl four times; in 1966, 1967 (the first two Super Bowls ever played), 1996 and, most recently, in 2010. Green Bay is, apparently, the smallest US city with a professional sports team. Green Bay has also long been known as the "toilet paper capital of the world", because the first splinter-free toilet paper was produced there. The paper industry is still one of the area's largest employers.
* The airport is named for Lt. Col. Austin Straubel, the first aviator from Brown County (where the airport is located) to die in his country's service on 3 February 1942. The airport's name was officially changed to Green Bay–Austin Straubel International Airport on 17 August 2016.