New Route of the Day (1 April 2022): easyJet between Porto and Cologne Bonn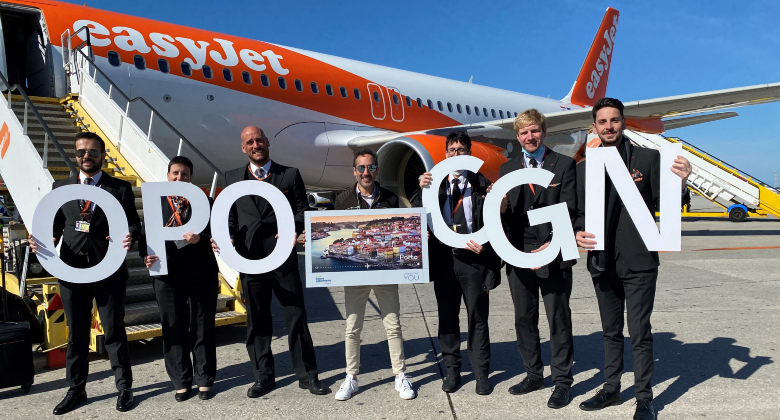 easyJet
launched 15 new routes in the first week of the summer season but, for whatever reason, celebrations seem to have been muted or non-existent at the airports involved. The one exception was in
Porto
, where the airport celebrated the introduction of the airline's 2-weekly service on the 1,620-kilometre route to
Cologne Bonn
on 1 April. Considering that the route is already served 5-weekly by Ryanair, it is even more impressive that the airport chose to commemorate the event. Porto became an easyJet base in the summer of 2015 and the Luton-headquartered airline will be operating flights to 24 destinations this summer. That is five more than last summer. Last December saw the addition of new year-round routes to Milan MXP in Italy and Rennes in France. Following the introduction of the Cologne Bonn service, easyJet also added a new route to Madrid on 4 April. Early May will see the addition of two more routes to Porto Santo and Prague. However, service to Montpellier, which operated last summer, has not resumed in 2022.
Now offering four routes from Cologne Bonn
Prior to the pandemic, easyJet's only Cologne Bonn service was to Berlin TXL, a route it had been serving with multiple daily flights since June 2018 having acquired a large slot portfolio in Berlin after the collapse of airberlin in October 2017. This summer, easyJet will be operating four routes from Cologne Bonn. With the closure of Tegel it is now serving the new Berlin airport with 10-weekly flights. Apart from Porto, there are also international routes to Palma de Mallorca (launching on 3 May) and the resumption of service to London LGW (on 15 April), a route that easyJet previously flew between September 2004 and early 2016.
easyJet's other new routes last week
As mentioned earlier, easyJet launched over a dozen new routes during the first week of the summer season (27 March to 2 April). In summary, these were:
Basel to Heraklion
Geneva to Enfidha and Izmir
Glasgow to Barcelona
London LGW to Bilbao and Enfidha
London LTN to Agadir
Manchester to Enfidha, Naples and Rome FCO
Palma de Mallorca to Birmingham and Milan LIN
Paris CDG to Bari and Larnaca
Porto to Cologne Bonn
Regular services to Enfidha in Tunisia had been planned for some time but only finally launched last week from three of easyJet's bases.