New Route of the Day (1 April 2023): Austrian Airlines between Vienna and Porto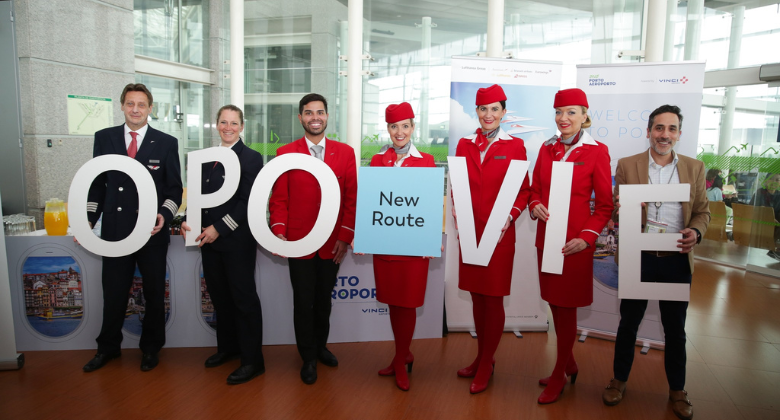 Austrian Airlines added its second destination in Portugal with the introduction of seasonal flights between Vienna and Porto on Saturday 1 April. The 2,130-kilometre service is maintained 3-weekly on Tuesdays, Thursdays and Saturdays, with the 200-seat A321 aircraft. The airline competes directly against Ryanair's 5-weekly rotations between the two cities. Porto joins Funchal as the second route to Portugal within Austrian's network. Flights will run until 21 October.
What they said
Thomas Ahlers, General Director of Sales for the Lufthansa Group, said: "After 22 years, Austrian Airlines is serving mainland Portugal again. The last flight was on October 21, 2000: that was a long time ago. This flight will offer even more connections, in addition to the connections that Lufthansa already has it from Porto."
Christoph Meran the Ambassador of Austria to Portugal, added: "It is exciting to witness the establishment of this new link between the Danube and the Douro. Vienna and Porto are two cities with immensely rich histories, but beyond culture and tourism, we are talking about an ever-increasing connection between our economies and businesses."
Porto adds 21 new routes in S23
Porto is anticipating a record year after handling over 12 million passengers in 2022. The airport will grow its network by an additional 21 routes this summer, which primarily involve European LCCs. The greatest number of new routes will be introduced by Ryanair with the addition of seven destinations. It will be followed by easyJet, Norwegian, PLAY, airBaltic, SAS, Eurowings and Volotea, in addition to Austrian. Notably, TAP Air Portugal will add a new long-haul service between Porto and the Angolan capital of Luanda on 28 May.
Situated in Portugal's north, Porto is the country's second largest city with approximately 1.7 million residents. It boasts the nation's second busiest airport behind Lisbon. Porto serves as the gateway to Portugal's leisure traffic. Furthermore, the area has the biggest flow of emigration, which makes VFR tourism an important factor for Porto Airport. As the Spanish region of Galicia is nearby, just 120-kilometres by car, 10% of passengers travelling through Porto Airport are estimated to be of Galician origin.