New Route of the Day (1 April 2023): Norwegian between Vaxjo and Malaga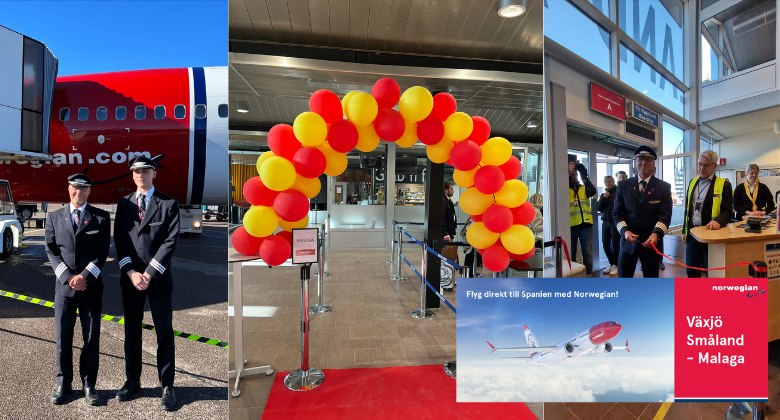 Norwegian on Saturday 1 April began a new, weekly seasonal service between Vaxjo, in South Sweden, and Malaga. The 2,665-kilometre route will be maintained with a mix of 737-800 and 737 MAX aircraft. It becomes the only international service maintained by Norwegian from a regional airport in Sweden.
Flight D85057 departs the Swedish city a 10:30 local time, arriving in Malaga at 14:20. The return service, flight D85056, takes off from Malaga at 06:00 local time, landing in Vaxjo at 09:50.
What they said
Ulf Axelsson, CEO of Vaxjo Airport, said: "It's incredibly fun and we've been looking at Malaga as a destination for a long time. It is a destination that was high on our wish list and a brand new destination from southern Sweden. It is hopefully the first of many new routes from Norwegian."
Thome Maursund, Commercial Director at Norwegian, noted: "We hope that the new service to the Spanish sunny coast is appreciated because Spain is one of the Swedes' absolute favourite countries to which they are happy to return. With the new direct flights, it will be both easier and faster for those who live near Vaxjo to be able to travel there."
Norwegian adds three new routes between Sweden and Spain
This April, in addition to the Vaxjo - Malaga service, Norwegian has added a further two new routes between Sweden and the Spanish coast. They include flights from Stockholm NYO to Malaga, as well as from Stockholm NYO to Alicante, both operating 2-weekly from 1 April.
Located in South Sweden, Vaxjo has a population of just over 70,000, making it the seventeenth largest city in the country. Industries in the city include GE Power, Aerotech Telub and Volvo. Vaxjo has been declared as Europe's greenest on several occasions. Its airport, branded as Smaland Airport, offers primarily seasonal summer services and charters. However, BRA Braathens maintains a year-round route to Stockholm BMA, while Ryanair operates to Gdansk and London STN throughout the year.