New Route of the Day (1 August 2021): Sky Express between Athens and London Heathrow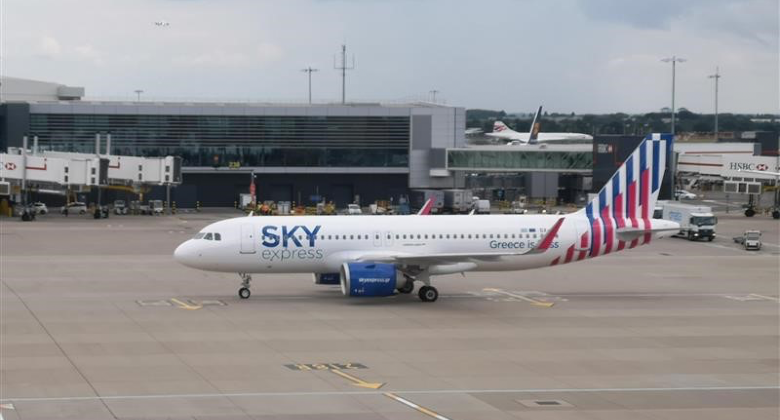 Greece's Sky Express became the latest new carrier to serve London Heathrow Airport when it began 4-weekly service from Athens on Sunday 1 August. Flights are set to operate initially on Mondays, Thursdays, Fridays and Sundays. Additional flights on Tuesdays and Wednesdays are currently bookable from the week commencing 16 August. The inaugural service (flight number GQ 700 operated by an Airbus A320neo, registration SX-NIG) departed Athens at 11:49 local time and arrived in London three hours and 20 minutes later at 13:09 local time. The return flight (GQ 701) departed the UK capital at 14:53 and arrived back in Greece three hours and seven minutes later at 20:00 local time.
94 flights per week between London and Athens
According to Cirium Data and Analytics, Heathrow and Athens are already connected by Aegean Airlines (21-weekly) and British Airways (31-weekly). In addition, easyJet (8-weekly) and Wizz Air (4-weekly) offer flights to the Greek capital from Gatwick, while Ryanair (12-weekly) and Wizz Air again (5-weekly) provide connections to Athens from Luton. Finally, Ryanair is flying 9-weekly from Stansted to Athens. In total, there are expected to be 94 weekly flights from London to Athens in the second week of August. British Airways has 31 flights, Aegean and Ryanair both have 21, Wizz Air nine, easyJet eight and Sky Express four.
Expanding international network using A320neos
Sky Express began flying in 2015 initially with BAe Jetstream 31s operating Greek domestic flights. The airline then transitioned to larger ATR 42s and 72s. Limited international services, primarily to Larnaca in Cyprus, began in summer 2017, but ended in March 2018. However, with the acquisition of six A320neos since last November (according to planespotters.net), the airline resumed international service. In August, in addition to Heathrow, the airline is also serving Brussels BRU, Larnaca, Paris CDG and Rome FCO with scheduled services from Athens. Hamburg and Paris CDG are served from Heraklion. Flights to Amsterdam were also started recently. However, these are charter flights.