New Route of the Day (1 June 2022): Gulf Air between Bahrain and Manchester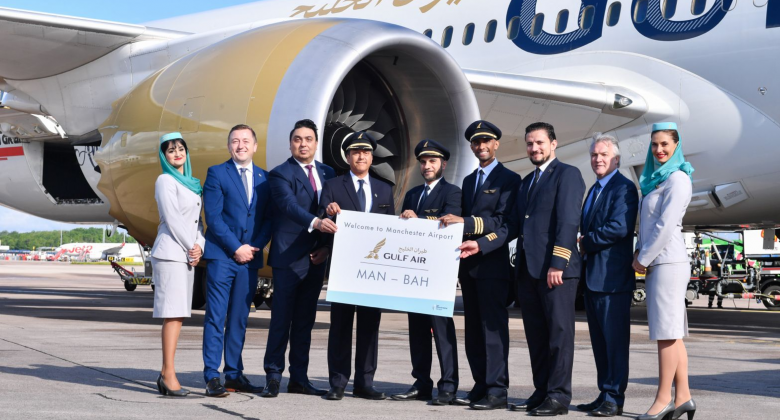 Gulf Air increased its presence in Europe with the launch of a number of new services recently, including non-stop service between Bahrain and Manchester. This new route to the UK launched on Wednesday 1 June. The 2-weekly service (the other flight is on Sundays) will operate using the airline's 787-9s. The 5,270-kilometre route is not served by any other carrier.
According to the airport, 28,000 people from across Manchester Airport's catchment area travel indirectly to Bahrain. These are a mix of those visiting family and friends and businesses that trade in the Middle East. A further two million from across the North travel to a range of Gulf Air's onward destinations that are not currently served by Manchester Airport, so the route will also be beneficial to those wanting to access places like Bangkok, Delhi and Mumbai.
What they said
Ian Costigan, Interim Managing Director at Manchester Airport, said: "It's great news that Gulf Air is starting direct flights from Manchester Airport, and I am sure it will be incredibly well received by the thousands of people in our catchment area that travel there indirectly each year. I look forward to welcoming the team from Gulf Air to the airport and wish them every success with the route."
Captain Waleed AlAlawi, Acting CEO, Gulf Air, said: "We are delighted to announce the launch of our Bahrain–Manchester direct route as part of the historic Bahraini–UK official and commercial relations. Manchester has been on our horizon for a while due to our customers' demand; and as travel bounces back to normalcy, we knew it was the right time to launch it for our valued passengers. We are certain this new and exciting destination will further strengthen our network in the UK and Europe, and we look forward to serving our passengers to and from Manchester."
Manchester's Middle East links
Analysis of Cirium schedule data shows that this July Manchester will have 50 weekly, non-stop flights to airports in the Middle East, down from 74 in July 2019. Despite gaining this new link to Bahrain and also a 3-weekly service to Kuwait with Kuwait Airways (launched on 1 May), Manchester has lost non-stop service with Oman Air to Muscat (served daily in July 2019) and El Al service to Tel Aviv (flown 3-weekly in 2019). In addition, Emirates has cut its Dubai service from 3-daily to 2-daily, and Etihad Airways now serves Abu Dhabi daily, rather than 2-daily.
Gulf Air's European expansion
Pre-pandemic, Gulf Air served eight destinations in Europe, all with non-stop service. These were Istanbul and London LHR (both 2-daily); Athens, Frankfurt, Larnaca, Moscow DME and Paris CDG (all daily); and Malaga (2-weekly). Last summer it added flights to the Greek island airports in Mykonos and Santorini, which then flew on to Athens.
On the same day that it launched Manchester service, the carrier also started service to Rome. The following day it added a new service to Milan MXP as well as Nice (see below), with the Nice flights operating via Malpensa in both directions.