New Route of the Day (1 May 2023): Turkish Airlines between Istanbul IST and Krakow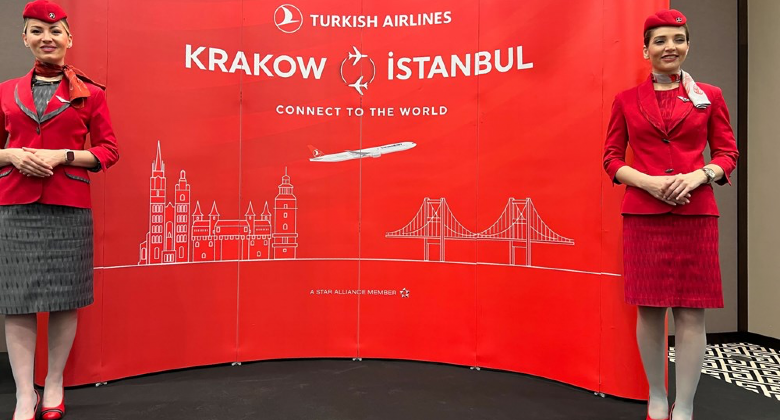 Turkish Airlines has added its second destination in Poland with the introduction of flights between Istanbul IST and Krakow. The 1,200-kilometre service will be maintained 3-weekly on Mondays, Wednesdays and Fridays with the 151-seat 737-900 aircraft. It will go up against 3-weekly flights by fellow Star Alliance member LOT, which itself commenced operations on the route on 27 April in a reciprocal agreement with its Turkish counterpart.
Turkish Airlines' flights to Krakow come at the expense of Katowice, which the carrier initially planned to launch but opted to replace with Poland's second largest city.
 What they said
 Levent Konukcu, Chief Investment & Technology Officer at Turkish Airlines, said: "As the airline flying to more countries than any other in the world, we are glad to add Krakow, our second destination in Poland after Warsaw, to our flight network. With this route, our flag carrier has reached 343 destinations in 129 countries. We will operate 3 weekly reciprocal flights to Krakow, the historic former capital of Poland. We are connecting Krakow to the world with Turkish Airlines' unique flight experience."
Turkish Airlines targets 88 million passengers
 Turkish Airlines has set itself a goal to handle over 88 million passengers this year. The airline flew 71.8 million passengers in 2022. The carrier now serves over 340 destinations across 129 countries. It took delivery of its 400thaircraft in March, which could grow to 427 planes by the end of the year if all deliveries are on time. The carrier recently said it hopes to operate flights to Australia with its own equipment next year.
In late 2022, Turkish Airlines outlined it was targeting the launch of up to 28 destinations in the coming years. Among those was Krakow. Furthermore, the list includes five destinations in the Americas, ten in Europe, six in the Asia Pacific region, and seven in Africa and the Middle East. Besides Krakow, the European destinations include Bergen, Iasi, A Coruna, Lankaran, Makhachkala, Nantes, Newcastle, Palermo, and Timisoara.