New Route of the Day (1 November 2023): Eurowings between Prague and Agadir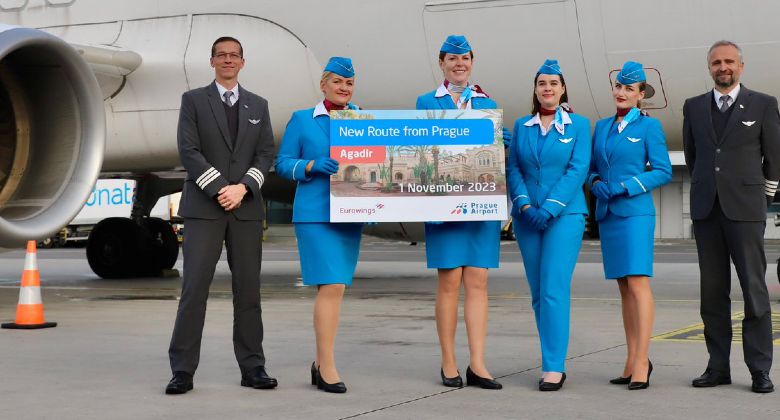 Eurowings introduced a new service between Prague and Agadir in Morocco on Wednesday 1 November. The 2,960-kilometre service will be maintained 2-weekly, on Wednesdays and Saturdays, with the 180-seat A320 aircraft. Eurowings faces no competition on the route, being the only carrier linking Prague with Morocco during the winter. Over the summer months, Smartwings maintains operations to Agadir on a regular charter basis.
Eurowings will pause flights on the new route between 26 November and 22 December, as well as between 10 January and 26 January 2024. Between 27 January and 5 March, the service will run weekly.
Eurowings sees strong Prague growth
Eurowings opened its base in Prague in 2021 and has since grown to serve 21 destinations. 13 are year-round, while eight are summer seasonal. The carrier plans to launch flights to the Georgian capital of Tbilisi on 1 April 2024. Eurowings currently has three aircraft based in the Czech capital.
In H1 2023, Eurowings witnessed over 30% growth in passenger volume to and from Prague. During the ongoing Q4, the Lufthansa Group carrier is the fifth largest at Prague Airport by available seat capacity, boasting 194,214 seats. During the summer months, it is consistently within the top three largest airlines at Prague Airport.
Eurowings partners with Smartwings
Eurowings recently expanded its partnership with the Czech Republic's largest local airline Smartwings, introducing a bilateral codeshare agreement. Smartwings flights from Prague to destinations such as Valencia, Split, and Nice can now be booked under Eurowings flight codes, with plans for further expand the agreement to more routes. The collaboration aims to strengthen Eurowings' pan-European growth strategy and provide customers with a broader range of travel options from Prague.
Prague Airport to see 25% passenger growth
Prague Airport estimates handling over 13.6 million passengers this year, representing a significant year-on-year increase of over 25%. The growth has been fuelled by the 65 carriers linking the Czech capital with 160 destination spanning Europe, Africa, the Middle East, North America and Asia.
This year alone, Prague Airport welcomed four new airlines and added a dozen new routes. Notably, it has bolstered frequencies and capacity on over 40 destinations. Among new or returning carriers are Icelandair, Korean Air, China Airlines, and Cyprus Airways.