New Route of the Day (10 April 2022): Air Moldova between Chisinau and Düsseldorf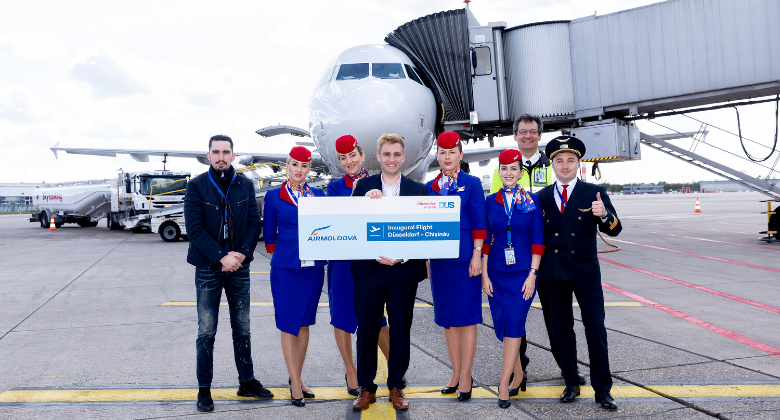 Air Moldova (IATA code 9U) chose Sunday 10 April as the launch date for its new 2-weekly service from Chisinau to Düsseldorf. The 1,680-kilometre route will also be served on Wednesdays and faces no direction competition at present. However, local rival FlyOne plans to resume 2-weekly service on the route on 15 June according to Cirium data. Air Moldova used its single A320 (registration ER-AXA, previously operated by Turkish Airlines) to launch the new service. The airline's other aircraft, an A319 (registration ER-AXM), is currently parked in Vilnius according to planespotters.net.
Seven routes to Germany from Chisinau this summer
The Moldovan capital will be connected to seven German airports this summer. Air Moldova also serves Frankfurt FRA, FlyOne will offer non-stop services to Frankfurt HHN, and Wizz Air connects Chisinau with Berlin, Dortmund, Hamburg and Memmingen. These three airlines are also the biggest in Chisinau, based on schedule data provided by the airlines for this summer. FlyOne is set to offer 89 weekly flights in August, ahead of Air Moldova (51) and Wizz Air (49). Pre-pandemic the airport welcomed almost three million passengers in 2019.
Chisinau Airport was recently shut for several weeks
After the Russian invasion of neighbouring Ukraine on 24 February 2022, Moldovan airspace was closed for several weeks. According to its Facebook page, Chisinau Airport reopened on 24 March with an Air Moldova flight to Tel Aviv.