New Route of the Day (10 July 2021): Transavia between Montpellier and Berlin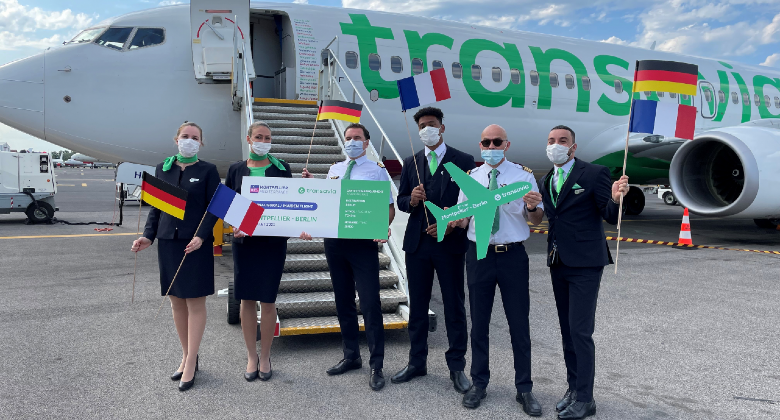 Transavia on Saturday 10 July launched a new international route between Montpellier and Berlin. The 1,210-kilometre route will be served weekly until 4 September, based on booking availability on Transavia's website. The inaugural service (flight TO 4546 operated by Boeing 737-800 registration F-GZHU) departed the French airport at 18:25 local time, arriving in the German capital 97 minutes later at 20:02 local time. After a rather slow turnaround in Berlin (maybe because of route launch celebrations?), the return flight (TO 4547) departed 36 minutes late at 21:21 local time and returned to Montpellier 20 minutes late at 23:05 local time.
Ninth international route for Transavia at Montpellier
Berlin becomes the ninth international route for Transavia at Montpellier, joining Athens, Djerba, Heraklion, Lisbon, Marrakech, Palermo, Santorini and Tunis. easyJet offers four international routes from Montpellier (to Basel, London LGW, London LTN and Porto), while Air Arabia Maroc serves three destinations in Morocco (Casablanca, Fez and Nador). However, the only international service offered at least daily in August (according to Cirium Data and Analytics), is KLM's 2-daily service to Amsterdam. For Berlin, this is a welcome new service to France, as easyJet appears to have suspended operations from the German capital to Montpellier and Toulouse, while Lyon flights are only resuming from 10 September. Ryanair also appears to have stopped serving Toulouse from Berlin, while Transavia's connection between Nantes and Berlin also seems to have been axed, at least for now, thus making this new service Transavia's only current route to Berlin. However, a second route to Paris ORY is set to start at the end of October.