New Route of the Day (10 July 2022): LOT Polish Airlines between Gdansk and Zielona Góra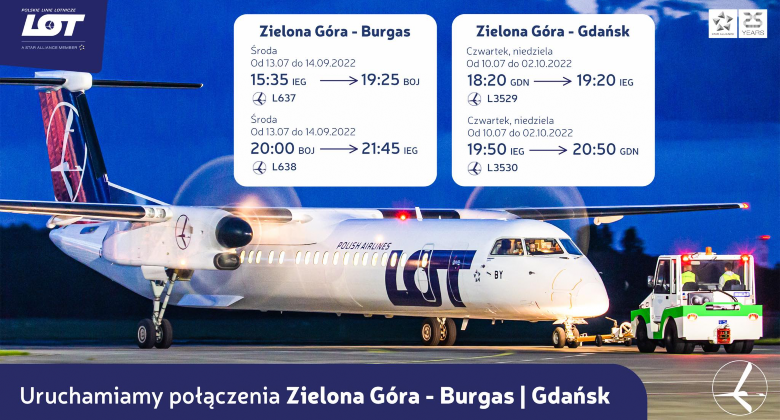 LOT Polish Airlines added a new domestic route on Sunday 10 July when it began 2-weekly service from Gdansk to Zielona Góra. The 335-kilometre route will be flown on Thursdays and Sundays, until 2 October, using the Star Alliance carrier's Q400s and faces no competition. LOT already serves Zielona Góra 6-weekly from Warsaw, and also offers a weekly flight to Rijeka in Croatia on Sundays during the summer season.
Three days later, on Wednesday 13 July, LOT also launched a weekly service from Zielona Góra to Bourgas in Bulgaria, again using Q400s. The 1,340-kilometre route faces no competition and will operate until 14 September.
Located in western Poland, not far from the border with Germany, Zielona Góra has a population of around 140,000 people. Pre-pandemic, passenger numbers at the airport reached almost 35,000. The nearest international airport is Poznan (which lies 80 kilometres to the northeast), while Berlin's new airport is only 160 kilometres northwest.
LOT's international routes from Poland's regional airports
This summer, LOT is operating just 10 international routes from Polish airports other than Warsaw. They are (August weekly frequency in brackets):
Krakow: Chicago ORD (4), Dubrovnik (1), New York EWR (1), Tel Aviv (2)
Rzeszow: New York EWR (1), Rijeka (1), Venice VCE (1), Zadar (1)
Zielona Góra: to Bourgas (1), Rijeka (1)
In addition, LOT is offering international flights from Budapest to New York JFK (3-weekly) and Seoul (2-weekly), and from Vilnius to London LCY (6-weekly).