New Route of the Day (10 March 2023): flydubai between Dubai and Milan BGY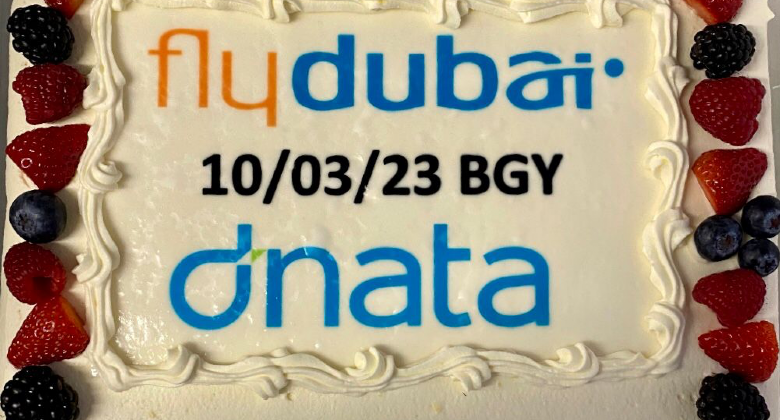 flydubai (IATA code FZ) launched a new European service on Friday 10 March. It now connects Dubai and Milan BGY with 5-weekly (Tuesdays, Thursdays, Fridays, Saturdays and Sundays) flights using its 737 MAX 8s. Frequencies will grow to daily from 18 April. The 4,640-kilometre route is not served by any other carrier. This is the Italian airport's second non-stop service to the United Arab Emirates, with Air Arabia maintaining 4-weekly flights from Sharjah.
Flight FZ1571 departs Dubai at 17:30 local time, arriving at Milan BGY at 21:30 local time. The inbound service, FZ1572, leaves the Italian city at 22:30 local time, arriving in Dubai at 07:45 the following day.
What they said
Jeyhun Efendi, SVP Commercial Operations and E-commerce at flydubai, said: "We are excited to announce the launch of year-round flights to Milan in Italy. We are pleased to see our network in Europe grow and to serve five destinations in Italy. Over the years, we have continued to see increased demand to and from the region and we look forward to providing our passengers with exceptional travel experiences."
flydubai operating in 53 countries
flydubai is growing its network this year with the introduction of almost a dozen routes. The airline launched Pattaya and Krabi in Thailand this January, followed by the resumption of operations to Ashgabat in Turkmenistan. On 28 February, it added Shymkent in Kazakhstan to its network, while flights to Mogadishu in Somalia were launched on 9 March, followed by its Milan BGY service. During March and April, flydubai is commencing operations to four destinations in Saudi Arabia including Al Qaisumah, Neom, Jizan and Najran. The carrier will add Cagliari in Italy and Corfu in Greece on a seasonal summer basis from 22 June and 24 June respectively. Overall, flydubai will grow its network to over 115 destinations this year in 53 countries.