New Route of the Day (10 November 2022): easyJet between Bordeaux and Copenhagen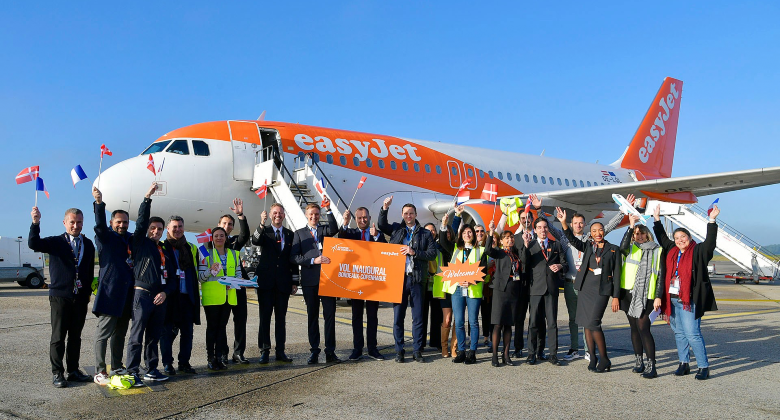 easyJet has added a new route from its base in Bordeaux. On Thursday 10 November the carrier introduced 2-weekly service on the 1,530-kilometre route to Copenhagen in Denmark. Flights operate every Thursday and Sunday and currently face no direct competition. However, Norwegian has announced plans to also start 2-weekly service on the route from 23 June next summer. The two airports were previously connected by Maersk Air (April 2004-October 2005) and by Ryanair (April 2019-March 2020).
Copenhagen will now have 11 easyJet routes this winter. The other 10 are Amsterdam (9-weekly), Basel (2), Berlin (11), Bristol (2),  Edinburgh (2), Geneva (4), London LGW (11), Manchester (8), Milan MXP (3) and Paris CDG (2).
easyJet has been serving Bordeaux since June 2006 when it began service from its home base of London LTN. By the summer of 2017 it was offering flights to over 20 destinations from Bordeaux. Finally, in the summer of 2018 it became an official base. easyJet has offered flights to over 40 destinations in total with 30 of those operating during S22.
easyJet's network in August 2022 offered flights to nine countries (weekly frequency in August 2022 in brackets):
France: Ajaccio (4), Bastia (4), Figari (4), Lille (7), Lyon (14), Marseille (9), Nice (12)
Germany: Berlin (2)
Greece: Heraklion (2), Rhodes (2)
Italy: Catania (3), Milan MXP (2), Olbia (3)
Morocco: Marrakech (5)
Portugal: Faro (3), Lisbon (9), Porto (7)
Spain: Ibiza (3), Lanzarote (2), Menorca (3), Palma de Mallorca (5), Tenerife TFS (2)
Switzerland: Basel (8), Geneva (15)
UK: Belfast BFS (2), Bristol (6), Glasgow GLA (2), London LGW (21), London LTN (7), Manchester (3)
Compared with S19, easyJet had added routes to Ajaccio, Figari, Olbia and Tenerife TFS. However, flights to several other destinations had been suspended, including Amsterdam, Barcelona, Brussels BRU, Essaouira, Hamburg, Liverpool, London SEN, Luxembourg, Tel Aviv and Venice VCE.
According to analysis of Cirium schedule data, easyJet was Bordeaux's leading carrier this summer offering 35% of all scheduled seat capacity. Ryanair was second with 26% and Air France third with 12%. This winter easyJet is offering flights to 18 destinations. Despite the reduction in network, it remains the busiest airline at the airport with 31% of seats, ahead of Ryanair 26% and Air France 19%.