New Route of the Day (10 November 2023): Air Serbia between Belgrade and Porto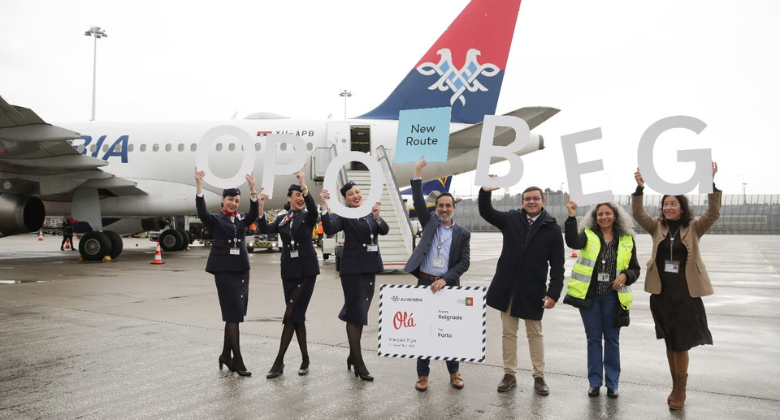 Air Serbia introduced flights between its hub in Belgrade and Porto on Friday 10 November. The 2,835-kilometre service will be maintained 2-weekly, on Mondays and Fridays, with a mix of A319 and A320 aircraft. The airline faces no competition on the route.
What they said
Bosko Rupic, General Manager for Commercial and Strategy at Air Serbia, said: "For the first time in Air Serbia's history, we have launched services to Porto. After Lisbon, this is Air Serbia's second destination in Portugal. Our Airbus A319 and A320 aircraft fly between Belgrade and Porto in a little under three and a half hours. We are certain this will be one of our most popular destinations in Europe and that passengers will enjoy this beautiful city as much as they will enjoy the flight there."
Air Serbia adds 23rd new route of the year
Air Serbia has undergone a massive expansion this year, with Porto becoming its 23rd new destination in 2023. The airline only entered the Portuguese market earlier this year when it introduced flights to Lisbon in April. Services to the Portuguese capital operate 3-weekly during W23/24, complementing the new Porto service. Apart from new routes in Europe and North Africa, the airline also added its third long-haul destination during the year - Chicago ORD.
The Serbian carrier has 5.25 million seats on sale in 2023, an increase of 48% on the pre-pandemic 2019. In addition to scheduled operations, the airline also maintains an extensive charter programme for leisure travellers.
Air Serbia and Belgrade Airport see busiest year on record
Air Serbia has already surpassed its busiest end-of-year result in terms of passenger volumes achieved in 2019. The carrier handled just over 3.5 million passengers during the January - October period, an improvement of 38% on the same time-frame four years ago. During the whole of 2019, the airline carried 2.8 million travellers.
Similarly, Belgrade Airport has also surpassed its record 2019 result. It handled just under 6.7 million passengers during the January - October period, up 26% on four years ago. In 2019, the airport welcomed 6.1 million passengers for its entirety. Driving the growth was Air Serbia's wide-ranging expansion, as well as the arrival of new airlines including airBaltic and Jazeera Airways. During 2023, Wizz Air stationed its fourth aircraft in Belgrade, growing its destination network from the city in the process.