New Route of the Day (10 September 2023): Nouvelair between Tunis and Frankfurt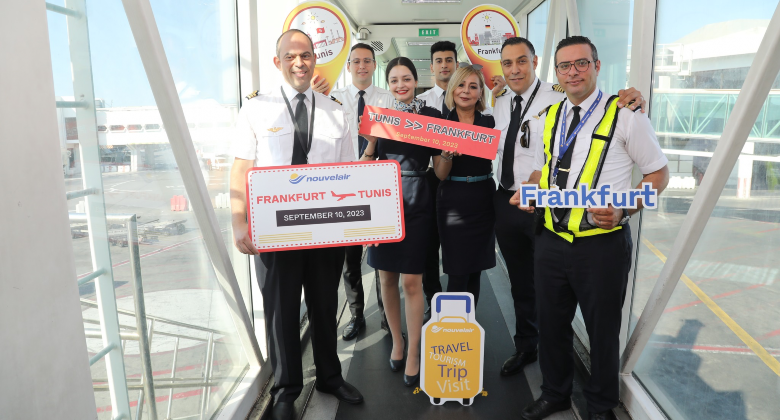 Tunisian leisure carrier Nouvelair launched a new seasonal service between Tunis and Frankfurt on Sunday 10 September. The 1,470-kilometre route will be maintained 3-weekly with the 149-seat A320 aircraft until 27 October, on Wednesdays, Fridays and Sundays. Nouvelair will compete directly against Lufthansa's 13-weekly operations between the two cities, as well as Tunisair's daily flights.
Nouvelair serves Frankfurt from three Tunisian hubs
The carrier is no stranger to Frankfurt, as it already operates 3-weekly flights from Monastir and another 3-weekly rotations from Djerba. With the addition of Tunis, the leisure airline now serves Frankfurt 9-weekly, offering German travellers multiple connections in Tunisia.
Nouvelair has an extensive scheduled network of flights to Germany. In addition to the abovementioned, it maintains operations from Monastir to Berlin, Dusseldorf, Hannover, Leipzig, Munich and Stuttgart, as well as from Djerba to Cologne, Dusseldorf, Hannover, Leipzig and Stuttgart. Furthermore, it runs services from Tunisia's capital of Tunis to Berlin, Dusseldorf and Munich.
Overall, during the month of September, Nouvelair will boast 43-weekly departing flights from Tunisia to the German market, offering just over 6,400 seats, according to Cirium schedules data.
Tunisia is Europe's third-largest African market
After Morocco and Egypt, Tunisia has more capacity to Europe than any other African country. There are 3.54 million departing seats during the April – October period – the highest yet from Tunisia. Up by a strong 14.6% over S19, it is only the fourth time in 20 years that it has exceeded three million. Capacity has overcome the consequences of the 2015 terrorist attack and, like all countries, coronavirus; each took Tunisia three years to recover.
Nouvelair is the second-largest airline operating between Tunisia and Europe based on available seat capacity, behind only the national carrier Tunisair. During the April – October period, Nouvelair has some 871.000 departing seats, up 48.5% on the same period in 2019.