New Route of the Day (11 April 2022): Amelia between Strasbourg and Amsterdam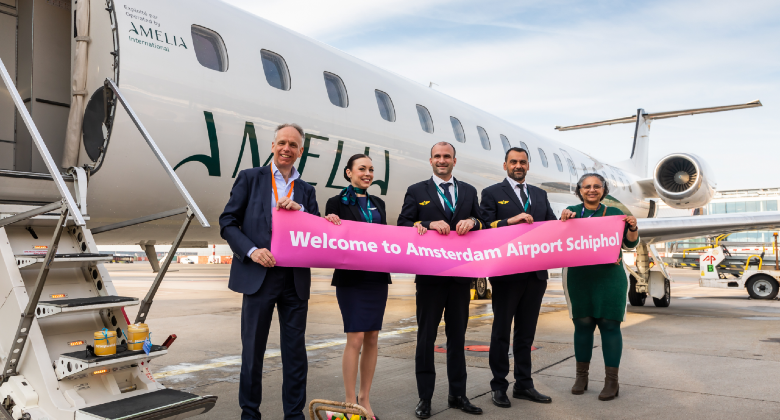 Amelia (IATA code 8R) has replaced Air France on the 470-kilometre link between Strasbourg in France and Amsterdam. The French regional carrier will operate the route 10-weekly (twice each day, Monday to Friday) using its ERJ-145s. The first flight was on Monday 11 April using aircraft registration F-HESR. Up until Friday 8 April, Air France had been serving the route 12-weekly using 100-seat E190s operated on its behalf by German Airways. Amelia flights can still be booked on the Air France website.
Also launched Strasbourg-Munich connection
A few days later, on 14 April, Amelia used the same aircraft to offer a mid-day rotation on the 310-kilometre route between Strasbourg and Munich. From 2 May this will operate 5-weekly (Monday to Friday) for the rest of the summer season, with the exception of the period between 25 July and 19 August. This route was served by Lufthansa using its CityLine brand until Friday 8 August using CRJ900s. The flight time on this route is typically between 35 and 40 minutes.
Strasbourg is one of France's top 20 airports
Last year Strasbourg welcomed 631,172 passengers, making it France's 17th busiest metropolitan airport according to figures from UAF. Traffic was down 51.5% versus 2019. Latest Cirium schedule data for S22 (which does not include the new Amelia services) suggests that seat capacity will still be down around 30% versus 2019.
These new Amelia routes look set to be the highest frequency international routes at the airport this summer. However, Cirium data does show Iberia offering 5-weekly service to Madrid (using Air Nostrum's 50-seat CRJ-200s) and 3-weekly service with Turkish Airlines to Istanbul IST (using 737-800s). Nearly all other international routes will be served just weekly or 2-weekly.
Volotea is #1 for international routes
Volotea, which has a base in Strasbourg, is the leading airline for number of international destinations. In addition to 10 domestic routes, the carrier is also offering flights this year to four destinations in Italy (Cagliari, Olbia, Palermo and Rome FCO), three destinations in Spain (Barcelona, Lanzarote and Palma de Mallorca), two in Greece (Athens and Corfu) and Marrakesh in Morocco.