New Route of the Day (11 August 2023): Belavia between Minsk and Delhi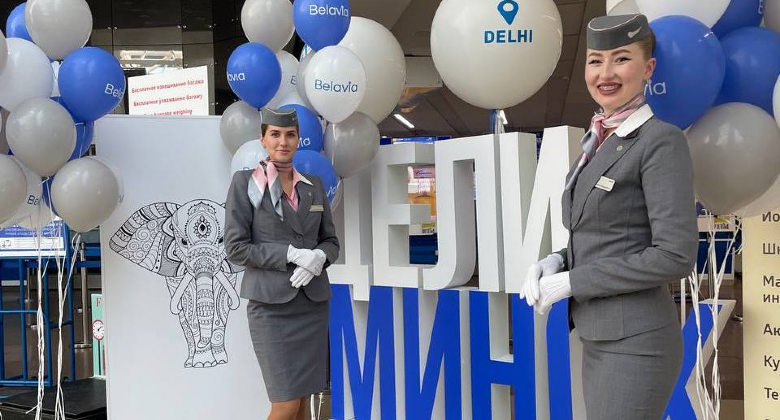 The national carrier of Belarus, Belavia, launched a new weekly service between Minsk and Delhi on Friday 11 August. The 4,845-kilometre route will be maintained with the 200-seat 737 MAX 8 aircraft. The airline faces no competition between the two capitals. Frequencies on the route will increase to 2-weekly from 20 September, with an additional departure on Wednesdays.
Flight B2757 departs Minsk at 20:25 local time, arriving in Delhi at 05:35 local time the following morning. The return service, operating as flight B2767, takes off from the Indian capital on Saturdays at 06:55 local time, touching back down in Belarus at 11:40 local time.
What they said
Igor Cherginets, Director General at Balevia, said: "We know that passengers have been looking forward to the opening of this flight. Our specialists have been working for a long time to ensure that the wishes of travellers come true. I can say with confidence that this is one of the most interesting destinations in the airline's route network. We have solved the problem of those who have long wished to immerse themselves in Indian flavour and experience the culture of another country but were not ready to go on a long journey with connections. Now, to go to India, it is enough to buy a single ticket, be in a good mood and get on the plane. We also hope that the launch of flights between Minsk and Delhi will contribute to the development of cooperation between Belarus and India."
Sanctioned Belavia seeks alternative markets
The European Union imposed sanctions onto Belarus in 2021 in response to the grounding of a Ryanair plane carrying a dissident from the country. It forced Belavia to discontinue all its flights into the EU. In December that same year, sanctions were expanded in coordination with the US and UK to target the Belarussian carrier, which was accused of flying in migrants as a tactic to destabilise European states.
Belavia, which boasts a fleet of 13 aircraft, including five 737-800s, four E195s, two 737-300s and one 737 MAX 8 and E175 each, has since turned to developing its network towards alternative markets where both the carrier and its citizens are not sanctioned. Apart from further expanding its network into Russia, the airline also maintains services to Egypt, Jordan, the United Arab Emirates, Qatar, Armenia, Azerbaijan, Uzbekistan and Kazakhstan. It will launch a new 2-weekly service between Minsk and Abu Dhabi on 2 October.
Prior to the sanctions, Belavia had a developed European network, operating to numerous EU-member states including the likes of Belgium, France, Germany, Finland and Sweden. Furthermore, it had strong ties with Boeing as a loyal customer. Under the sanctions, Belavia is forbidden to buy, lease or operate US or European manufactured aircraft or those featuring more than 25% of components originating from either of the two.