New Route of the Day (11 November 2023): Aegean Airlines between Athens and Dubai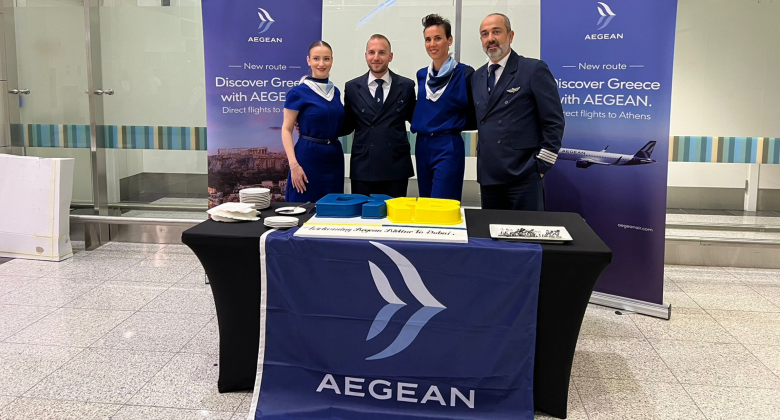 Aegean Airlines inaugurated a new service between Athens and Dubai on Saturday 11 November. The 3,275-kilometre route will be maintained 6-weekly, every day except Thursdays, with the A320neo aircraft. It will operate alongside Aegean Airlines' partner Emirates, which runs a daily rotation between the two cities.
Flight A3958 departs Athens at 10:25 local time, arriving in Dubai at 16:55 local time. The inbound service, operating as flight A3959, takes off from the UAE airport at 18:10 local time, touching back down in the Greek capital at 21:40 local time.
What they said
Pepi Stamatis, Deputy Chief Commercial Officer of Network and Revenue, said: "Building on the momentum of the successful growth of the last 18 months, we continue to offer our passengers new options and travel experiences, investing in the expansion of our network with new destinations in the winter season. At the same time, we continue to invest in the potential of Athens and Thessaloniki Airports, while we gradually develop special programmes and partnerships to mitigate seasonality in the region. The new direct flight to and from Dubai further strengthen the connectivity of our network with international aviation hubs, under the umbrella of our important new and established partnerships."
Aegean Airlines with seven new routes this winter
During W23/24, Aegean Airlines boasts the largest route network in its history, which includes seven new destinations in six countries. Apart from the new Dubai service, the carrier is in the process of introducing flights from Athens to Luxor, Sharm El Sheikh, Innsbruck, Bratislava, Baku, Chisinau and, for the first time, between Thessaloniki and Cairo.
In addition, Aegean Airlines is continuing to maintain operations on new routes it launched over the summer. These include flights from the Greek capital to Bristol, Birmingham, Malaga, Bilbao, Tallin, Riga and Tunisia.
Aegean Airlines' enhanced new winter schedule is a continuation of the very strong first three quarters of 2023, during which the carrier handled 5.3 million passengers, representing an increase of 30% on the same period last year.
Athens Airport registers busiest year on record
Aegean Airlines' Athens hub has also enjoyed record traffic levels. During the first three quarters it handled 21.7 million passengers, representing not only a full recovery to pre-pandemic levels but also an expansion beyond 2019, with a growth rate of 8.6%. International traffic increased by 7.3%, while domestic travel grew by 11.3%, both when compared to 2019.
During the first nine months of the year, Athens Airport saw the launch of 19 new services, the arrival of four new airlines, as well as 20 carriers introducing already established routes.