New Route of the Day (12 September 2023): SunExpress between Antalya and Sofia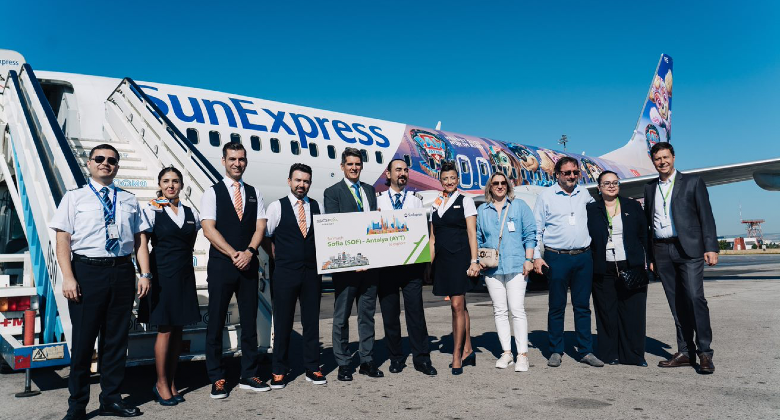 Leisure carrier SunExpress introduced flights between Antalya and Sofia on Tuesday September 12. The 900-kilometre service will be maintained 2-weekly, on Tuesdays and Fridays, with a mix of 180-seat A320 and 189-seat 737-800 aircraft. The carrier will compete directly against Pegasus Airlines' 2-weekly service, as well as Bulgaria Air's weekly flight between the two cities. Up until now, SunExpress maintained only charter flights on the route.
What they said
Jesus Cabayero, CEO of airport operator SOF Connect, said: "We welcome SunExpress for the decision to launch seasonal flights to Antalya from Sofia Airport. Through them, Bulgarians will have the opportunity to enjoy the unique experience of the Turkish Riviera during the winter season as well."
SunExpress adds close to one million seats in Antalya
SunExpress has significantly expanded its operations out of coastal Antalya in Türkiye this year. During the first half of 2023, the airline operated a total of 16.838 flights, offering 3.2 million seats on the market. Its capacity levels this year have grown by 31% on its previous record in 2022, with over 755.000 seats added.
SunExpress is Antalya's largest carrier. Its number of routes during the first half of the year increased from 57 in 2022 to 64. Its network spans countries in Europe, the Middle East and the Caucasus. The domestic market accounts for just one in ten available seats, nearly half what it was in 2019 as fast international growth took over.
Sofia Airport closes in on pre-Covid record
Sofia Airport handled 4.1 million passengers during the January – July period, representing an increase of 26.6% on last year. The airport is close to surpassing its pre-pandemic passenger numbers, with the figure at 99.4% of its result four years ago.
This year, Ryanair and Wizz Air are Sofia's largest carriers, both with 2.4 million seats on the market. They are followed by national airline Bulgaria Air with 1.1 million seats, then Lufthansa, Turkish Airlines and Austrian Airlines.