New Route of the Day (13 May 2022): AlbaStar between Milan BGY and Dakar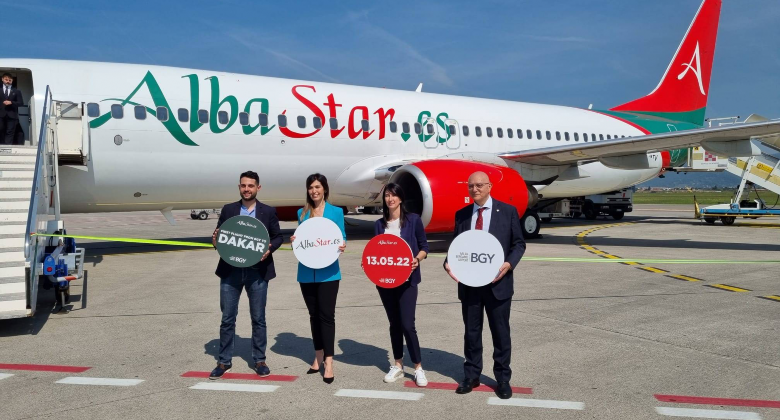 AlbaStar (IATA code AP) on Friday 13th May (clearly not superstitious) commenced a new route between Milan BGY and Dakar in Senegal. The service will operate weekly from 13 June, increasing to 2-weekly in July according to the airline's on-line booking tool. The outbound flight will depart Italy very late in the evening on Mondays and Wednesdays, while the return flight operates on Tuesdays and Thursdays.
The 4,250-kilometre route is not served by any other carrier. The inaugural flight (AP 701) was operated using a 737-800 (registration EC-MTV) and was in the air for the outbound flight for six hours and 21 minutes. The return flight was almost an hour quicker at five hours and 28 minutes according to flightradar24.com.
AlbaStar serves eight Italian destinations from Bergamo
This summer, AlbaStar is offering non-stop flights from Bergamo to eight other airports in Italy; Alghero, Brindisi, Cagliari, Catania, Crotone, Lampedusa, Olbia and Lamezia Terme. However, all of these routes only operate weekly, with all flights either on Saturday or Sunday. According to planespotters.net the airline's fleet comprises five active 189-seat 737-800s, all at least 15 years old.
The airline's booking tool lists 24 airports from which scheduled flights can be booked, of which 18 are in Italy. Apart from Dakar, the other non-Italian destinations served are Fuerteventura, Lourdes, Palma de Mallorca, Porto Santo and Sal (Cape Verde). It also operates a significant number of charter flights.
Dakar's new airport welcomes several European flag-carriers
A new airport to serve Dakar opened in December 2017, several years later than originally planned. It is located around 45 kilometres east of downtown Dakar. Pre-pandemic, the Blaise Diagne International Airport (named after the first person of West African origin to hold a position in the French government) was handling between two and three million passengers per annum. Apart from AlbaStar, several other carriers offer non-stop flights between Europe and Dakar this summer, according to Cirium schedule data for August 2022:
Air France: daily from Paris CDG
Air Senegal: daily from Paris CDG, 4-weekly from Lyon and Milan MXP, 3-weekly from Barcelona
Binter Canarias: 3-weekly from Gran Canaria
Brussels Airlines: daily from Brussels BRU
Iberia: 9-weekly from Madrid
Neos: 2-weekly from Milan MXP and weekly from Verona
TAP Portugal: 10-weekly from Lisbon
Transavia: weekly from Nantes
TUI fly Belgium: weekly from Brussels BRU
TUI fly Netherlands: weekly from Amsterdam
Turkish Airlines: 5-weekly from Istanbul IST
Vueling: 2-weekly from Barcelona
In total there should be 69 weekly departures between Europe and Senegal in August. The majority of services are from either Belgium, France, Italy or Spain. There are currently no non-stop flights to Dakar from either Germany or the UK. In August 2019 there were 51 weekly departures indicating that planned frequency has increased by 35%.