New Route of the Day (13 October 2023): Aegean Airlines between Athens and Sharm El-Sheikh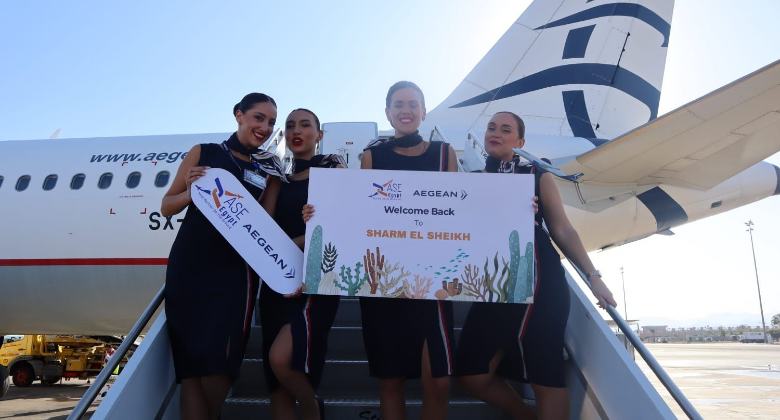 Aegean Airlines has continued to expand its destination network with the addition of scheduled flights between Athens and Sharm El-Sheikh in Egypt. The 1,475-kilometre service was launched on Friday 13 October and will be maintained 2-weekly, on Tuesdays and Fridays, with the A320 aircraft. The Greek carrier faces no competition on the route. The airline last served Sharm El-Sheikh in 2015.
Aegean Airlines expands Egypt network
Aegean Airlines has been present on the Egyptian market for over a decade with services between Athens and Cairo, now operated 2-daily. This year, the carrier is further expanding its footprint in the North African country. In addition to the Sharm El-Sheikh service, the airline will add 2-weekly flights to Luxor starting 11 November.
By mid-November, Aegean Airlines will maintain 18-weekly flights from Athens to Egypt, offering 3,610 outbound seats per week on the market, according to Cirium schedules data. Furthermore, the carrier will introduce nonstop flights between Greece's second-largest city of Thessaloniki and Cairo this winter.
Aegean Airlines adding 18 new routes into winter network
This coming winter season, the Geek flag carrier will boast nine new routes in its network, and will extend a further nine seasonal destinations into the winter. The airline's primary focus is on enhancing connectivity between Athens and Central and Southeastern Europe. New destinations include Baku, Bratislava, Innsbruck and Chisinau. Furthermore, in addition to Egypt, Aegean Airlines will expand its presence in the Middle East with the introduction of Dubai.
Seasonal summer destinations that have been extended into the winter months include Bristol, Birmingham, Bilbao, Tallinn, Riga, and Tunis.