New Route of the Day (14 April 2023): Air Serbia between Belgrade and Catania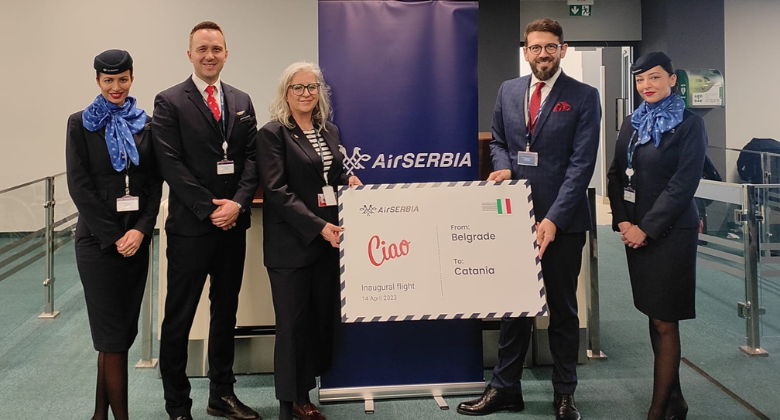 Air Serbia introduced a new seasonal service between Belgrade and Catania on Friday 14 April. The 925-kilometre route will be maintained 2-weekly on Mondays and Fridays with the A320 aircraft. The airline faces no competition on the route. Catania becomes its seventh destination in Italy.
What they said
Bojan Arandjelovic, Head of Network Planning and Scheduling at Air Serbia, said: "Italy is one the most popular destinations for tourists. Today we commenced seasonal service to Catania. In the coming period, we will expand our presence in Italy by adding flights to another three cities in our growing network. Direct flights to Catania will allow passengers to more comfortably and quickly reach the largest island of the Mediterranean, famous for its unique culture, proximity to the most beautiful European beaches, traditions and lifestyle of the local population."
Air Serbia adds four new Italian destinations this summer
Catania marks the first of four new Italian routes to be added by the Serbian carrier during S23.
19 May: Naples (2-weekly)
20 May: Florence (2-weekly)
14 June: Palermo (2-weekly)
The airline has not served any of its new destinations in Italy on a scheduled basis in the past and faces no competition on either of the four, all of which will be maintained seasonally. The carrier is primarily targeting leisure traffic with its new additions, as the segment has performed well for the airline since the pandemic.
During S23, Air Serbia will maintain flights to a total of ten destinations in Italy, including Rome FCO, Bologna, Milan MXP, Venice, Bari, and Trieste. As a result, Italy becomes the Serbian carrier's biggest country market based on the number of destinations served. Air Serbia competes against Wizz Air on the Rome FCO service, while it faces no other operator on any of its other Italian destinations.