New Route of the Day (14 October 2023): Austrian Airlines between Vienna and Seville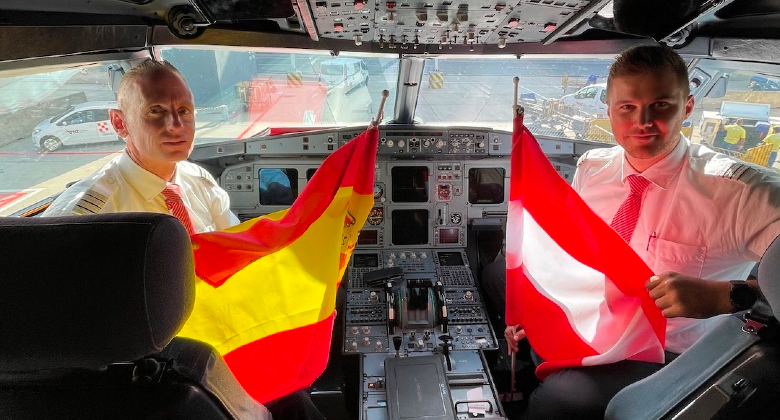 Austrian Airlines introduced flights between Vienna and Seville in Southern Spain on Saturday 14 October. The 2,175-kilometre service will be maintained 2-weekly, on Tuesdays and Saturdays, with the A320 aircraft. Frequencies will increase to 3-weekly during S24. The airline competes directly against Ryanair's 2-weekly service between the two cities.
Flight OS389 departs Vienna at 09:35 local time, arriving in Seville at 13:00. The return service, operating as flight OS390, takes of from the Andalusian capital at 13:45 local time, touching back down in Austria at 16:50 local time.
What they said
Michael Tresti, Chief Commercial Officer at Austrian Airlines, said: "The increasing demand and the continued high interest from our guests to travel both in summer and winter show that they are looking for relaxation and sun all year round. For this reason, we have specifically expanded our winter flight schedule to include attractive tourist destinations in order to fulfill the travel needs of our passengers. The new destinations in our winter flight schedule are varied and contrasting to ensure there is something to suit every taste. This allows us to offer our guests a wide range of travel destinations."
Austrian Airlines grows Spain network
Spain is one of Austrian Airlines' largest country markets, with the carrier now maintaining seven year-round destinations to the nation, with a further three operated during the summer months. In addition to the newly introduced Seville, Austrian Airlines also serves Barcelona, Las Palmas, Malaga, Palma de Mallorca, Tenerife and Valencia year-round. Notably, Austrian Airlines no longer flies to the Spanish capital of Madrid.
During the first week of November, Austrian Airlines will operate 37-weekly flights from Vienna to Spain, with the most frequent departures planned for Barcelona (13-weekly). In total, the Austrian carrier has 6,694 outbound weekly seats to the Spanish market this winter season.
Austrian adds three new routes in winter
Austrian Airlines is expanding its W23/24 route network to include three new destinations. In addition to Seville, the carrier is adding operations to Rovaniemi in Finland starting this December, as well as flights to Kittila, a winter sports destination, also located in Finland.