New Route of the Day (14 September 2023): Aegean Airlines between Athens and Bratislava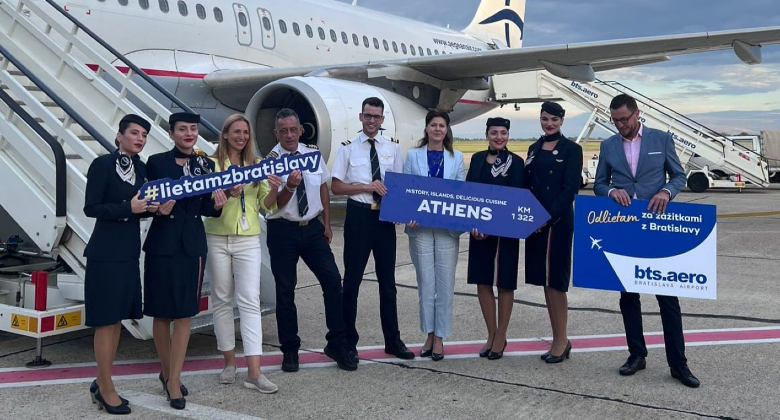 Aegean Airlines introduced a new 2-weekly service between its Athens hub and the Slovak capital of Bratislava on Thursday 14 September. The 1,260-kilometre route will be maintained 2-weekly, on Mondays and Thursdays, with the 174-seat A320 aircraft. It faces no competition. The route was last served by Ryanair in 2020.
Flight A3874 departs Athens at 16:30 local time, arriving in Bratislava at 17:40 local time. The return flight, operating as A3875, takes off from Slovakia's capital at 18:25 local time, touching back down in Greece at 21:25 local time.
What they said
Ioannis Rasoglo, Director of Network Planning and Airline Partnerships at Aegean Airlines, said: "We are looking forward to this new scheduled route connecting Bratislava and Slovakia with the capital of Greece, but also with other destinations within our network in Europe and the Middle East. Aegean is proud to be able to connect both countries with a scheduled nonstop service and thus offer a unique experience to all who travel with us."
Dusan Keketi, Chief Commercial Officer at Bratislava Airport, added: "As a member of the airport management team, I highly value this air connection to the Greek metropolis. It is the result of joint efforts to provide passengers with the opportunity to fly with an award-winning airline. Athens is also an excellent gateway to the Greek islands and to other destinations in Africa and Asia. On the other hand, it is also a chance to revive tourism in Slovakia."
Bratislava welcomes four new airlines
Between January and July, Bratislava Airport handled just under one million passengers, representing a decrease of 23.5% on 2019. The slow recovery is mainly down to the number of carriers reducing their operations when compared to four years ago, most notably two ULCCs – Ryanair and Wizz Air – which have cut their capacity by almost 90% and 80% respectively, according to Cirium schedules data.
However, the airport has made efforts to attract new carriers, welcoming four during S23. In addition to Aegean Airlines, they include Air Montenegro from Podgorica, Air Nostrum from Barcelona and Palma, as well as TUS Airways from Larnaca. Cirium shows that Bratislava's network encompasses 53 non-stop and one-stop destinations this summer.