New Route of the Day (14 September 2023): Luxair between Luxembourg and Ljubljana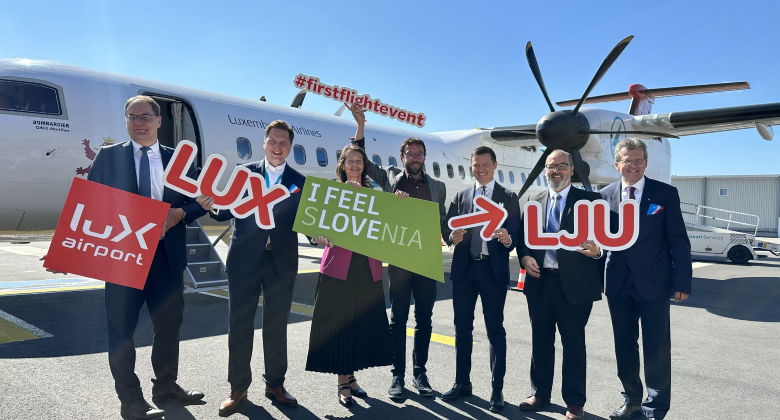 Luxair introduced a new 2-weekly service between Luxembourg and the Slovenian capital of Ljubljana on Thursday 14 September. The 725-kilometre service will be maintained 2-weekly, on Thursdays and Sundays, with the 76-seat Dash 8-Q400 turboprop aircraft. The airline faces no competition on the route.
What they said
Thomas Fischer, Chief Commercial Officer at Luxair, said: "We have been considering these flights for a long time having in mind the Slovenian community in Luxembourg, which pointed out the importance of a nonstop air service between the two countries. We scheduled the flights so as to enable passengers onward connections from Luxembourg."
Andrej Rajh, the Slovenian State Secretary at the Ministry for Infrastructure, added: "This new service has great potential, as Luxembourg is the seat of several European institutions and an important economic centre. It is also an excellent starting point for connecting flights to other countries. We are not satisfied with the current state of air connectivity in Slovenia, so we will continue our efforts to improve it."
Slovenia among Europe's slowest recovering markets
As Slovenia's only commercial airport with scheduled traffic, Ljubljana is struggling to recover its pre-pandemic passenger volumes and is one of the slowest recovering among the continent's capital cities.
Between January and August of this year, it achieved just 65% of its pre-Covid traffic figures by handling just over 830,000 passengers. Its underperformance lies in the bankruptcy of Slovenia's national airline and Ljubljana's main operator Adria Airways in September 2019, with the airport unable to recover its passenger volumes ever since. The former national airline handled a notable number of transfer passengers as well. Without any other scheduled carrier based in Ljubljana and a low presence of LCCs, the airport does not expect to return to its pre-Covid passenger levels until 2026.
To alleviate ongoing connectivity problems, the Slovenian government has issued public call aimed at attracting new carriers to fly to Ljubljana in return for subsidies, which has resulted in Luxair's new route as well as a new 2-weekly service between Riga and Ljubljana to be launched by airBaltic on 2 May 2024.