New Route of the Day (15 April 2023): Air Serbia between Belgrade and Lisbon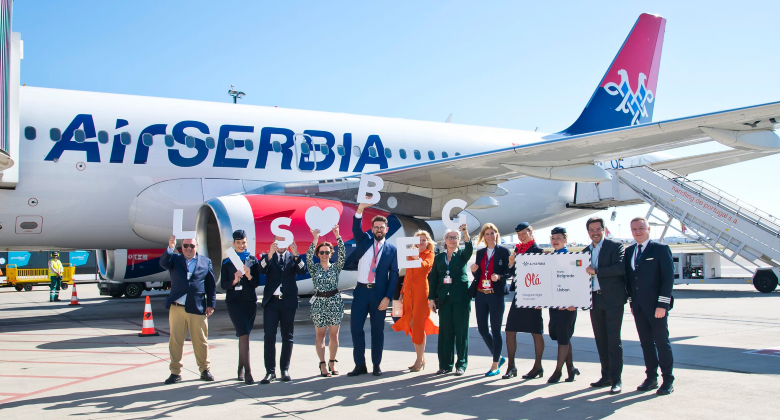 Air Serbia introduced flights between Belgrade and Lisbon on Saturday 15 March, marking its first service to Portugal. The 2,520-kilometre route will be maintained 2-weekly, on Tuesdays and Saturdays, with the A320 aircraft. Although the airline currently faces no competition on the route, Wizz Air will commence its own 2-weekly flights between the two cities from 25 July, using A321 aircraft.
What they said
Bosko Rupic, General Manager for Commercial and Strategy at Air Serbia, said: "Thanks to these nonstop flights, Portugal has now become a new city break destination. Up until now, passengers have mostly travelled from Belgrade to Lisbon via Madrid, Amsterdam or Frankfurt, and the trip took almost half a day. Now you can go from Belgrade to Lisbon in four hours. This is generating additional demand, which we can see from the loads on our flights. The first flight has been sold out. These are mostly people going on holiday."
Lisbon was Belgrade's busiest unserved route
Lisbon has for years been Belgrade Airport's busiest unserved route based on indirect passenger flows. Although the Serbian diaspora in Portugal is relatively small, with an estimated 1,000 people living in the country, it has been growing in recent years. Furthermore, Portugal has become an increasingly popular holiday destination for the Serbian public. On the other hand, with its split schedule, Air Serbia is also targeting transfer traffic on the route, primarily to feed its network in the Balkans and Southeast Europe.
Lisbon becomes Air Serbia's fifth new route in S23, with another sixteen to be launched in May and June. On the same day the airline introduced flights to Portugal, it also inaugurated services between Belgrade and Izmir in Turkey.