New Route of the Day (15 August 2021): GullivAir between Sofia and Burgas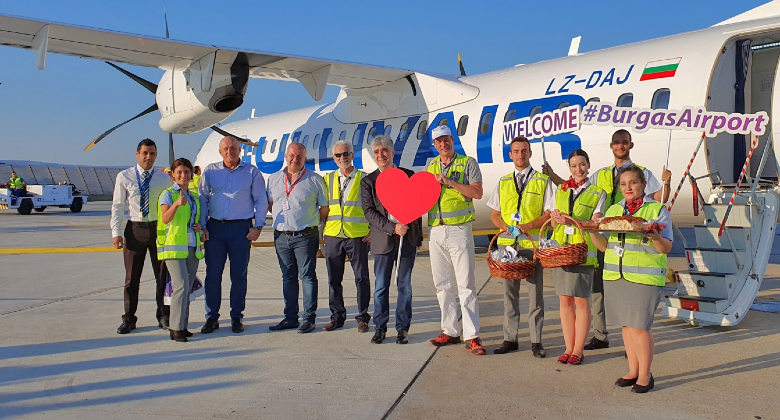 On Sunday 15 August a new domestic service in Bulgaria was launched by GullivAir between Sofia and Burgas. The inaugural service on the 340-kilometre route (flight number G2 211, operated by an ATR 72-600 registration LZ-DAJ) departed Sofia at 18:05 local time and arrived in Burgas 52 minutes later at 18:57 with 36 passengers on board. The return flight (G2 212) departed the Black Sea airport at 08:02 the following morning and arrived back in the Bulgarian capital 50 minutes later at 08:52. GullivAir plans to operate the route daily until at least the end of October.
Bulgaria Air has been operating daily flights on this route (with an extra flight on Fridays) typically using its Embraer E190s, but the airline's on-line booking tool appears to show flight availability being rather sketchy to non-existent from the beginning of September. This possibly helps explain why GullivAir has entered the market with its daily service.
GullivAir is a new Bulgarian airline which received its AOC last year. It began by operating charter flights to long-haul holiday destinations using an Airbus A330. The airline's CEO and owner is Yanko Ivanov, who is also the founder of BH Air, part of Balkan Holidays Services. This is the airline's first scheduled service. According to planespotters.net the airline's fleet comprises three A330s and two ATR 72-600s. Both the ATRs appear to have been previously operated by Nesma Airlines of Saudi Arabia and are both around five years old
What they said
Frank Quante, CEO of Fraport Twin Star Airport Management, said: "As Fraport Bulgaria, we are very happy to welcome the first aircraft of GullivAir on the Burgas – Sofia – Burgas connection. With the intention to connect Burgas daily to Sofia all year long, GullivAir is a pioneer and we appreciate and support this project! My team and I appreciated very much the collaboration with GullivAir, the City of Burgas and also Sofia Airport in the preparation phase! Thanks to all and always good luck to GullivAir!"