New Route of the Day (15 February 2023): AnadoluJet between Ankara and Dubai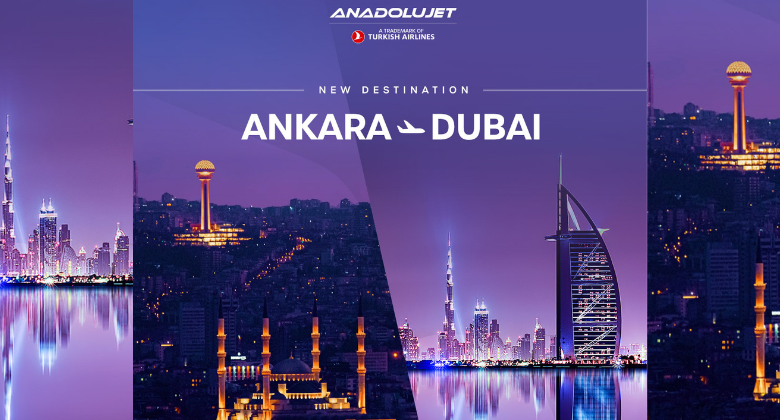 AnadoluJet, which is part of Turkish Airlines and uses the airline's IATA code of TK, on 15 March introduced flights between Ankara and Dubai. The 2,655-kilometre 2-weekly service is being maintained each Wednesday and Sunday, with the Boeing 737-800 aircraft.  TK4302 departs Ankara at 00:50 local time, arriving in Dubai at 05:45 local time. The return flight, TK4303, is scheduled to depart Dubai at 06:45 local time, arriving in Ankara at 10:05 local time.
The airline competes against flydubai on the route, which also maintains a 2-weekly service between the two cities using its B737 MAX 8s. Ankara joined flydubai's network in the summer of 2021.
AnadoluJet is Ankara's biggest airline
AnadoluJet has become the biggest carrier operating out of Turkey's capital. It offers the biggest destination network out of Ankara, surpassing LCC rival Pegasus Airlines. Late last year, Turkish Airlines announced plans to make AnadoluJet a stand-alone unit to enable it to grow further. AnadoluJet now counts a fleet of over 60 aircraft and hubs in Ankara and Istanbul SAW.
According to Cirium data in 2022 Q4, AnadoluJet and Turkish Airlines combined accounted for almost 70% of seat capacity at Ankara, while Pegasus Airlines had around 23%. Across all of 2022, the airport welcomed 8.64 million passengers (37% fewer than in 2019), making it the fifth busiest airport in the country after the two Istanbul airports, Antalya and Izmir. Only 22% of the airport's passengers were on international flights, compared with 75% at Istanbul's main international gateway.