New Route of the Day (15 July 2023): EGYPTAIR between Cairo and Manchester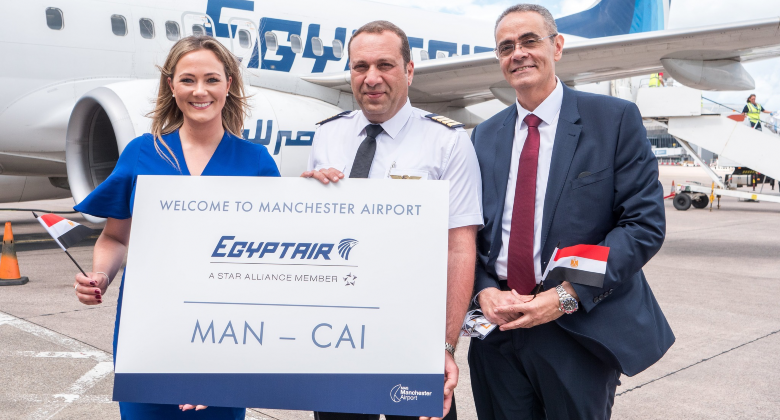 EGYPTAIR launched operations to its second destination in the United Kingdom on Saturday 15 July by inaugurating flights between Cairo and Manchester. The 3,745-kilometre service will be maintained 5-weekly on Tuesdays, Thursdays, Fridays, Saturdays and Sundays with the 154-seat 737-800 aircraft. The Star Alliance member faces no competition on the route. The Egyptian flag carrier last served Manchester between July and October of 2015.
Flight MS781 departs Cairo at 10:00 local time, arriving in Manchester at 13:30 local time. The return service, operating as flight MS782, takes off from the UK airport at 14:30 local time, touching back down in the Egyptian capital at 21:35 local time.
What they said
Mohamed Abbas Helmy, Minister of Civil Aviation in the Government of Egypt, said: "The resumption of flights between Cairo and Manchester confirms the extent of the distinguished relations of cooperation between Egypt and Britain. EGYPTAIR first launched operations to London Heathrow in 1970 and the increase in travel between the two countries has been noticeable ever since."
Chris Woodroofe, Managing Director of Manchester Airport, added: "Having a direct route to Cairo is fantastic news for travellers in our region, giving them a straightforward means of visiting one of the Seven Wonders of the ancient world. This link also offers businesses in our region access to a fast-growing market and adds another in-demand route to our growing network, cementing our place as the UK's global gateway in the North."
UK among Egypt's largest markets
The UK is one of Egypt's most significant tourist markets with over half a million British visitors to the country last year. With the introduction of flights to Manchester, EGYPTAIR will maintain a total of 19-weekly services from Cairo to the UK, with 14-weekly flights to London LHR. During the peak travel month of August, the Egyptian carrier will offer just over 18,500 departing seats from Cairo to the UK, with 84 flights to be operated to the country during the month.
Cairo is the only destination served out of Manchester on the African continent. However, the UK boasts almost 100 flights per month to Egypt. In addition to services from Cairo, EGYPTAIR also maintains seasonal flights from Luxor and Sharm el-Sheikh to London LHR, while British Airways flies from its London LHR hub to both Cairo and Alexandria.